A few years ago, precisely during 2015-16, the eminent media houses of India were having a race to cover the news of supposed "Church attacks In Modi's India". Media, especially the reputed Huffington Post had covered the "Church attacks" eloquently and explained how the Church administrations believe that the "attacks" were not a mere case of theft, even though a few supposed sacred objects were taken away. 
While Father Vincent Salvatore had told IANS- "A few people barged into the church premises. They took away the sacred items and a DVD player. But they did not touch our collection box", former president of the All India Catholic Union John Dayal, had told IANS that some people were trying to target the Christian community because the elections were near. Reputed media houses left no stones unturned to propagate that Christian community was under threat in Modi's India. However, Delhi Police found no "specific" pattern in the so-called Church attacks after thorough investigations.
Fast forward to 2019, Modi became the first non-Congress Prime Minister to get elected as PM for the second time. A lot of people had hoped to see Modi and BJP fall, but their hopes shattered after May 23rd, 2019. Within a short period of time, India saw a series of attacks on temples- the most prominent one was the vandalisation of Durga Temple in Hauj Qasi, Chandni Chowk, Delhi.
But this time our eminent media house, the Huffington Post, came out with a write up on the Chandni Chowk Durga Temple where it targeted the victim community which was evident from the loud headline: How BJP Supporters Turned A Fight Over Parking Into A 'Terror Attack'. The write up, true to its intentions, tried very hard to suggest that the matter was a very simple and insignificant case of "fight over parking issue" while the BJP supporters are hell-bent to give it a communal colour. However, there is a very serious question which Huffington Post intentionally or unintentionally forgot to ask- "Why a small fight over a parking issue ended up turning into the desecration of a temple?" 
 Not only in Delhi, there are other cases of temple vandalisation across the country recently:-
अब महादेव के मंदिर में घुस पर शिवलिंग पर किया गया पेशाब.

बुलन्दशहर में पवित्र श्रावण माह में जहां चढ़ाया जाना था जल उसी में घुस कर शिवलिंग पर किया पेशाब.@bulandshahrpol @adgzonemeerut @myogiadityanath @dgpup @HMOIndia @AmitShahOffice @AmitShah @narendramodi @CMOfficeUP pic.twitter.com/35taYfqEwW

— Sudarshan News (@SudarshanNewsTV) July 6, 2019
Not only this, even when Hindu organizations brought out a peaceful protest in Dehradun to demand strict actions against the culprits responsible for the temple desecration, a Muslim mob violently attacked them with chants of 'Allahu Akbar'. In fact, if we go through case studies, we can find that no matter how much Naseeruddin Shah claims that the Indian Muslim community is scared under the current regime, the overall acts and actions by some members of the community show that it is them who are scaring off the others. In fact, if we speak with the same tone like that of Shahrukh Khan, then there is rising intolerance among the Muslim community where small issues like sewage construction or parking a scooty can lead to the vandalization of Hindu temples- much like the days of the medieval period when Muslim invaders like Mohammad Ghori razed down the grand temples of ancient Bharatavarsha.
The most important question is- how deep-rooted this attitude of intolerance and hatred is? In the case of Chandni Chowk temple desecration, some witnesses have claimed the involvement of a democratically elected AAP MLA Imran Hussain.
"As soon as people stopped some muslim men frm drinking whiskey under their house they brought 300-400 more fellow men to attack us.
Imran Hussain (MLA) came and supported them but no one came in our support " Locals

Complete report –https://t.co/Ghf0A78gxE#BREAKING pic.twitter.com/PyFm02A5SC

— Pradeep Bhandari (@pradip103) July 1, 2019
Whether Imran Hussain was involved or not, that is the job of the Delhi Police to investigate. But the rising extremism among members of the Muslim community is quite evident from the recent events and the root lies in the ideology.
The most notorious terror group, the ISIS follows the radical and extremist ideology of Wahabism, which has been rising up like a Frankenstein monster. Although ISIS is certainly an Islamic movement, it is neither typical nor mired in the distant past, because its roots are in Wahhabism, a form of Islam practised in Saudi Arabia, that developed only in the 18th century. In July 2013, the European Parliament identified Wahhabism as the main source of global terrorism.
Thousands of copies of the Wahhabi rule book, which are circulating all over India, ask its followers to strictly adhere to the following:-
Men have to compulsorily grow beards.
Shrines shall be forbidden.
Every Muslim woman should wear purdah or be subject to severe punishment.
All men should wear trousers which are above their ankles.
Women should not be allowed to work. Exception can be made only if the family is in need.
Men and women should not mingle together in public.
No laughing loudly or listening to music; no dancing or watching television.
No weeping loudly at funerals.
Abide by the Shariat law; every offence committed shall be punishable under this law.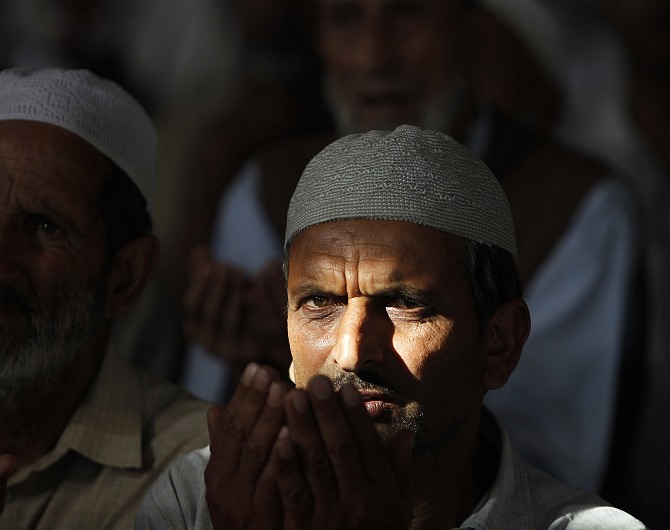 In recent years, there is a rise in the number of mosques controlled by the Wahhabi groups in Jammu and Kashmir, which has greatly influenced the Kashmiri youth. Events like the waving of the ISIS flag, hurling stones towards Indian soldiers and minority groups, and other extremist exhibitions, after attaining Friday prayer, burning of schools, and more, have almost become a daily event in the valley. Unlike the followers of the old Sufi shrines, Ahle Hadith mosques are considered to be more radical where men sport beards and don skull caps while their pants and lowers are slightly above the ankle which is one of the tenets to be observed by the followers. The influence of the Wahhabism has also changed the nature of the insurgency in Kashmir, that is, from seeking freedom for Kashmir, to fighting for the 'cause' of Islam.
This is not the case with Jammu and Kashmir only. The state, which boasts about highest literacy, has become the new hub of ISIS recruitment producing more than 100 recruits over the past recent years. The extremist Islamic groups, People's Front of India (PFI) and its political outfit Social Democratic Party of India (SDPI) are active followers of Wahhabism and have carried out notorious activities like murders of RSS men, killing of Hindu priests, love-jihad, human trafficking, among others. Not coming as a surprise, PFI has successfully produced the highest number of ISIS recruits from Kerala. In fact, any ISIS recruit which comes under the radar of the security agencies, somehow always ends up being connected to PFI– a fact too hard to ignore. At the same time, the former Vice President of India Mr. Hamid Ansari, who had allegedly exposed RAW operations in Tehran, had been seen attending the events organized by the radical PFI.
The Intelligence Bureau, which has been tracking the rise of Wahhabism in India, presents a grim picture in its report. An Intelligence Bureau report says that Wahhabis control roughly 40 mosques in Maharashtra and 75 in Kerala. Latest data informs that about 1,000 Ahle-hadith mosques have opened up in Kashmir (The New Arthashastra, A Security Strategy For India).
Today, the current number of Wahhabi followers in India stands at 18 lakh (1.8 million).
The sect has generated approximately Rs 1,700 crore (Rs 17 billion) in the past three years through funds pumped in from Saudi Arabia.
According to case studies, the Arab money, especially from the Saudi Arabia is the main financial source that nurtures the Wahhabism in India. From JK to Kerala, Saudi money has been channeled strategically to fund Wahhabism movement in India. Various reports, including the India Today report, suggest that Saudi-funded Madrasas of Kerala are systematically preaching Wahhabism. Aided by 'hawala' funding from petrodollar-rich Gulf countries, these seminaries were found to be indoctrinating young impressionable minds with what has been the wicked goal of ISIS to establish a global caliphate through a world-wide war. Not only this, Saudi Arabia wants India to open up its real estate sector to foreign ownership.
Saudi has been pouring its money through various ways and our extremist Indian brothers had developed a need for that money. During Kerala flood, a rumor got spread that Saudi is ready to assist Kerala with a relief aid of Rs. 700 crore. However, when India said that its self-sustainable to fight its own battle against calamity, many people as well as Kerala finance minister Thomas Isaac lashed out at PM Modi for not taking the aid. UAE later denied making any such offers.
We asked Union Gov for financial support of ₹2200 Cr ; they grant us a precious ₹600 Cr . We make no request to any foreign gov but UAE gov voluntarily offer ₹700cr. No, says Union gov , it is below our dignity to accept foreign aid. This is a dog in the manger policy.

— Thomas Isaac (@drthomasisaac) August 22, 2018
Wahabism's primary objective is to return to the fundamentals of Islam, the world that prevailed in seventh century Arabia. In the process, it brings a passion for jihad and an extremist mindset that is highly intolerant of other belief-systems resulting into hatred towards other communities.
In a secular and intellectual India, the menace of Wahhabi extremism is mostly going unnoticed. With a history of bloody communal riots, the spread of extremism does not portend well for India. It may wreak havoc on an already delicate communal harmony in India. Though our secular politicians and liberal intellectuals are very much active to build false narrative of so-called saffron terrorism, they hardly ever try to recognize the growing extremism with the rise of Wahhabism in India.