Kerala, the so-called God's Own Country, enjoys the highest literacy rate and is often considered as one the most progressive states in the Union of India. The renowned former Chief Justice of India Mr. Markandeya Katju, who once mocked the Odias and Odisha in one of his Facebook post with regressive language, calls Kerala the microcosm of pluralist India and Keralites the real Indians. He considers Kerala a true secular state by nature where people live with communal harmony, social equality and amicable environment respecting each other's culture. 
Kerala is indeed God's Own Country, and Mr. Katju is right to some extent. However, being an atheist he never believed in tales where demons conquer the Paradise to gain control over it. If Kerala is God's Own Country, then it is safe to say- demons are trying to seize it, thanks to some fallen angels who seek to destroy it at any cost. A special courtesy goes to those secular politicians of India who vigorously deny the "wrongs" that are taking place in Kerala.
Recently, a report claimed that more than 600 people went missing between 2012 and 2017. The National Investigation Agency (NIA) has uncovered some unnerving facts in its preliminary probe, which reveal some threatening and disturbing situations. The probe confirmed that total 648 people have gone missing, which includes 297 women. The scariest fact is that the investigators have subsequently failed to trace their whereabouts. The probe suggests that a good number of missing persons have joined ISIS to participate in Jihad.
During the initial stage of the probe, the team thought that only 22 Malayali Muslims from different districts of Kasaragod, Kannur and Palakkad have joined the ISIS. Latest reports suggest that 14 Malayalis have died in Syria fighting for ISIS, and 18 are still in the frontline to continue the fight for ISIS. An ISIS terrorist named Shafi Armar from Karnataka, used to recruit Kerala Muslims for the ISIS. NIA believes that more than 80 people from Kerala have joined ISIS as of now. 
The reports are solid enough to give a clear picture that something is not right in Kerala. If we go back to recent history, a popular Muslim outfit called the Popular Front of India (PFI) was running a terror camp in Narath district of Kerala. On 23rd April 2013, the police had arrested 21 people running the camp and seized several lethal weapons and bombs and a human dummy for target practising. These people had links with several global terror outfits and the Indian Mujahidin. These people were involved in several terror activities in Kerala like burning a bus at Kalamassery near Kochi in 2005 and carrying out a twin blast at Kozhikode in 2006. Last year, a special NIA court found these 21 PFI members guilty of various heinous crimes and terrorist activities.
The PFI has a tainted and violent history. The PFI had direct link with the Islamic terror outfit called Students Islamic Movement of India (SIMI), which was banned in 2001 for anti-national activities and spreading communal hatred. The national Chairman of PFI Mr. Abdul Rehman was the national secretary of SIMI, and the state secretary of PFI Mr. Abdul Hameed was the state secretary of SIMI. The PFI is allegedly involved in various communal, criminal and terror activities some of which are as follows:
PFI is the supporter of Islamic Caliphate. Such a radical group, which is not banned by the GoI like SIMI, is a natural and potential ally to spread the dark shadows of ISIS in India. The radical mindset of the group has eased the path of its members to join the ISIS in their Holy War against the whole world. As the NIA investigates, the links between PFI and ISIS are getting more prominent. 
On 2nd October 2016, the NIA busted an ISIS module in Kerala, which goes by the name "Ansarul Khalifa". Jassim N K, Ramshad N K, Swalih Muhammed, Manseed Bin Mohamed, P Safwan and Abu Basheer were the six people whom the NIA arrested. Manseed was in charge of recruiting people for ISIS online. P Safwan was a graphic designer in a Malayalam Daily Tejhas, which is the mouth-piece of PFI. Both Safwan and Manseed were activists of PFI and Social Democratic Party of India (SDPI).
NIA started looking for another man called Sajeer Mangalachari Abdullah who recruited the six men. Abdullah recruited the same 22 missing people, who are mentioned at the beginning of this article. There were 8 minors in the group. Abdullah sent 21 people to Afghanistan while the 22nd man Manseed Bin Mohamed was given the responsibility of recruiting more people. Abdullah recruited new men to carry out attacks on Israeli tourists in Kodaikanal, prominent BJP leaders and judges who gave anti-Muslim verdicts. Abdullah is a NIT passout and he himself was a supporter and activist of the PFI.
It is a clear fact that the PFI activists are joining ISIS terror groups and they are encouraging other people to follow the same.
It is the duty of the government to put a permanent ban on this terrorist outfit for the sake of national security. Not only recruiting people for ISIS, the PFI is also responsible for various cases of Love Jihad that take place throughout Kerala. Read this minutely because it is going to uncover some complex and dangerous facts.
"This whole life is a test… I had to break my mother's heart, my father's heart… But what matters most is Allah"
https://www.youtube.com/watch?v=Jqr13fsTW7w
This is a 12-minute video available on Youtube with the title "A Christian woman accepts Islam", where a burkha-clad young girl is giving a speech in fluent English. She calls herself Ayesha. The girl in the video is Sonia Sebastian, born in a Roman Catholic family. She is one of the same 22 people who went missing. NIA believes that she reached West Asia and joined the ISIS.
Recently, the conversion cases like that of Nimisha, Athira and Akhila have brought out the much-denied Love Jihad conspiracy in front of the public. The cases were so prominent, that it is hard to deny Love Jihad anymore.
Sonia Sebastian married Abdul Rashid Abdullah before converting to Islam. She was pregnant when she left for Afghanistan. She gave birth to a girl after reaching Afghanistan. Abdul Rashid Abdullah is a neo-fundamentalist fanatic and an engineer from Thrikkaripur in Kasargod. He was recruited by Sajeer Mangalachari Abdullah to recruit people for ISIS. Rashid was the man who led the team of 21 missing people to Afghanistan. The 22nd man was Manseed who stayed in India as the leader of the ISIS module "Ansarul Khalifa". Rashid, Sonia and Shihas used to work at the same Foundation. Rashid and Shihas were in touch with Nimisha. Shihas and his wife Ajmala also went missing. Others who went missing with them are as follows:-
Shihas' brother Ilaj, Ilaj's wife Rihaila and Ilaj's 2-year old child.
Shihas'cousin Ashfaq, Ashfaq's wife Shamsia and their child.
Shihas' friends Hafeesuddhin and Marvan Ismail.
Ijaz, Shihaz and even Ashfaq's wife have all worked with Rashid at Peace International School.
Bexon Vincent was a 32-year old MBA graduate and his younger brother Betson was 20 years old, who converted to Islam in 2015. Bexon took the name Easa and Betson became Yahiya. Nimisha, a Hindu girl converted to Islam, took the name Fatima and married Bexon. Betson married a Christian girl called Merin, who converted to Islam and took the name Mariam. NIA reports suggest that Easa and his wife Faima, Yahiya and his wife Mariam, Rashid and his wife Ayesha apparently have left India to join ISIS.
The incidents did not stop here. Akhila Asokan was born in a Hindu family who suddenly went missing on January 6, 2016. When her father lodged a habeas corpus, she appeared in the court accompanied by A.S. Sainaba, the president of National Women's Front (NWF), the women wing of PFI. She claimed that she had embraced Islam and had taken the name Hadiya. During the hearing on December 21, she was accompanied by a man called Shafin Jahan who claimed to be her husband. Akhila told that she married Shafin on December 19, the date when the previous hearing took place. The marriage took place as per Muslim Laws and the court, as well as the parents were not informed.  The Kerala HC found it suspicious and nullified the marriage.
With so much suspicious incidents going over, Supreme Court has ordered NIA to investigate the Love Jihad in Kerala. The investigation by NIA has uncovered more facts, which explain the complex and deep cobwebs of Love-Jihad that spreads across Kerala to lure innocent girls into the clutches of Jihadists and ISIS. NIA has found a common mentor in the Love Jihad cases who is associated with the notorious PFI. The investigations revealed the following facts:
Akhila's marriage with Shafin took place in Sainaba's house.
Sainaba was involved in another case of forced conversion where the Hindu girl Athira Nambiar converted to Islam, took the name Ayesha and married a Muslim man so that the court cannot restrict her from leaving India.
Shafin Jahan is a PFI activist and is actively involved with SDPI too.
The NIA reports have mentioned four criminal cases against Shafin, as well as his association with PFI-SDPI.
Shafin also had links with Manseed, the 22nd man of the missing persons whom Sajeer Mangalachari Abdullah recruited for Islamic State's module "Ansarul Khalifa" also known as Omar Al-Hindi.
Shafin's marriage proposal came through Muneer, another SDPI activist.
In both Akhila and Athira cases, there is a co-conspirator named Mohammad Kutty who is a PFI-SDPI activist. He, Sainaba and Aliyar approached Akhila's friend's father Aboobacker to take Akhila away from her family for pursuing Islamic studies.
Persons involved in Akhila's case in January 2016, Sainaba, Muhammad Basheer, Muhammed Kutty and Nasarudeen, all have links with Sathyasarani and PFI-SDPI.
PFI is actively behind most of the Love-Jihad cases in Kerala. ISIS believes in and fights for Islamic Caliphate. PFI dreams about establishing Caliphate. This Caliphate theory could be the probable reason of interest and alliance between PFI and ISIS. Even the twitter handle of renowned news media house TimesNow published the rate chart of converting Hindu girls into Islam under the hashtag #CaliphateConvertsHindus.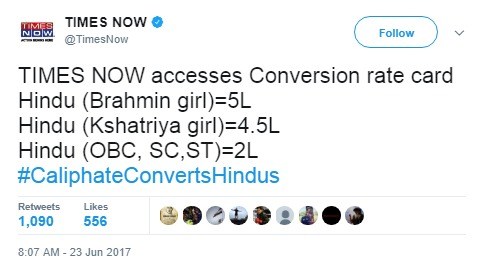 Though some people may find the rate card debatable, the probe by NIA is firmly suggesting that Love-Jihad is indeed a reality. People may say- "Is it so easy to convert Hindu girls to Islam?" In that case, Jihadists try to kidnap the girl. Nobody knows it better than Shruti, a Hindu girl from Kannore, Kerala whom the PFI tried to kidnap. Her parents contacted the Hindu Help Line (HHL) started by Praveen Togadia of Vishwa Hindu Parishad. Members of HHL and police rescued Shruti from PFI activists, which left the PFI enraged. They put up posters in Kerala challenging the police to stop them from kidnapping Shruti and selling her to ISIS.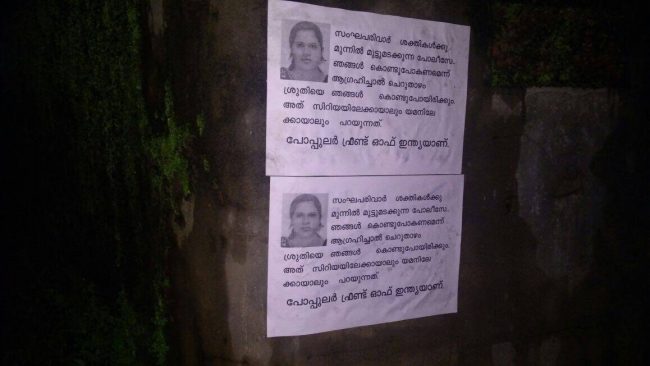 The translation of the poster is as follows:-
"DEAR SPINELESS POLICE,
WHICH BOWS DOWN TO SANGHI FORCES,
WE HAVE DECIDED TO TAKE SHRUTI.
WE WILL TAKE HER TO SYRIA OR YEMEN
AND GIFT HER TO ISIS.
DO WHAT YOU CAN,
LET US SEE IF YOU CAN STOP US!"
-POPULAR FRONT OF INDIA
Another incident in Kerala shows how the vile nets of Love-Jihad end the lives of Hindu girls. The 23-year old post-graduation student Anuja was found dead in her rented house on 18th May, 2015 in Thrissur district of Kerala. She was in a live-in relationship with Valiyakath Khaleem, a National Democratic Front (NDF) activist who had links with PFI. The circumstantial evidences suggest that Khaleem is the main accused in the case.
PFI- this name emerges in every case in Kerala and it cannot be a mere coincidence. This group has links in communal clashes, Love-Jihad, ISIS, forced conversions, etc. NIA has at least three cases where PFI cadres are the main accused. NIA has conviction against PFI in two cases.
Apart from ISIS recruitment and Love-Jihad, the next big issue in Kerala is drug trafficking.
On April 2015, Abbobacker Siddique was arrested in Kuwait for smuggling drugs. Manjottuchilli Faisal from Mallapuram, Mushtafa Hameed from Palakkad and Aboobacker Siddiqui from Kasorgad were sentenced to death by a criminal court bench in Kuwait for smuggling contraband to the country. Trafficking drugs to some Gulf countries is a serious crime, which results into death penalty. There is a high chance that the missing people might be in jail or executed for this crime. Moreover, according to a media report by the Fortune, ISIS is weak after recent constant defeats and the organization is moving into drug trafficking to maintain the flow of money to fund their Holy War. Even the Greek Authorities had intercepted a drug shipment containing 26 million tablets, which was travelling from India. Kochi has become the new hub of drugs in Kerala, and drugs from Pakistan, Myanmar, etc reach Kochi through various means. This drug trafficking business produces money, which will reach India to fund ISIS activities. NIA is to investigate in this angle too.
If security agencies, judicial system and government do not take serious steps, then the Paradise called God's Own Country will fall to the demons of ISIS and PFI.