Former vice-president Hamid Ansari attended an event in Kozhikode, Kerala, which was co-organised by the National Women's Front (NWF), the women's wing of the Popular Front of India (PFI).
The Bharatiya Janata Party (BJP) was furious, they demanded an apology from Hamid Ansari for taking part in a programme organised by the PFI, an organisation it alleged was responsible for recruiting youngsters to the Islamic State.
So, what it is about PFI that made BJP demand an apology from Hamid Ansari? Here's what PFI stands for.
PFI is a a popular Muslim Front. It was running a terror camp in Narath district of Kerala. On 23rd April 2013, the police had arrested 21 people running the camp and seized several lethal weapons and bombs and a human dummy for target practising. These people had links with several global terror outfits and the Indian Mujahidin. These people were involved in several terror activities in Kerala like burning a bus at Kalamassery near Kochi in 2005 and carrying out a twin blast at Kozhikode in 2006. Last year, a special NIA court found these 21 PFI members guilty of various heinous crimes and terrorist activities.
The P.F.I has a tainted and violent history. The PFI had direct link with the Islamic terror outfit called Students Islamic Movement of India (SIMI), which was banned in 2001 for anti-national activities and spreading communal hatred. The national Chairman of PFI Mr. Abdul Rehman was the national secretary of SIMI, and the state secretary of PFI Mr. Abdul Hameed was the state secretary of SIMI.
The PFI is allegedly involved in various communal, criminal and terror activities some of which are as follows:
P.F.I is the supporter of Islamic Caliphate. Such a radical group, which is not banned by the GoI like SIMI, is a natural and potential ally to spread the dark shadows of ISIS in India. The radical mindset of the group has eased the path of its members to join the ISIS in their Holy War against the whole world. As the NIA investigates, the links between PFI and ISIS are getting more prominent. 
On 2nd October 2016, the NIA busted an ISIS module in Kerala, which goes by the name "Ansarul Khalifa". Jassim N K, Ramshad N K, Swalih Muhammed, Manseed Bin Mohamed, P Safwan and Abu Basheer were the six people whom the NIA arrested. Manseed was in charge of recruiting people for ISIS online. P Safwan was a graphic designer in a Malayalam Daily Tejhas, which is the mouth-piece of PFI. Both Safwan and Manseed were activists of P.F.I and Social Democratic Party of India (SDPI).
NIA started looking for another man called Sajeer Mangalachari Abdullah who recruited the six men. Abdullah recruited the same 22 missing people, who are mentioned at the beginning of this article. There were 8 minors in the group. Abdullah sent 21 people to Afghanistan while the 22nd man Manseed Bin Mohamed was given the responsibility of recruiting more people. Abdullah recruited new men to carry out attacks on Israeli tourists in Kodaikanal, prominent BJP leaders and judges who gave anti-Muslim verdicts. Abdullah is a NIT passout and he himself was a supporter and activist of the PFI.
It is a clear fact that the PFI activists are joining ISIS terror groups and they are encouraging other people to follow the same.
PFI Jihadists try to kidnap Shruti, a Hindu girl from Kannore, Kerala. Her parents contacted the Hindu Help Line (HHL) started by Praveen Togadia of Vishwa Hindu Parishad. Members of HHL and police rescued Shruti from PFI activists, which left the P.F.I enraged. They put up posters in Kerala challenging the police to stop them from kidnapping Shruti and selling her to ISIS.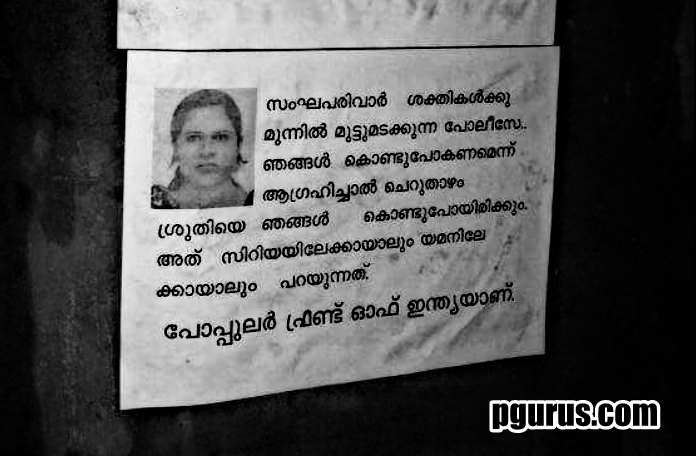 The translation of the poster is as follows:-
"DEAR SPINELESS POLICE,
WHICH BOWS DOWN TO SANGHI FORCES,
WE HAVE DECIDED TO TAKE SHRUTI.
WE WILL TAKE HER TO SYRIA OR YEMEN
AND GIFT HER TO ISIS.
DO WHAT YOU CAN,
LET US SEE IF YOU CAN STOP US!"
-POPULAR FRONT OF INDIA
In His last interview Hamid Ansari brought up the whole Muslims feeling unsafe bogey. Perhaps he had already set your sights on carving out a Muslim vote bank of his own. He was roundly kicked by PM Modi.
Perhaps instead of retirement, Hamid Ansari wishes to emerge as a Muslim leader in Indian politics. Perhaps, someone like Asaduddin Owaisi or may be even Mohammed Ali Jinnah. Hamid Ansari could have walked out of his office silently and may be even the people would have forgotten his misdeeds over time. But with his parting shot, he made it clear that it was the misfortune of India to have someone like him hold such a senior constitutional post.
Hamid Ansari was an absolute disgrace to the Chair of the Vice President. And his romance with PFI a RABID RADICAL ISLAMIST OUTFIT is a shame.