In a latest step to revolutionize the infrastructure of Maharashtra, the Devendra Fadnavis government in Maharashtra granted infrastructure status to 10 billion dollar hyperloop project to connect Mumbai and Pune. The project will reduce the travel time between Mumbai and Pune from four hours to under 35 minutes, covering the distance of 150 km between the two cities.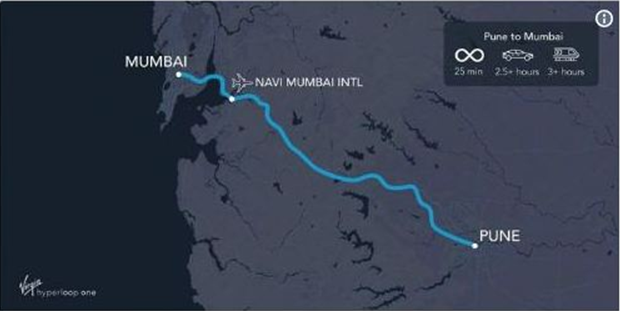 Hyperloop is high-speed travel in tubes where a pod-like vehicle travels through a tube at a speed which is more than the usual airline speed. Its first open source design was released by a joint team of Tesla and SpaceX. The speed of this mode of transport is 1,200 km per hour and the technology is expected to revolutionize transportation. Almost 7.5 crore passengers travel between Mumbai and Pune every year as of now, this number is expected to skyrocket to 13 crore by 2026 when the project is expected to get completed.
हायपरलूपची चाचणी पाहण्यासाठी मुख्यमंत्र्यांनी अमेरिकेला दिली भेट.. #DevendraFadnavis #Hyperloop #Maharashtra #CongBetrayedVemula #KisanKiBaatPMKeSaath pic.twitter.com/cD7pWteoxM

— Devendra Fadnavis (@Devendra_maha) June 20, 2018
"Maharashtra will create the first hyperloop transportation system in the world and a global hyperloop supply chain starting from Pune. Maharashtra and India are at the forefront of hyperloop infrastructure building now and this is a moment of pride for our people," said Fadnavis in a statement on Wednesday.
The idea for Hyperloop transportation in India was expressed by Virgin Group chairman Richard Branson in Magnetic Maharashtra Summit in Mumbai in February. Richard Branson is one of the investors in the company 'Virgin Hyperloop One' which will implement the project. The government claims that 70 percent of the raw material and components required will be bought from Maharashtra itself. This project will give a boost to "Make in Maharashtra", with the estimated investment in the project being around 10 billion dollars.
The hyperloop technology is expected to revolutionize the transportation system in the upcoming decades. It is as fast as air travel if not more, and very environment-friendly. The project will lead to drastic reduction in greenhouse gas emissions to about 1.5 lakh tonne annually. The Mumbai-Pune route is one of the busiest routes in the country, where road and air traffic is very high despite good connectivity.
As of now the major players in the Hyperloop technology are Hyperloop One led by Vodafone fame billionaire investor Richard Branson and CEO of Tesla Elon Musk. Richard Branson is known for revolutionizing wireless telephone technology, while Elon Musk is a serial entrepreneur transforming one industry after another like digital payment and electric Cars. Two of the smartest brains of the world investing heavily in the technology show the feasibility of this revolutionary transportation idea.
Some other countries where such projects are underway are United States, Saudi Arabia, and UAE. "Virgin Hyperloop One can help India become a global transportation pioneer and forge a new world-changing industry. The Pune-Mumbai route is an ideal first corridor as part of a national hyperloop network that will dramatically reduce travel times between most of India's major cities to under two hours," said Virgin Hyperloop One chairman.
Maharashtra Chief Minister Devendra Fadnavis is one of the youngest politicians in the country and represents the aspirations of young India. The vision for Hyperloop in India as a mode of transport is far reaching but will be a game changer. Fadnavis is perhaps the only politician in the country who is seeking reelection in upcoming assembly election in the name of economic reforms and infrastructure projects rather than offering freebies, which are considered the best way to win elections, as displayed by successive Congress governments since decades. 
Chief Minister Devendra Fadnavis led Maharashtra has been at the forefront of infrastructure development in last few years. He is the face of new economics in India focuses on growth and production rather than just distribution. Cutting-edge industries and state of art infrastructure is part of the vikaas oriented government of Maharashtra led by CM Devendra Fadnavis.