In not so distant past, the Apex Court of India had rejected a second plea to reopen 215 cases of genocide of thousands of Kashmiri Pandits during the 1990s. The reason given by the Supreme Court was one of the most inane remarks that nobody could expect from it.
"We decline to entertain this petition under Article 32 of the Constitution of India, for the simple reason that the instances referred to in the present petition pertain to the year 1989-90, and more than 27 years have passed by since then. No fruitful purpose would emerge, as evidence is unlikely to be available at this late juncture."
Indian judicial system has been mocked often in Indian movies. Movies like Jolly LLB and its sequel are living testimony of that. However, in a land where constitution grants the "Freedom of Speech" to speak out against follies around ourselves, our courts consider themselves above of all criticism. That is why they can easily give order to cut some scenes from Jolly LLB 2 which they thought were making fun of the Judicial System.
In a country where court takes decades to deliver justice and punish the culprit due to complex system, SC's excuse to reject the KP's plea asks us a serious question- Will every court room drama eventually end without solution when it exceeds a predefined time?
Though there are 2.8 crore pending cases due to shortage of judges, our judicial system is very efficient when it comes to intervening in Hindu festivals, culture or temple administration. In some cases, I personally appreciated SC's intervention in Hindu religious custom, one of which included the SC's refusal to lift a ban put by Himachal Pradesh HC on animal sacrifice during the Kulu Dushara ceremony. However, in 2015, just two weeks before the Bakri-Eid, same SC refused to put ban on animal sacrifice by stating- court cannot intervene in animal sacrifices for religious purposes. This intervention by SC is one of the many hypocrisies which SC displays.
Hindu temples had been under government control and many Hindus want this control to end. Government has its own reason to control the temples. In various cases, the Government has used temple money in various government schemes and projects. Also, it is not a hidden fact that temple grants to Hindu schools had been diverted to Christian schools. Under the state governments, temples are having miserable condition, which our SC refuses to acknowledge. Christian Missionaries are the largest owners of land in India, yet our secular governments always forget to put their wealth in nation's use.
While the Hindu temples are already reeling in a miserable state due to constitutionally elected usurpers of temple money, our apex court exercises its authority to intervene in temple's tradition and cultural essence.
In a plight to act as SJW, SC on Thursday said irrespective of the submissions that Lord Ayyappa of the Sabarimala temple has celibate nature, prohibition on entry of women between 10-50 years of age due to physiological reason is a sign of patriarchy. The SC said that the ban on the entry of women of a certain age at Sabarimala temple, is based on the "patriarchal" belief that the dominant status of a man in society makes him capable of performing austerity, while a woman who is only a "chattel of man", is incapable of remaining pure for the 41 days of penance prior to the pilgrimage. However, SC completely disregards that women devotees from Kerala had willingly participated in #ReadyToWait campaign showing that they themselves are willingly supporting the age-old customary prohibition.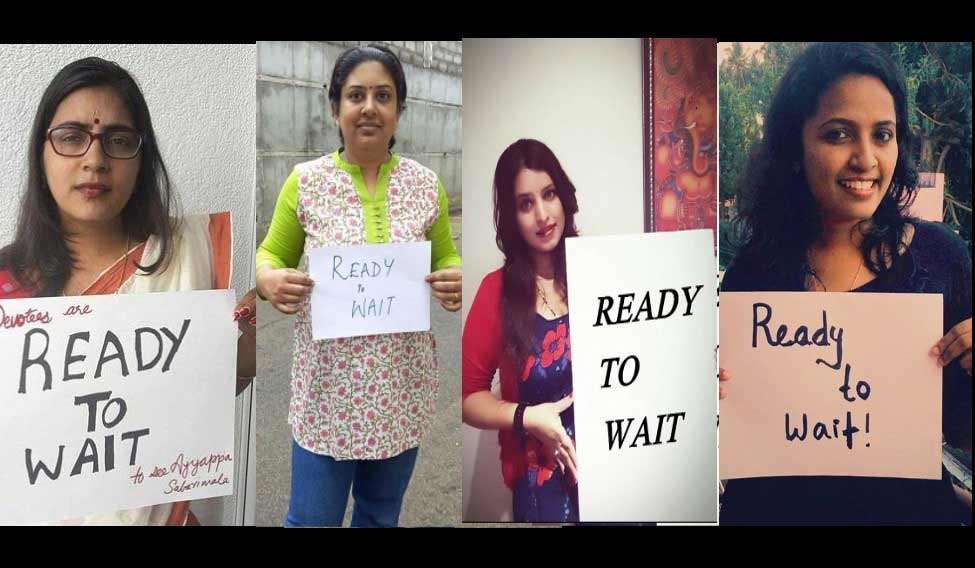 Going by the nature of the proceedings, it seems like the SC is headstrong to lift the ban. Moreover, it is also a matter of surprise that why Naushad Ahmed Khan's Indian Young Lawyer's Association filed a PIL regarding entry of women, and that too not in Kerala but in Delhi?
This is not just one case where SC has intervened in the long-practiced tradition of a Hindu temple. The Jagannath temple at Puri, Odisha is one of the four abode of Lord Vishnu. Since ages, Non-Hindus and non-Indians are not allowed inside the temple, to which nobody had any objection till SC decided to suggest the temple committee to consider whether people of all religions can be allowed inside the abode.
There is a reason why non-Hindus are not allowed inside the temple. As per the recorded history called Madala Panji, the Yavana invaders had attacked the temple numerous times and each time thousands of sevayatas, daitapatis, servitors, devotees, kings had laid down their lives to protect their Lord Jagannath. It is this lesson that the devotees have not forgotten even after so many centuries and thus, as a mark of alertness, non-Hindus are not allowed inside. A temple is not only the worship place dedicated to a God or a deity. It is also a place, where a devotee's bhakti lives. It is not only the matter of a God, a deity, a religion, a temple or a prayer. It is also the matter of tribute and respect to the devotees, who sacrificed their lives to keep the sanctity of the shrine intact. The moment the non-Hindus are allowed inside the temple, all those sacrifices become valueless.
A Hindu Temple is not a park, or lovers' point, or lakeside or hangout place or a museum. It is the place of a Hindu faith where love, faith and respect for Hinduism is expected from a visitor. If a non-Hindu does not have faith or respect for Hinduism, there is no reason for him to enter the temple. Besides, in 2015 one terrorist was captured who was working out on a plan to attack the Puri temple. During that time, nearly half-a-dozen Jihadis were present in the town to strike a terror attack.
But, our SC forgets the matter of concern in a hurry to let non-Hindus inside our temple.
There are instances where the government and court has intervened in appointing officials and representatives in temple committees. From running the temple administration to recruiting employees for the temple, the courts have often intervened into matters, which is against the Hindu interests. The recent example was how HC halted the Tirupati Temple Trust's move to transfer non-Hindu employees in February 2018. The court stayed the transfer of 44 non-Hindu employees initiated by the TTD on the ground that they were recruited in violation of the service rules of the institution. The court also slammed the Tirumala Tirupati Devasthanams and questioned the constitutional validity of the TTD service rules that prohibit recruitment of non-Hindu employees in the institutions run by it. Apart from these, a PIL was filed in Hyderabad High Court for:
1.) It aimed at seeking to appoint a committee to look into the alleged hidden treasures in "Nelamaligalu".
2.) The PIL also sought a CBI enquiry into the income and expenditure of the TTD board as also the untraceable antique jewellery of Lord Venkateswara.
3.) It urged for court directions to the Archaeological Survey of India to restore the letter dated May 4 this year declaring TTD and its group of temples located at Tirumala as protected monuments.
Apart from having non-Hindu employees, government intervention has clearly showed how non-Hindus can become member of Trust Board or can even become the chief of temple administration. The appointment of Payakaraopet legislator Vangalapudi Anita, a born Christian, as a member on the newly constituted Tirumala Tirupati Devasthanam (TTD) Trust Board is an example how Hindus are pushed back and non-Hindus are gaining access to temple institution. The new chief of TTD Mr. Putta Sudhakar Yadav is allegedly a Church leaning person who has uncanny proximity with Christian organizations.
Earlier, it has been alleged that Evangelism is being played rampart in TTD. In the past, the students of the Sri Venkateshwara Arts College had accused Principal Christopher of aiding Christian proselytization.
Appointing non-Hindus as head of temple administration is nothing new in many states, especially if the state has a considerable minority population. Another example is urban development minister Mr. Firhad Hakim of TMC, who once referred his constituency as Mini-Pakistan to woo a Muslim lady journalist. Bengal's CM Mamata Banerjee made her favorite TMC leader Mr. Firhad Hakim the head of Tarakeswar Development Board (TDB) last year.
The way our temples are mishandled by the government and the judicial system, it is quite essential that Hindus demand to free the temples from government controls.