Entrepreneurs of the country have suffered for a long time due to License Raj. The unnecessary bureaucratic interference at every step of business development became counter-productive for the Indian economy. However, the short socialist regime could not alter the entrepreneurial energy embedded in Indian culture since thousands of years. As the government liberalized economy given the balance of payments crisis, the economy came on track and the country is witnessing near double digit growth for the last two decades. The number of startups are growing exponentially every year. According to the fourth edition of the NASSCOM-Zinnov report titled "Indian Start-up Ecosystem 2018", the country added more than 1200 new startups in 2018, 20 percent more than 1000 startups last year.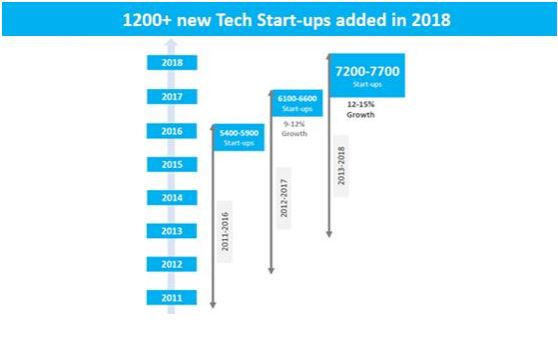 Venture capital firms and angel investors pumped 4.3 billion dollars in funding Indian startups in 2018, that is nearly 100 percent more than the investment in previous year. In 2018, Eight Indian startups including food delivery apps Zomato, Swiggy and educational app Byju's crossed the market valuation of 1 billion dollars, these startups were given unicorn tag. The large corporate houses of the country like Tata's are setting up separate startup funding units to encourage young entrepreneurs and fund cutting edge ideas. More than 35 corporate incubators/accelerators launched in last three years for funding new ventures. Bengaluru, the IT hub of India came third in the list of global cities with highest number of tech startups. Silicon Valley is still considered to be the hub of IT startups and bagged the top position while London came at second place.
Majority of the startups are working in the field of enterprise software, such as Fintech and Health tech. Old industries are adopting Data Analytics, IoT (Internet of Things) and Artificial Intelligence (AI) very rapidly therefore startups in these sectors witnessed highest revenue growth. According to the NASSCOM-Zinnov report,  IT ecosystem created 40,000 direct jobs in the country in 2018, taking total number of people employed in IT sector to 1.6 lakh-1.7 lakhs. Almost 4-5 lakh people are indirectly employed due to IT ecosystem. The startups are not limited to metro cities of the country, tier two and tier three cities witnessed a good number of new businesses in IT sector. As per the report more than 40 percent of total startups were outside Delhi-NCR, Mumbai and Bengaluru. "India's startup landscape has become the epitome of innovation and we are seeing many startups tackling locally relevant issues," Debjani Ghosh, president, Nasscom.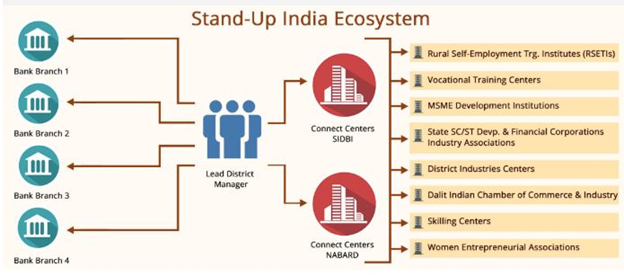 The Modi government launched two programmes named Startup India and Standup India to encourage young entrepreneurships among populous of the country. There are three pillars of Startup India Simplification and Hand-holding, Funding Support and Incentives, Industry-Academia Partnership and Incubation. The government launched Pradhan Mantri Mudra Yojana to give low interest loans to entrepreneurs from underprivileged background. The other program, Standup India is similar to Startup India but it is focused to support entrepreneurship among women and SC & ST communities. Startup India was launched in August 2015 while Standup India was launched in April 2016. The government is also working towards setting up a mechanism called SETU (Self-utilization and Talent Utilization) to provide technical assistance and incubation to startups. Apart from this, it is planning to ease out the existing regulatory regime for startups and to extend tax incentives to them.