India has moved up to third position in the technology driven Startups with the US and UK occupying the first top position as per the latest study done by ASSOCHAM, India's Apex Chamber for Commerce and Industry, in association with the 'Thought Arbitrage'.
Also, in terms of total number of Startups , comprising tech and non-tech areas, India is among the five largest hosts in the world along with China. The number of Startups in both India and China was 10,000 each. The US is at the number one position among the overall list of 83,000 budding entrepreneurs.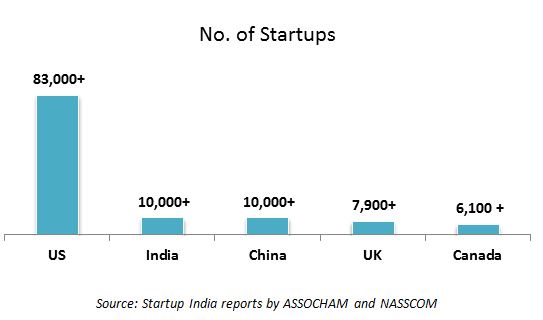 This indicates the flurry of new Startups and innovations that has been going on in India in recent years. The Indian start-up ecosystem has evolved, being driven by factors such as growth in number of funds/angels, evolving technology, higher smart phone and social media penetration, growth in incubators and accelerators and younger demographics.
The Composition and sector concentration of these 10,000+ startups in India is also quite interesting.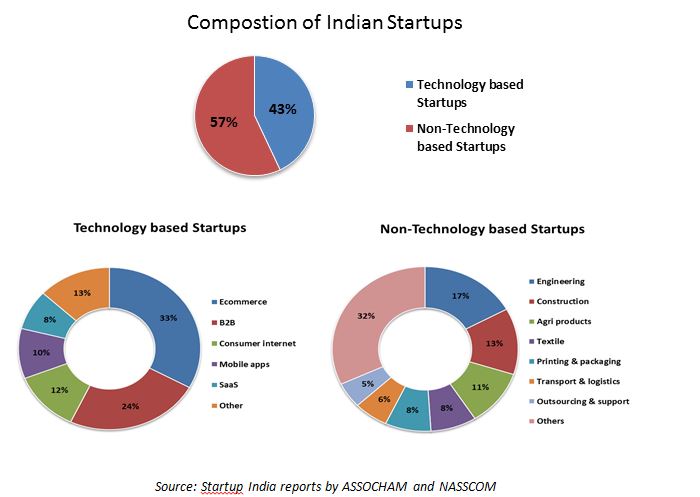 Few more interesting facts about Indian Startups:
Average age of startup founders – 28 Yrs
Total startup founders which are women – 9%
Approximate growth in share of female entrepreneurs in the last 12 months – 50%
Majority of startups and/or investors are from – Metro cities
New jobs that were created by SMEs during 1993-2013 – 60%
The number of PE/VC firms in the last 12 months have – Doubled
India has witnessed an era of startups in the 70s and 80s which was mainly focused on manufacturing sector and these were supported through seed capital and soft loans by the development financial institutions (DFIs) both at the centre and the state level.
In recent years, the Indian startup ecosystem has taken off and has matured. Driven by factors such as availability of funding, consolidation activities by a number of firms, evolving technology space and a burgeoning demand within the domestic market has led to the emergence of startups. Between 2010 and 2014, the infusion of VC and PE increased from US$ 13 mn to US$ 1,818 mn. Angel investment too has multiplied almost eight times from US$ 4.2 mn to US$ 32.2 mn.
The biggest factor that has made India attractive for foreign investors is the consumer growth backed by the mobile revolution. Making big bets on Indian innovation has become a global point of interest. 2015 witnessed the maximum traction in this space with over 600 companies getting funding; more than US$ 2 bn being deployed by PE and VC funds. Some of the top deals were Warburg Pincus' investment in Ecom Express, Rocket Internet AG and Goldman Sachs investment in Foodpanda and Tiger Global and SAIF Partners' investment in Little Internet. Other top deals in the overall tech space in 2015 include – investment of US$ 700 mn in Flipkart by Sequoia Capital & Steadview Capital, US$ 500 mn in Snapdeal by Alibaba, Softbank & others, over US$ 1100 mn in Olacabs by a group of investors including Tiger Global, Softbank, DST Global etc. Other fairly large transactions include investment in Quikr, Jabong, Grofers, Shopclues, Pepperfry and Oyorooms who have received funding of more than US$ 100 mn.
Investment momentum in Startups have increased rapidly over the last five years with investment values increasing at a CAGR of more than 75% between 2011 and 2015 while investment volumes have increased at a CAGR of over 80% in the same period.
Geographies
The startup ecosystem continues to be concentrated in regions like NCR (national capital region), Bangalore and Mumbai which together contribute to 87% of total investment value and 84% of total investment volume in 2015.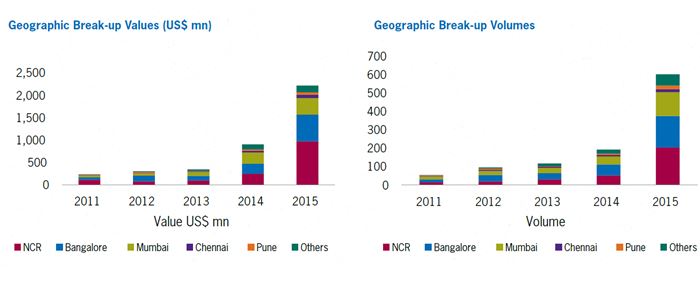 What might help this momentum to grow:
Government Initiatives:
Indian government has taken a number of initiatives to build an ecosystem that will afford appropriate support to startup businesses and entrepreneurship culture. Such as Make In India, Standup India, Digital India and so on.  The Government has aimed to provide the financial assistance through means such as Micro Units Development Refinance Agency (MUDRA) Bank, Credit Guarantee Fund and India Aspiration Fund.
The SEBI has announced a new set of listing norms for startups which will provide relaxations in various disclosure and compliance areas.
The government is also working towards setting up a mechanism called SETU (Self-utilisation and Talent Utilisation) to provide technical assistance and incubation to startups.
Apart from this, it is planning to ease out the existing regulatory regime for startups and to extend tax incentives to them.
However, the success of all these initiatives is driven by how the execution will happen and whether it will reach to the major population.
Role of large businesses
Established businesses, once they reach to certain level, look for innovation, efficiency, performance excellence, quality improvement and so on. Such entities are more interest in outsourcing such tasks as they also have constraints like limited research and development budgets, increasing digital disruption and organizational bureaucracy.
Rather than to innovate on their own, Large companies are looking to either invest or collaborate with relatively new and small companies and startups to acquire diverse information, dynamic and creative talent, processes and so on.
III. Helping hand of startup incubators:
Startup incubators aim to assist new startups in their initial phase of development by providing both tangible and intangible resources, services, fund raising and perform various networking activities and to help entrepreneurs in building sustainable business environment.
According to NASSOCM report, there is a 40 percent growth in the number of incubators in 2015 (110 incubators as against around 80 in 2014).
Approximately 50 percent of total incubators are set up in non-metro cities. Growing number of educational institutes have started setting up incubator programmes independently or jointly.
Big corporates are also setting up incubator programmes to help startups. Tata Group launched T-Hub, Google, Microsoft Ventures etc.
Tata has come up with country's largest technology incubator centre 'T-Hub' in Hyderabad
Google has come up with a Launchpad accelerator programme for specific to mobile startups in India, Brazil and Indonesia with training and developmental support and upto US$ 50,000 in equity-free funding
Y-Combinator, a popular incubator in the San Francisco Bay Area has designs to make investments in India in the near future.
Considerable growth in investment
In India, there are different resources through which Startups raise their capital requirement based on the phase they are in. It generally varies as per the age of the startup as shown below:
Startup Funding In India – based on age of company

There is a significant growth in investments deployed in recent years-

Year 2015 ended on a high-note with Startups driving investment activity in the PE space. Of the total 1049 investments in 2015 in PE/VC space, more than 50% was driven by start-up activity compared to 2014 where Startups contributed to only 32% of the overall investment activity. Investors showed significant interest in B2C Startups in 2015 which was driven by higher smart phone & internet penetration, customer convenience, ability of e-comm companies to offer competitive pricing because of elimination of middle men etc. More than 400 Startups received a cumulative funding of US$ 1.6 bn.
The challenges that we still face:
The World Bank's Report: 'Doing Business 2016' correctly points of few facts that give a fair idea about where India stands:
India is ranked 130th out of 189 economies on the ease of doing business, 133rd on the ease of trading across borders and 157th on the ease of paying taxes.
India is ranked 155th in case of starting a business
On an average, Indian businesses need to make 33 tax payments annually with around 243 hours spent to prepare and pay taxes in a year
In contrast, China requires just nine tax payments annually, while the US doesn't trouble its taxpayers more than 11 times annually for tax payments
Among South Asian economies, India made the biggest improvement in business regulation, increasing its distance to frontier score
There are different set of challenges apart from these –
Culture and Awareness:
In my opinion this is the biggest and most difficult hurdle to tackle. In our Indian culture we have conditioned ourselves to look down upon failure. For failures, opinions come easily but encouragements are rare. Failing and learning from those failures and starting all over again is a crucial part of Entrepreneurship. People need to start accepting failures and allow second chances.
Furthermore, there is lack of awareness in terms of contribution towards nation's economy. Majority of the Indian population is unaware about how can they contribute to economic growth, generate employment, contribute to social development.
Social Issues:
The most common reason why most startups fail inspite of having a great business idea is lack of mentorship or guidance. Having quality guidance is very imperative to any new business especially in the initial phase.
Another challenge is major parts of Indian markets are unorganised and fragmented that create a roadblock for a startup to succeed.
India is a place of varied culture and taste and thus consumer behaviour changes in every 30-50km that makes it really difficult for a startup to create business or market strategy for their products or services. As a result most startups generally get stuck in stagnancy and gradually shut down.
Technology:
Lack of appropriate Technology infrastructure which is needed to sustain the growing number of consumers and to train employees for handling this increasing customer base is one of the many common issue faced by new growing businesses.
There is also a separate issue of cyber security. Most of the startups are unaware of or give less importance to potential risks it may cause to their companies.
Financial Issues
Access to funds has been a perpetual problem for startups. In most of the cases, startups are self/family funded with limited workforce. It is difficult to maintain records, both financial and operational, in such scenario.
In the initial phase, startups do not get funding from banks due to lack credit history of the firm.  And it is very challenging for such companies to attract investors and gain their trust with regard to their business model and mode of operation. Though Government and private sector investors have set aside funds through investment channels but they are not accessible for all forms of business.
And even when these companies are able to raise funds, they struggle to survive the competition. Startups are unable to mitigate the gap between burn rate and revenue as it becomes imperative for startups to scale up the business and require external funding for the sustainability/growth in the market.
Sustainability Issues:
Despite having raised good investments, many startups struggle to survive the competition and are eventually forced to shut down their businesses.
Business founders are not that open or flexible enough to adopt more sustainable business practices. It mainly due to the fact that many of them are not aware of potential sustainability threats their business might have to face while scaling up.
One of the issues here is lack of good talent. Though India is known for its affordable pool of talent, especially when it comes to technology; when one is starting up, talent acquisition becomes a pain, given that not everyone is flexible enough to work in a startup.
Regularity Issues:
Government is the single largest enabler for the entrepreneurial ecosystem. Government's role in ease of doing business and helping companies start is vital to ensuring success. In India, It is uncannily difficult to start a business. Myriad laws and regulations means it takes about minimum 30 days to comply with all the formalities and start a business. The government's role has so far been limited to giving out grants and loans, but without an effective, enabling environment, implementation is far off the target.  Another barrier is a complex taxation polices in India which is an immense hurdle for budding entrepreneurs.

To address these challenges, India needs to nurture its entrepreneurial ecosystem to support Startups as well as to create new opportunities for its vast young population. What we mainly need is significant improvements in ease of doing business, certainty and liberalisation in taxation policies and simplification of regulatory procedures including encouraging government to procure from startups.
The Startups have the power to bring dynamism, new thinking and ability to create jobs in the Indian economy. Only these dots need to be connected.