The Automobile sector is going through a big churn in India as well as around the world. The 'ride sharing revolution' brought by Ola and Uber, exponential rise of electric vehicles since the entry of Tesla, push for autonomous vehicles by Google and Apple, Indian government's decision to boost ethanol blending in petroleum for benefit of farmers and reduction in oil import bill, the automobile sector has underwent a positive transformation. Exponential rise in demand for automobiles in rural India, governments push for public transport and increased expenditure on infrastructure, all these are going on simultaneously and are influencing each other. The churn in transport and automobile sector is expected to change the face of commuting in the upcoming years.
The big change visible in the automobile sector of the country in previous years is 'e-Rickshaw'.  The small distance transporter remains out of focus from government and big companies but it had brought big changes in the life of drivers, commuters and in the environment. Currently more than 15 lakh battery powered rickshaws run on the roads of the country. This is more than the total number of electric cars sold in China since 2011. The electric cars got significant push from government in the form of subsidies and policy but the e-rickshaw revolution hit the roads of India without any active government support.
These efficient, fast and environment friendly vehicles are fast replacing both auto-rickshaws and human pulled rickshaws in the country. The rickshaw pullers who switched to e-rickshaw saw substantial rise in income and lesser muscle effort. More than 11,000 e-rickshaws hit Indian roads every year and the number is expected to grow in the upcoming years.  According to Rahul Mishra, a principal at consulting firm A.T. Kearney, "Three-wheeled vehicles make up a $1.5 billion market, and manufacturers of electric versions include Mahindra & Mahindra Ltd. and Kinetic Engineering Ltd., along with smaller outfits that assemble parts imported from China."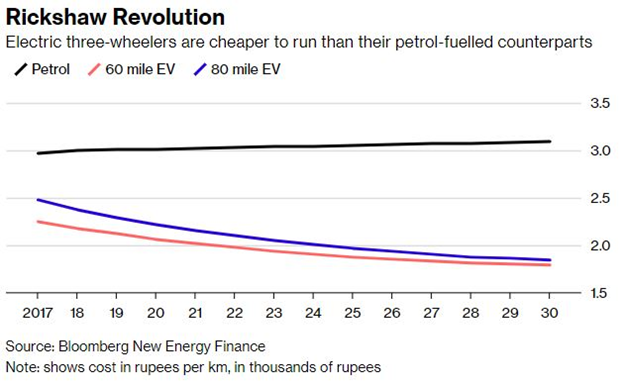 India is years behind China when it comes to electric cars. So far almost 13.5 lakh electric cars have been run on the roads of China, while in India the figure remains a mere 6,000. But when it comes to total number of e-vehicles, India overtakes China due to huge number of e-rickshaws on the road. The people in the government see this as an opportunity and support electrification of two wheeler and three wheeler vehicles. "India needs to focus on electrifying two-wheelers and three-wheelers,'' said Amitabh Kant, chief executive of NITI Aayog.
However, support to electrification of two and three wheelers does not mean that government is not making efforts to promote electric cars. The major problem in the country remains lack of charging and battery swapping station.  According to Bloomberg New Energy Finance (BNEF) research, "By 2022, government and private efforts are expected to boost that to an estimated 2,800 charging points." The government announced 1,000 crore subsidy for Electric vehicles charging infrastructure in India.  "The centre is formulating a policy to substitute imported goods with domestic products, of which electric vehicles will form a major part." said Nitin Gadkari, Union minister for road transport, highways and shipping. The government wants the share of Electric Vehicles (EVs) to go up to 15 percent in next five years from the current share of 1 percent. For this the government will exempt electric vehicles and CNG-powered vehicles from road permits, CNG stations will be opened in 300 districts and many other non-fiscal incentives will be provided. Maruti Suzuki has recently announced that it will develop ethanol-powered cars to take care of India's oil imports and environmental degradation. Suzuki is the largest car-maker in India and it has given huge push to electric vehicles in recent years to maintain its leadership in automotive industry.
The one area where the government needs to focus is providing finance to traditional rickshaw driver to change the medium. The traditional pullers have little income and low savings, they cannot afford to purchase a new e-rickshaw on their own and therefore government needs to support them. "If the subsidies get better, and easy financing options become available, this market is unstoppable," said Shishir Agrawal, managing director of Shigan Evoltz Ltd., an e-rickshaw manufacturing company. The e-rickshaw revolution will surely change the living condition of rickshaw pullers and the government needs to actively support the industry.