EAM Jaishankar Row: Over the last few years, the Modi government's trade strategy with respect to China has brought many embarrassments for it. No, we are not talking about the allegations of protectionism and fears of return of licence Raj. Instead, perceived failure to adhere to anti-China sentiments is the crux of the issue.
Big statue inaugurations have often become a subject of mockery of the Modi government's foreign trade policy. For example, when PM Modi unveiled the 216-foot-tall 'Statue of Equality' honouring Ramanujacharya, many news channels did not discuss its significance. Instead, the hullabaloo was that the statue was made in China and assembled in India. Similarly, the 600-ft long and tallest statue in the world of Sardar Ballabhai Patel is believed to have gone through the same process.
Sardar Sarovar Narmada Nigam Ltd (SSNNL) and Larsen & Toubro (L&T), official agencies involved had later said that the 553 bronze panels on the statute were made in China. Imagine getting a 'statue of Unity' being made in the country which works day and night to break India's unity. The question is who is responsible for it? Public? Not exactly. Government? To a certain extent, Yes. Indian business Community? Definitely Yes according to External Affairs Minister S. Jaishankar.
EAM Jaishankar on business side of India-China rivalry
EAM Jaishankar has appealed to the Indian business community to assist the government in decreasing economic reliance on China. Delivering a speech at the Asia Economic Dialogue, EAM Jaishankar said that the government is doing its part.
Informing that there have been instances in which companies have migrated to China, rather than other way around, EAM Jaishankar said, "Indian companies have faced unequal market access with respect to China. We have also witnessed migration of businesses to China from India. Responsibility for (India's) trade imbalance with China is not just of the government, it is an equal responsibility of businesses."
He also delved deep into the minute aspects of trade imbalance with China. Hinting that companies have not been able to garner results on even supply chain and raw materials, EAM Jaishankar said, "Indian corporates have not developed the kind of backwards (integration), vendor supplies, components and parts, ingredients and intermediates that should be supporting us."
He reminded the business community that Aatmanirbhar Bharat and other initiatives for increasing domestic productivity are not just moral obligations. Instead, one of their goals is national security as "massive external exposure" puts India's national security at risk.
Steps taken by Modi government to curb China's influence
It is indeed a worrying concern. In the aftermath of the Galwan valley clash, the government has taken proactive measures to stop Chinese products from coming to market. On the emotional level, a clarion call has been made to the Indian public to boycott made in China products. Public obliged and China's loss during festive seasons has been seen in the range of thousands of crores.
On its part, the government came up with various initiatives to reduce India's dependency on China. According to the Economic Times, the government had initially planned to enact 5,000 technical regulations to limit imports of steel, chemicals, telecom devices, electronics, and industrial goods.
These rules were supposed to be implemented on 370 goods gradually. The conflict in the Galwan Valley sped up this procedure. Then Consumer Affairs Minister Ram Vilas Paswan announced in July 2020 that 239 additional items were in the works while 368 were already covered by a Quality Control Order. Subsequently, it seized control of additional commodity categories, including leather.
Not just imports, even Chinese businesses benefitting from Indian markets also had to face the heat. 267 Chinese applications were prohibited by the Indian government in 2020 under the provisions of Section 69 A of the IT Act.
Apart from some Xiaomi apps, the government had removed TikTok, UC Browser, PUBG, Helo, AliExpress, Likee, Shareit, Mi Community, WeChat and CamScanner, Baidu Search, Weibo, and Bigo Live. In February 2022, the Modi administration outlawed an additional 54 Chinese apps, alleging a threat to national security in its decision.
Chinese Companies willing to work or working from Indian geographies also witnessed tightened norms in India. India tightened the FDI norms for China so much that even share transfer became an arduous task for Chinese companies. Only 80 of the 382 Foreign Direct Investment (FDI) bids that Chinese companies submitted since April 2020 had been approved by India as of June 29, 2022. Apart from that, companies like Oppo, Vivo and Xiaomi among others were subjected to significant regulatory provisions, sometimes resulting in raids and arrests.
The atmosphere for Chinese companies and products in India became hostile for the public and that is the case in 2023 too. On its part, the government had taken a big economic risk. It is us who relied on made-in-China products because our made-in-India ones suffered comparative disadvantages.
China's imports rose from $4 billion in 2003-04 to $51 billion in 2013-14. Over the course of ten years, the trade deficit with China, which was USD 1 billion in 2003–2004, had increased to USD 36 billion. Things didn't change much during the initial years of PM Modi.
Making our own industries capable
A definitive programme was needed to overcome that. Programmes like Aatmanirbhar Bharat, Make-in-India, Standup India, Startup India, Skill India and other schemes were needed. Immediate need was that of a big push. It came in the form of the Production Linked Incentive (PLI) scheme of government.
Industries get rewards based on their success. The plan focuses on developing production facilities with a high employment rate in a variety of industries, including drones, solar, cars, and electronics, among others. Subsequently, the government improved its efficiency by pinpointing major implementation bottlenecks.
Top-tier think tanks, including NITI Aayog, were enlisted for a wholly data-driven strategy. It was anticipated that among other things, the 1.97 lakh crore incentive would prompt a surge of significant investments. We at TFI had written in-depth reports about its long-term effects. Successive budgets keep churning out more for the scheme.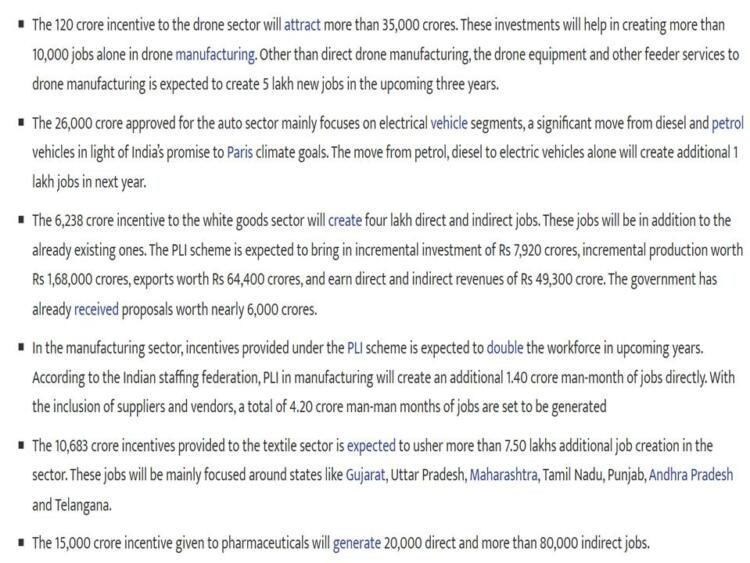 The scheme has been beneficial to a large extent, but not on the China front. This is exactly what EAM Jaishankar was talking about. While the trade had crashed during covid times with monthly deficit reaching a 10-year low, failure to capitalise by India Inc. again pushed us towards China.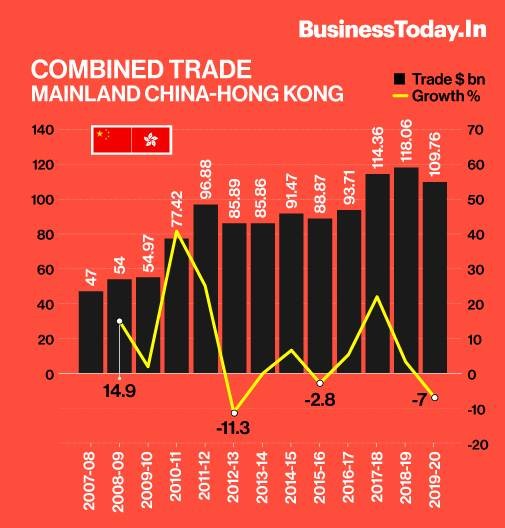 Numbers are shocking
The trade deficit between both countries is constantly breaking new records. While the number was only $69.4 billion in 2021, it spiralled up to $101.02 billion in 2022. The only bright spot in India's trade with China is that of change in India's import basket.
Between 2011 and 2016, India imported consumer electronics, computer hardware, electrical parts, mechanical and electrical machinery, organic chemicals, power-related equipment, telecom, intermediate goods, plastics and fertilisers. The annual import value used to be in the range of $3-4 billion. In 2021, it went down to $2.84 billion.
Contrary to the annual fall of 1 per cent in consumer goods import from China, India's Capital goods' import from China has increased by 3 to 4 per cent on an annual basis. We are importing products like electronics, nuclear reactors, boilers, machinery and organic chemicals among others. 40 per cent of goods imported to use in our manufacturing industry now come from China. Moreover, compared to 15.5 per cent of 2021, share of Chinese imports in India's overall basket has declined to 13.7 per cent.
Bad news everywhere
That's it. There is no good news in India's trade with China. According to latest report by the State Bank of India, the larger the import dependency of a sector, the larger is its dependency on Chinese imports. Those sectors which rely on more than $100 million worth of imports have 50 per cent Chinese dominance.
The dependence keeps increasing with turnover. Sectors in which imports are worth over $10 billion, the dominance of China is around 70-80 per cent. Though, in mid-level categories, as in over $1 billion, exposure to China is between 0-10 per cent.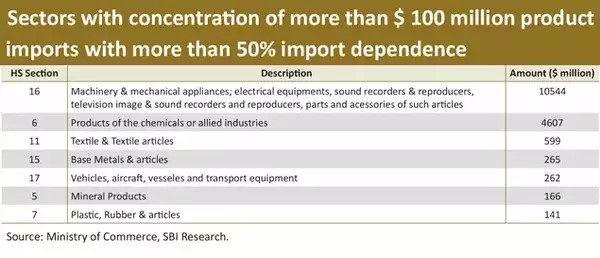 However, the more troubling thing is China's dominance in the sectors for which the PLI Scheme has been brought. Consider this. Between April and November of this financial year, India's imports from China were $55 billion. Of these, $38 billion is the total value of imports in textile, agriculture, electronics goods, pharmaceuticals and chemicals. There is no need to mention that all these categories are part of the PLI scheme. To put it simply, 69 per cent of our import basket for China consists of goods for which the PLI Scheme is in place.
There is a specific term for this situation. To put it plainly, it is an abject failure on the part of our business ecosystem, especially India Inc. They have everything in place. Government can restrict imports anytime, they have cash incentive to start manufacturing, they have flourishing MSMEs to act as feeder services.
They have revamped Special Economic Zones for local markets and have profitable public sector banks to take loan from. There is not much problem with basic amenities like electricity and water, the infamous 'babugiri' of bureaucracy is also breathing its last. Insolvency and Bankruptcy Code is there in case they fail. If they prosper, the low corporate tax will ensure that they can invest their profits in new ventures.
No one knows what is stopping India Inc. to go full throttle on replacing China as the manufacturing hub of the world. Lack of facilities has not remained a saleable argument. Foreign companies like Foxconn are investing in India. Granted that they have larger capital, but our Desi companies have that too.
One way of looking at this dismal show by India Inc. is relying on the ICRA projection that capital expenditure under the PLI Scheme will mature only after 2 to 3 years. Even if it comes out to be true, one would wonder what were these companies doing with pre-PLI initiatives like Aatmanirbhar Bharat and Make-in-India. The share of manufacturing in Gross value added is at 10-years low. That says something for those who want to understand.
Support TFI:
Support us to strengthen the 'Right' ideology of cultural nationalism by purchasing the best quality garments from TFI-STORE.COM
Also Watch: