Remember Salim-Javed? They were a screenwriting duo, composed of Salim Khan and Javed Akhtar. Salim-Javed are noted for being the first Indian screenwriters to achieve star status, becoming the most successful Indian screenwriters of all time. They are also regarded as "Hindi cinema's greatest screenwriters". Javed Akhtar and Salim Khan wrote close to 24 scripts during their period of association from 1970 to 1982. Most of these films were crime thrillers. By crime thrillers, we mean most of the criminals and antagonists were Hindus, while victims were the working-class labour force and Muslims.
Didn't see that coming, did you? Well, the toxicity of Salim-Javed's writing has not really been talked about, at least not in mainstream media. The template of Salim-Javed films has always been predictable. The story line showcases how working-class Indians are made victims by a capitalist, upper-caste Hindu-centric system. At the same time, Muslims are shown as angelic beings who are hardworking, honest, and peaceful.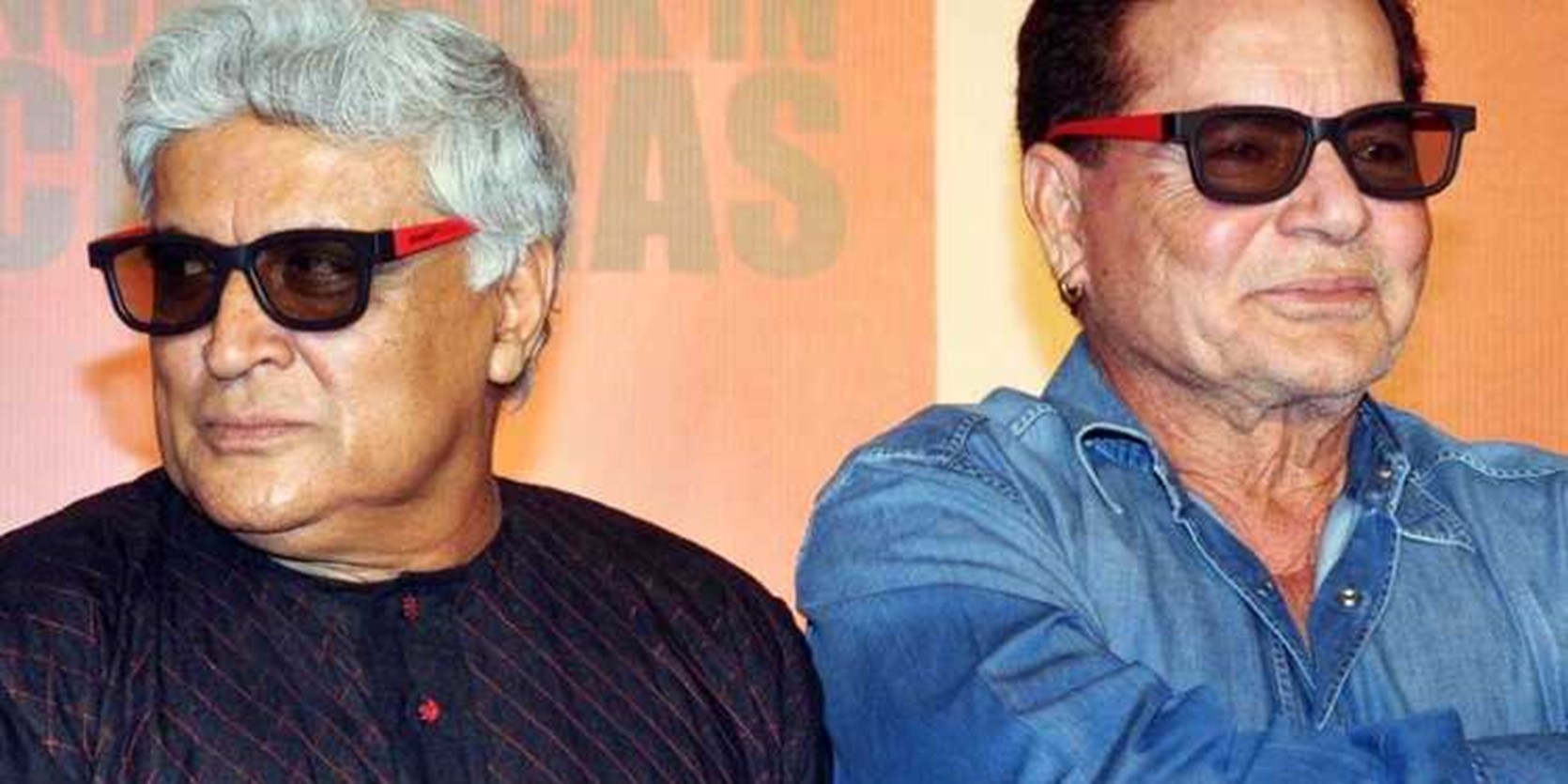 Deewar – the Epitome of Salim-Javed Propaganda
There is really no film like Deewar, starring Amitabh Bachchan, which encompasses all elements of the Salim-Javed propaganda factory. Amitabh Bachchan is a labour-class dockyard worker, an atheist who has a vivid fascination for Islamic symbols and a seething hatred for Hindu gods and traditions, particularly Bhagwan Shiva.
Islamic symbols are also shown having magical powers in the film, even while the writers make it a point to portray Mahadev as a pain-giving God who does not listen to the cries of his devotees. Amitabh Bachchan wearing his coolie badge of '786' is shot, no less than in front of the Shiva Temple where his mother goes every day to pray.
Here comes in someone called 'Rahim Chacha', who explains to Bachchan how the number 786 is very auspicious for Muslims and how it is going to help the protagonist every step of the way. This badge, bearing the number '786', is shown saving Amitabh from bullets twice in the film. Predictably, Bachchan is killed only when he loses his 'Billa' (badge). And that, by the way, happens in the Shiva temple itself.
The Boring Predictability of Salim-Javed
Let me give you some context. Salim-Javed rose to fame as the supreme scriptwriting duo of India at a time when Mumbai was infested with underworld thugs, dons, and mafia lords. Most of these criminals were Muslims. Everyone knew they were Muslims. Haji Mastan, Yousuf Patel, Karim Lala Varadarajan Mudaliyar and Dawood Ibrahim – do any of these gangsters have a Hindu or non-Muslim name? No.
know,during the same time in Mumbai,Salim Javed wrote the story scripts of the 24 films, the villain of their scripts were never a Muslim !

This shows they were unmistakable bias to influence the thinking of the masses through the powerful medium of films pic.twitter.com/Lxapp8BGDK

— विमुक्त (@migratorscave) September 22, 2020
So, a perception needed to be created of Muslims being innocent, peaceful, and harmless people. Islam needed to be projected as the most tolerant religion around. Salim and Javed rose to the occasion, and contrary to reality, made every antagonist (villain) in their films a Hindu. From 1983 to 2006, Javed Akhtar wrote the scripts of 14 more films, but even in those 14 films, not a single Muslim character was shown negatively. This was after Javed and Salim split and went their separate ways.
believes in! It's the same billa saves his life when a bullet hits him 🤔
2) In Sholay,Gabbar Singh kills the poor blind religious Muslim's son (इतना सन्नाटा क्यू है… scene)
3) You always remember the famous 'शेर खान' who sings for his 'Hindu friend' 'यारी है इमान मेरा' pic.twitter.com/bU86lfsJxj

— विमुक्त (@migratorscave) September 22, 2020
Some of the famous films from those 14 are:
Saagar
Betaab
Arjun
Roop ki rani choron ka raja

Those days the crime of Muslim goons,smugglers,killers,terrorists was playing havoc in Mumbai

But the villain of every story written was always a Hindu! This cannot be a coincidence. pic.twitter.com/m0Tus6MQMu

— विमुक्त (@migratorscave) September 22, 2020
Do you see how Salim-Javed, and then Akhtar alone have tried to convince Indians through the medium of cinema that all criminals are Hindus, even while the gangsters in Mumbai at the time were all Muslims? In fact, Muslims had a rather disproportionate share of representation in gangs across India. Yet, Hindus were portrayed as demons and Muslims as victims. Today, such narratives do not work. It is for this reason that Javed Akhtar and his ilk are finding it increasingly difficult to adapt to the new realities of India. Hindus are today much more aware than they were in the 70s and 80s.
Read more: How Salim Javed brazenly promoted Socialism through their movies
Today, if anybody tries stunts such as those which Salim-Javed pulled off, they will find their careers getting demolished by the audiences themselves.
Not only did Salim-Javed have a continuing and repetitive Islamist template in their scripts, but films written by them also had an obnoxious amount of leftist propaganda. Hindus, Thakurs, and upper-caste men were always shown as people living off the labour provided to them by oppressed workers.
Between 1971 and 1977, the duo wrote 11 films, all of which were hits but most importantly, they all were in line with the political ideology of Indira Gandhi who was prime minister of the country in those years. Most of these movies followed similar storylines where there was a rich villain who manipulated the 'system' for personal advantages and a Robinhood-like (one that robs the rich and gives to the poor) hero. The industrialists were also depicted as anti-woman, misogynist, rapists, or potential rapists.
Such propaganda no longer works in India. Perhaps it is for this very reason that Shabana Azmi thinks Indian democracy is unfair to Muslims.