The coronavirus pandemic that originated from China and later spread its tentacles around the world has so far infected over 75 million and killed 1.6 million. The world economy as a result has taken a severe beating. While India is on the path of resurrecting its fortunes, the middle kingdom, which stopped reporting the COVID cases long back, in an attempt to hide the embarrassment, is now in an economic tailspin as one big company after another starts to default. Compare that to India and the picture starts to present itself clearly that China's fundamentals were never strong, to begin with. The mirage of China's booming economy is coming crashing down and Xi Jinping is sweating at the prospect.
Defaulting Chinese companies
Reported previously by TFI, as many as 57 companies have given up plans to issue combined fixed income securities worth 44.2 billion Yuan (or $6.72 billion) in China's domestic market. The massive bond sale cancellation has come as a knee-jerk reaction after Huachen Automotive Group defaulted on payment of principal and interest of a 1 billion Yuan bond last month.
Read more: China's economic mess has officially begun. A $6 Billion Bond sale cancellation is just the tip of the iceberg
The latest development illustrates the sheer panic that has engulfed China's financial markets. The Chinese economy has been passing through a troubled phase and now the Chinese financial markets are also indicating an imminent downfall in the Communist nation.
As mentioned above, Huachen defaulted on payment of principal and interest of a 1 billion yuan bond, that is, $151.88 million bond. Huachen is actually the state-owned parent of Brilliance China Automotive Holdings, a well-known automaker listed in Hong Kong that partners with BMW and manufactures luxury German cars.
Read more: China's companies are on a defaulting spree and it is not just hurting China but also China-loving companies abroad
Another shocking default case is that of Yongcheng coal and electricity, a famous Chinese State-owned enterprise, known as China's 'Grey Rhino'. It recently failed to repay a bond worth around $152 million. The default came as a major shock as the coal mining company's bond was rated "triple-a"- the highest possible rating that any bond can get in a market.
Indian distressed firms relieved
Unlike China, India, and its nascent financial markets still stand out and are seemingly the bright spots where investors are looking to punt their fortunes. While the CCP is running from pillar to post to bail out the companies, India does not even have to go anywhere as foreign heavyweight companies have swooped in to relieve the distressed firms.
Read more: After PM Modi's appeal, foreign money starts raining on distressed firms
The scale of the money pouring in the distressed financial Indian market can be gauged by the fact that according to Researcher Venture Intelligence estimates—funds to the tune of $1.5 billion have already been umped in distressed assets in India this year, 55% more than through all of 2019.
The above data only captures deals that have closed and doesn't include others that have been recently announced such as Oaktree's 22 billion rupees ($294 million) loan to lender Indiabulls Housing Finance Ltd. in July.
Economic stimulus packages by Modi government
While Xi Jinping and his Politburo refused to announce any economic stimulus package for the country, his counterpart Prime Minister Narendra Modi went into overdrive and instantly announced a massive Rs. 20 lakh crore package, roughly 10 per cent of India's Gross Domestic Product (GDP) to give immediate relief against the slowdown induced by the Pandemic and the related lockdowns.
Read more: 20 Lakh Crore economic package, 1 lakh crore real cost on exchequer – The genius of PM Modi
Out of the Rs. 20 lakh crore package, Rs. 8.04 lakh crore has already been injected into the system in the form of additional liquidity through various means across the months of February, March and April. Add to it, the Rs. 1.7 lakh crore relief package that Union Finance Minister Nirmala Sitharaman had announced on March 27, shortly after the imposition of a nationwide lockdown.
Making it very clear to India Inc. that the government was willing to subsidize not just agriculture but industries too, the Modi government in November announced a Production Linked Subsidy (PLI) scheme for 10 more labour-intensive sectors. The call of Aatmanirbhar Bharat has been the cornerstone of the NDA government's post-Corona economy resuscitation strategy.
A strong economic showing in the second half of the year
Demand, supply, exports- all have shot up exponentially as the festive season has given a fillip to the country's automatically course-correcting economy. From April to September, the first half of this fiscal year, the companies witnessed one of the worst phases as the country was under the stringent lockdown for most of the period.
But as the economy gradually started opening up, the pent-up demand is being reflected and the second half of the fiscal year is expected to be best for India Inc.
Purchasing Manager Index, a reflection of manufacturing activity in the country, reached 13 years high to 58.9 in October. Manufacturing PMI was positive even in the previous month when it recorded a figure of 56.8–any reading above 50 shows expansion compared to the previous month.
Read more: Manufacturing up. Domestic demand up. Exports up. Indian economy is recovering at breakneck pace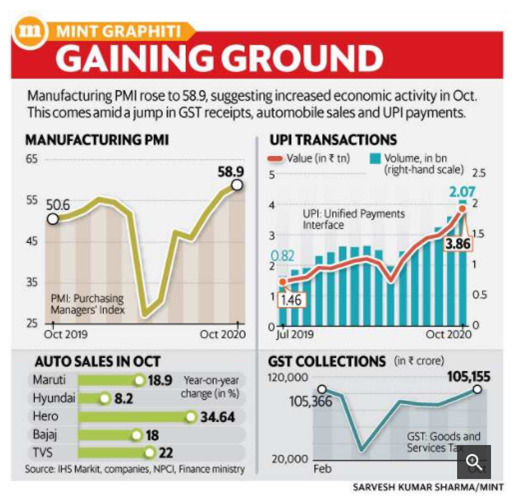 Rajiv Bajaj, the managing director Bajaj Automobiles who left no opportunity to curse the government after the economic downturn caused by coronavirus must be sitting on piles of cash as Bajaj recorded a bumper sales season. The domestic sale of Bajaj registered 11 per cent growth, that is, up to 2,68,631 units while exports grew by 29 per cent, that is, up to 2,01, 659 units. "Pulsar brand recorded sales of over 170,000 units. Highest ever," said Bajaj Auto in a statement.
And similarly, the mobile manufacturers, e-commerce giants, and the local Indian companies, all reaped rewards during the last three-fourth months which suggests that the economy is meandering towards the upwards side, unlike what the armchair economists of the country would like the reader to believe.