A few days ago, China made fresh claims over Sakteng Wildlife Sanctuary in eastern Bhutan, adjoining India's Arunachal Pradesh. 
A large part of Eastern Bhutan, which shares border with Arunachal Pradesh (which Chinese call as their territory), was claimed by China. Beijing also said "a third party should not point fingers" in the China-Bhutan border issue – an apparent reference to India.
Given the fact India is responsible for the protection of Bhutan's sovereignty, it is obvious that it as much India's problem as Bhutan's, and the Chinese are claiming Bhutan's territory to have leverage in negotiation over an ongoing border dispute in Eastern Ladakh.   
Now, in order to checkmate Beijing's move, the Indian government has proposed to build a road in the territory claimed by China, in order to smoothen the movement between Bhutan and Tawang in Arunachal Pradesh. The strategically significant road would reduce the distance between Guwahati and Tawang by 150 Km, reported Economic Times.
China has claimed the Eastern Bhutan as part of Tibet, to which Arunachal Pradesh is also a part, as per Chinese claims. The road, which is proposed to be built by Border Road Organization, will connect Lumla near Tawang with Trashigang in Bhutan. 
Bhutan and China have unsettled borders and various rounds of talks have taken place between the two countries for border negotiations but Beijing never claimed these territories of Bhutan adjoining India nor were they part of negotiations between the two countries.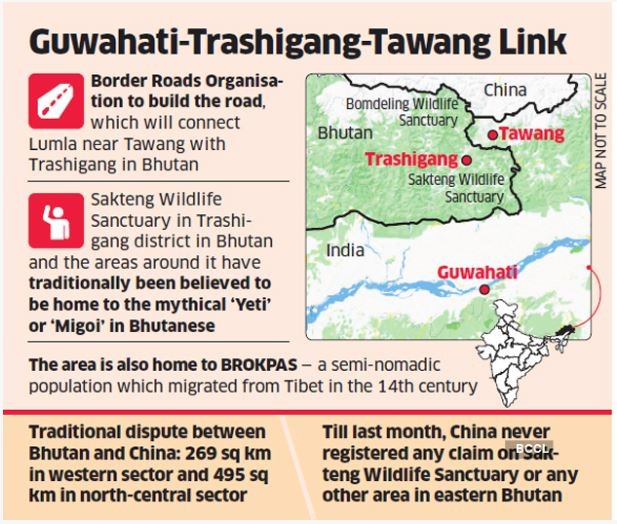 It was very much evident that fresh claims were made to get an upper hand in negotiations over Eastern Ladakh with India, as making new claims has been modus operandi for in border negotiations since decades. But, India used this as an opportunity to strengthen its relationship with Bhutan and building strategic road which will connect the two countries. 
Infrastructure development in the Border States is important for the security of the country. However, the previous governments have neglected this pertinent issue in the last six decades. The infrastructure development in these states is tougher due to the difficult terrain and month's long snowfall. But the connectivity to these areas is important for strategic security and welfare of the people residing there, as well as for fast movement of troops in case of war with increasingly hostile China. 
The Modi government has increased the infrastructural spending in sensitive areas of the Northeast and Jammu & Kashmir. China and Pakistan are closer than ever and therefore it is imperative India prepares itself for a two-front war. To fight a two-front war, connectivity to border areas is as important as fighting capability of armed forces. So, the spending on infrastructure becomes crucial to secure the strategic interest of India.
India could give a befitting reply to China only if it has a solid infrastructure in the region for movement of its armed forces. The infrastructure development in the region is also important from the civilian point of view, as it will make the life of people in the regions a bit easier. The people in border area regions live in very difficult condition; therefore, investment by government is necessary. The infrastructure development in the region will also promote tourism in the region which will bring economic prosperity of people living in the Border States.