In another embarrassment for Congress, it stands exposed again for manufacturing false narratives. This time Congress chief Rahul Gandhi is in the crosshairs for his claims that Prime Minister Modi has failed to deliver on the 'promise' of providing 2 crore jobs every year. However simple fact check demolishes this fake narrative.
Rahul Gandhi has been making this claim in various election rallies; he has even made this claim while in the parliament. Ex-PM Manmohan Singh and newly inducted Priyanka Gandhi Vadra, following on the lines of Congress party president have also been claiming the same.
"In every speech Prime Minister Modi had said that he would give to 2 crore jobs every year," Rahul Gandhi said this while addressing the parliament during the failed no-confidence motion.
"Our youth are desperately waiting for the promised 2 Crore jobs. Employment growth rate has been declining in last 4 years. People aren't impressed with the figures being put out by Modi govt to justify creation of large number of jobs," said Manmohan Singh.
While addressing a public rally in Gujarat's Gandhinagar, Priyanka Vadra had said, "Where is Rs 15 lakh that was promised to the people? What happened to the promise of assuring safety to women? Where are the 2 crore jobs?" The rally was also addressed by the party president Rahul Gandhi.
However, investigations by ABP news point clearly that PM Modi had made no such promise of 2 crore jobs. Some media reports while attributing the '2 crore' claim link it to a rally by PM Modi in Agra on 21 November 2013, however, what PM Modi had said is far from claims made by Congress and a few misleading media reports.
"Congress had promised in the Lok Sabha polls that if we come to power we will give 1 crore jobs…is there anyone who got a job…forget giving employment…they have locked down every factory in Agra," PM Modi said at the said rally.
PM Modi, however, has been using questions over this frivolous claim as an opportunity to tell people about the jobs created due to various schemes like Mudra and also due to increased infrastructure development.
Congress has been called out multiple times for similar incidents of peddling blatant lies without any restraint. Recently Congress president, Rahul Gandhi was also snubbed by the Supreme Court for attributing comments against the Prime Minister to the court, for the same a contempt notice has also been issued to the Congress chief.
Congress, in the campaign for 2019 general elections, has been called out but using white lies to mislead people, Recently Congress president in an election rally had also claimed that the Modi government had enacted a new law which allowed tribals to be shot at. Election Commission has issued a notice to Rahul Gandhi for the same.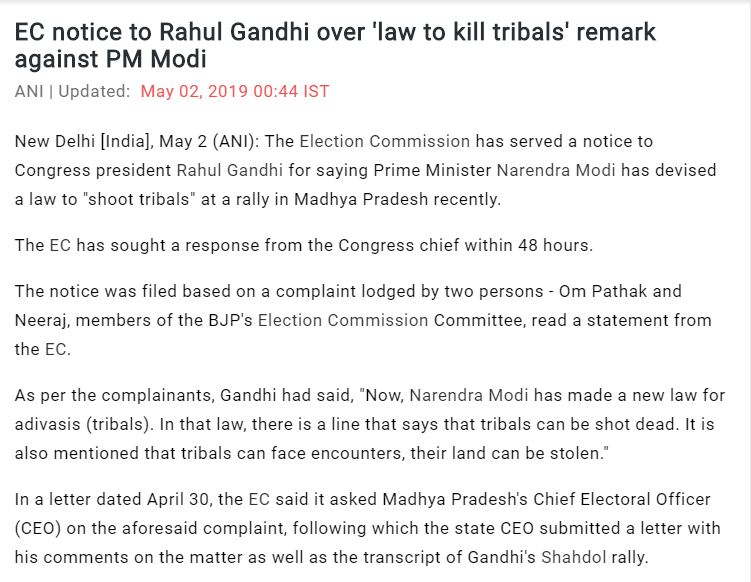 These general elections have been witnessing meek attempts from political parties to manufacture and peddle fake narratives to aid their electoral conquest. With political parties desperate and peddling fake narratives to save political ground from the BJP, these attempts are failing to stand the test of cores of Indians over social media. These narratives which earlier used to get unopposed traction from elite media circles are also being questioned on their credibility and their verifiability.