In the shocking turn of events, Loyola College in Chennai recently organized an art exhibition in which multiple anti-Hindu imageries were displayed. After the controversy erupted around these exhibits and protest by various Hindu organisations, the college was forced to remove these paintings. Later, on Monday, Loyola College administration finally apologized for the controversial art exhibition on its premises.
The art exhibition, at Loyola College, was nothing but 'a pile of garbage' full of anti-Hindutva, anti-national and anti-BJP belief. The portraits in the exhibition not only threw mud on PM Narendra Modi but also maligned the integrity and secular thread of the nation. In one of the portraits, a caricature of PM Modi was shown, resting on a swing tied on one pole with the flag of USA and with Trishul (Weapon used by Mahadev Shiva) on the other. Here, by the means of this vague symbolism, these fringe elements tried to project that the Modi government is riding like a swing between America and the Hindutva agenda. This heinous act of symbolism is nothing but a disgraceful attempt of painting the saffron party and PM Modi in a bad light.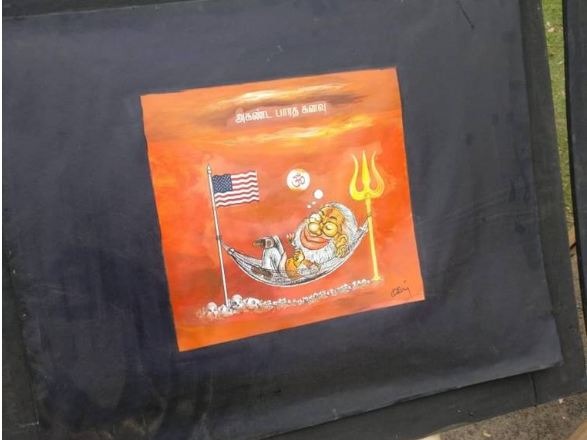 In another portrait, and the most decisive one, 'Bharat Mata' was depicted as being bombarded by the male semen; and the heads of the semen were replaced by various brands. The painting corresponded to an overarching 'MeToo' theme. Though women empowerment is the need of the hour and whether 'MeToo' is effective or not, is debatable; but depicting 'Bharat Mata' here, that too being torpedoed by male semen is totally unreasonable and just a gimmick to attract cheap popularity.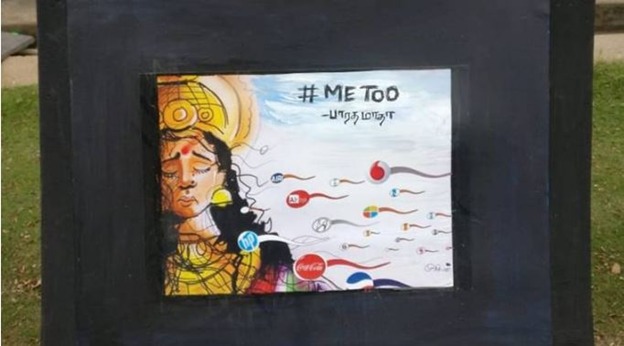 Further, attacking the BJP party, one of the portraits titled as Rafale deal showed the petal of lotus (symbol of the saffron party) as rats. Another one shows an image of a woman whose feet were shackled by chains and RSS was engraved on those chains. When enquired, the college administration claimed that it is not sure about who painted these portraits, reported Times Now.
Controversial paintings exhibited in Loyola college has stirred a storm. BJP National Secy H Raja has filed a complaint claiming paintings by folk artists has insulted PM, BJP and RSS. Loyola, meanwhile claims paintings displayed without knowledge @Ahmedshabbir20 with details pic.twitter.com/9vfQ4U3Irz

— TIMES NOW (@TimesNow) January 21, 2019
The college administration apologized for these misdoings but it appears that Hindutva has became a soft target for these 'elite' organisations. Many-a-time, the religious sentiments of Hindus are sidelined and used as a staircase to gain fame. The affinity of such so-called academia towards defaming the Hindu religion is not a new phenomenon. Incidents like these keep happening because most of the time the perpetrators hide behind the wall of Freedom of Expression. On the name of 'Right to Descent' and 'Right to Express', these propaganda peddlers get away with such blatant anti-Hindu remarks. Not only that, these 'esteemed organizations' are in turn celebrated and made hero by the academia and the so-called intelligentsia. This instant fame further encourages these anti-national elements to take the easy route and perpetrate more such nefarious acts.
As a matter of fact, such atrocious use of 'Freedom of Expression' needs to be checked. Another big question that arises is why the Hindutva is always the target of these 'epitome of liberal voices'. There is an utter need for ensuring accountability under the law to prevent such blatant anti-Hindu propaganda with explicit intention to hurt Hindu sentiments. Also, these despicable acts can't be justified under the flag of 'Freedom of Expression'.