Tej Pratap Yadav is back with his antics as recently while addressing RJD's youth and student wing workers he said that he will play the role of Krishna in the 2019 Lok Sabha elections and his brother Tejashwi Yadav will be 'Arjuna'.
To quote Tej, "I have returned to Bihar after receiving the blessings of Lord Krishna during my pilgrimage. The state will emerge as Kurukshetra in the 2019 Lok Sabha polls and our detractors will be slayed with the Sudarshan Chakra of the popular vote."
Tej Pratap made a surprise entry on Sunday afternoon to party office at Veer Chand Patel Marg where he confirmed about his return in active politics. During his speech, he praised Congress President Rahul Gandhi for leading the party to emphatic victories in Chhattisgarh, Rajasthan and Madhya Pradesh. Tej in the past few months was not active in politics due to his estranged relationship with wife Aishwarya Rai, whom he had married only six months ago.
Their wedding ceremony was nothing less than a drama with posters dotting the streets of Bihar showing them as avatars of Lord Shiva and Parvati soon after their engagement ceremony on April 18. The ceremony saw a huge turnout of RJD workers who had come to meet party Chief Lalu Yadav. Several RJD workers and supporters present barged into the venue and vandalized food stalls. 
Only after few months of their marriage, Tej filed for divorce from wife Aishwarya. Tej after filing divorce said, "Everybody from my father to my mother and my siblings have left my side to stand in solidarity with my wife. Even so, I will not go back on my decision."
Speculations were rife about Aishwarya contesting the Lok Sabha Election in 2019 from the Chapra constituency. There were hoardings up on the streets of Bihar on RJD's foundation in which she was seen placed alongside Lalu Yadav, Rabri Devi, Misa Bharti, Tej Pratap Yadav & Tejashwi Yadav. 
Tej recently demanded a separate residence to concentrate on his fight with the BJP, speaking to ANI he said, "Does Tejashwi not have a separate residence? Earlier also I didn't live at 10, Circular Road (the bungalow allotted to his mother as a former chief minister), I used to live elsewhere. I have to focus on my fight. How will I win the fight if I go and sit at home?"
He also requested Chief Minister Nitish Kumar for a separate home as he said, "I wrote to the chief minister a month or two ago. I also spoke with (Minister of Building Construction Department) Maheshwar Hazari, but I have got no response yet."
Earlier this year, he had accused Bihar Deputy Chief Minister Sushil Modi of resorting to 'black magic' and unleashing 'ghosts' to force him out of his bungalow and said that BJP had hired hitmen to kill him. He had claimed, "On my way to Mahua, an armed person held my hand and was unwilling to leave. This is a conspiracy by the RSS and BJP to kill me. MLAs, ministers are not safe here, how can commoners be safe?"
In July this year, he dressed up as Bhagwan Shiv and also played 'damru'.
#WATCH: RJD leader Tej Pratap Yadav dressed up as Lord Shiva offers prayers at a Shiva temple in Patna before leaving for Baba Baidyanath Dham in Deoghar pic.twitter.com/gdBViBmofH

— ANI (@ANI) July 31, 2018
Along with politics, Tej Pratap Yadav is all set to begin his inning in Bollywood as well. In June, he released the poster of his 'comming soon' movie- Rudra: The Avtaar.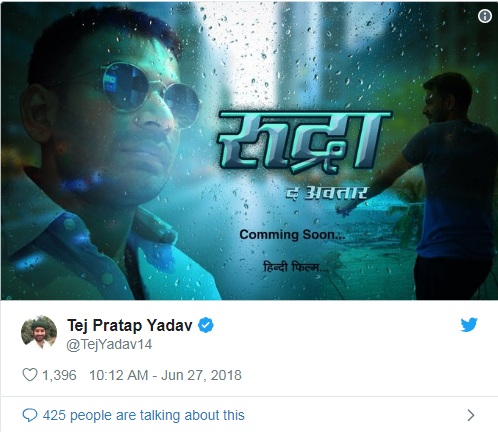 It seems that Tej Pratap Yadav is following the footsteps of his own father, who never failed to entertain the masses, and actually, everyone needs to thank him for being a constant source of laughter!