With a gamusa and the Indian flag on her shoulders, Hima Das became India's first world gold medallist at the World U20 Championships in Tampere, Finland. She made the nation proud. While the entire country is appreciating and the world is looking at Hima Das as a hope in India's running events, a so called news portal is trying to malign her with senseless articles. We are well aware that such news portal can go to any extent just for some 'content' or to fulfil their agenda. But this time it has gone too far.
'The Wire' which is known as a propaganda peddler, has made disgraceful comments on one of the proud daughters of India, Hima Das. The Wire in its article has now questioned the traditional attire Gamusa of the Assam calling it a 'symbol of insecurity.' Symbol of insecurity? Seriously?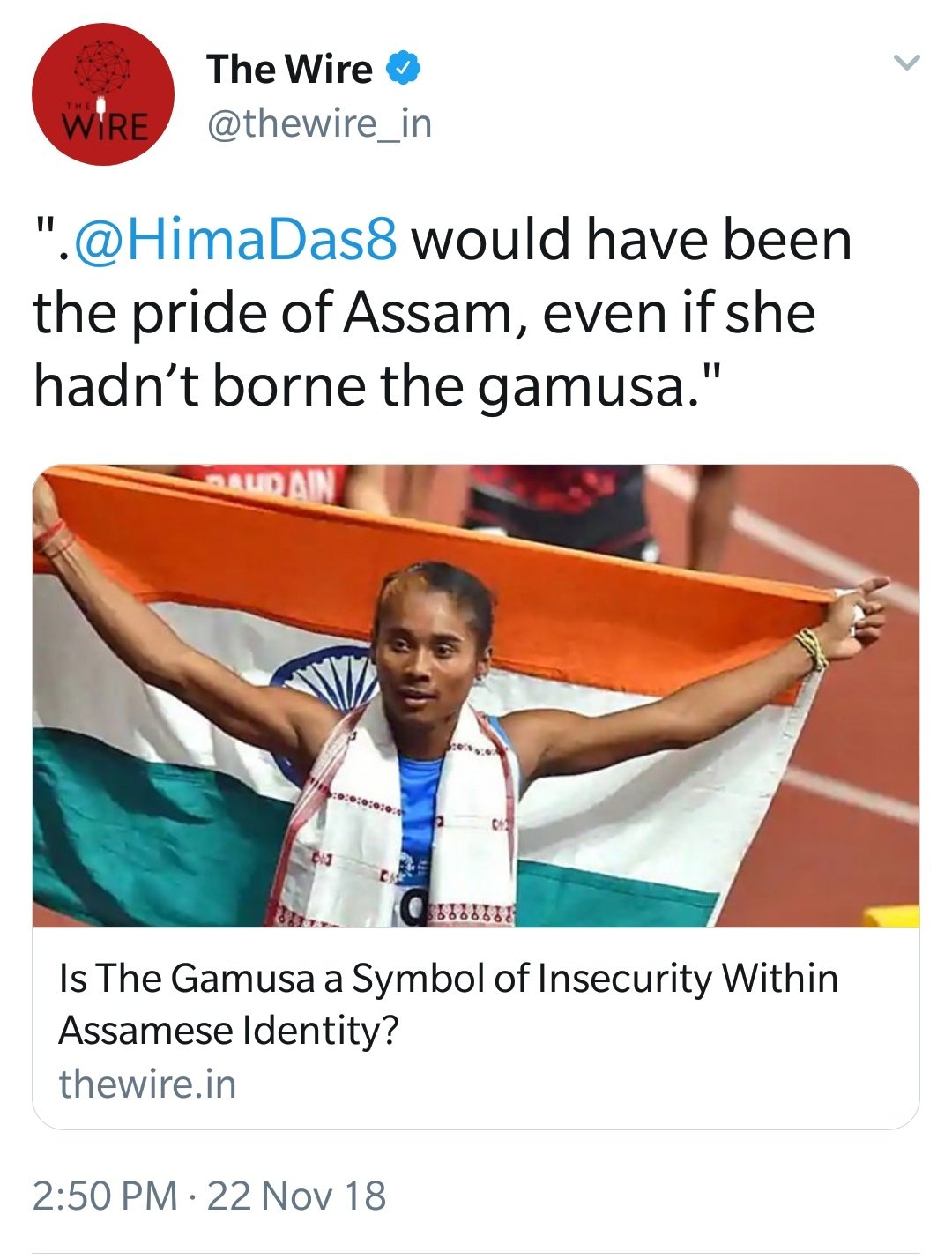 The Gamusa (Assamese: গামোচা) is an article of great significance for the people of Assam.
Significantly, the gamusa is used equally by all irrespective of religious and ethnic backgrounds. One can therefore, very well say, that the gamusa symbolizes the indigenous life and culture of Assam.
Wearing the Gamusa is a tradition of the people of Assam and they display it proudly. Doesn't many states have their own way of representing themselves which they follow on national and international level as a matter of pride? So, what is wrong with Hima Das wearing a traditional attire?
The Wire's article talks about how a Bodo Aronai or a Dimisa Rishhah is as equivalent of the gamusa for the Bodo and the Dimasa community – are equally representative of being Assamese. And no doubt it is but regardless of me being born in a Bodo family, if I am going to represent my state I will be wearing a gamusa and if I am going to represent my community I will be wearing a Bodo Aronai. Isn't this a clear attempt by the Wire to divide the communities within the state?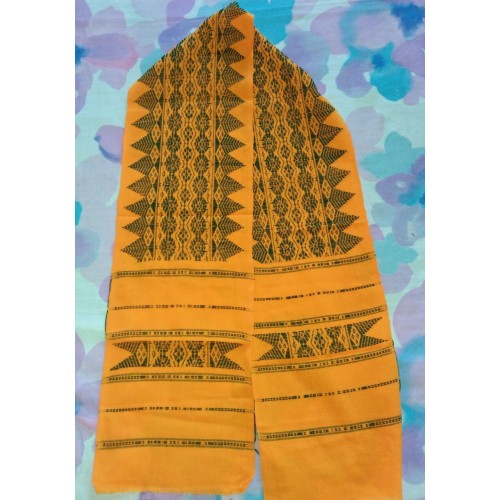 India being a diverse country, cultural awareness is important and displaying cultural attire in a global platform helps people to connect with their roots. For instance, the recent twitter episode of Karan Johar is the best example of it.
Recently, Bollywood filmmaker Karan Johar apologised for one of his recent video. In the video, Karan is seen asking Kirron about the jappi (a traditional conical hat from Assam) that she is wearing. When quizzed, Kirron stated, "People from Arunachal Pradesh have brought it for me and they have got this for you. Why are you not wearing your hat?" Then Karan quipped, "Because you have guts, I don't."
Karan then told Kirron that she is looking like someone who is going to break into some kind of qawwali. "How can I break into a qawwali in a bamboo hat? What's wrong with you? You don't know the states of this country," Kirron questioned.
As soon as the video went viral, people criticised him for disrespecting the cultural sentiments of people from the Northeast.
A Twitter user questioned Karan's motives for hurting the Assamese sentiments. He tweeted, "Dear @karanjohar the Japi and Gamusa are signs of respect and love. When someone gifts you one, you don't make fun of it, even if it does not go with fashion. Your video hurt the emotions of #Assamese people. Just informing, in case you didn't know it already."
Karan soon deleted the video and issued an apology on Twitter.
You are absolutely right and I would like to apologise if I have hurt any sentiments…..it was purely unintentional and came from a place of no knowledge which is absolutely no excuse….am extremely sensitive to the different cultures of our land and I am very sorry…. https://t.co/7dgzreI90L

— Karan Johar (@karanjohar) November 14, 2018
But to expect an apology or even retraction from the Wire would be too much as agenda peddling has become their bread and butter. However, they should be reminded of the fact that this divisive tactic would not work. Every Assamese is proud of its culture and gamusa is an inherent part of it. There couldn't be a prouder picture for an Assamese to behold than Hima Das on the podium wearing a gamusa and no matter how much the Wire or anyone else tries they can't ruin this for us.