The corporate culture in India was rammed by corruption and nepotism for decades. The Government used to spoon-feed selected established corporate houses through public sector bank loans and if businesses then too failed, public sector banks which run on taxpayer's money had to bear losses. Several Indian companies were defaulting on their loans intentionally, because initially there was no law to dissolve their companies. The promoters were sure that the management of the company will not go out of their hands. They took loans from the government banks by bribing the employees with the intention of never returning them back. Since India brought the Insolvency and Bankruptcy Code (IBC), companies are now running after the banks to pay back their dues, because the IBC rules barred promoters of companies that are classified as non-performing assets (NPAs) from bidding for these companies.
Ruia family offered one of the highest bids to take back control of their own company, Essar Steel for which the committee of lenders had already accepted the ArcelorMittal's proposal of 42,202 crore rupees. Numetal promoted by Ruia family offered to pay Rs 54,389 crore including Rs 47,507 crore upfront cash payment to the dues accumulated over the years. The lenders seek to recover dues of Rs. 49,000 crore by selling of Essar steel. This is among the most successful cases of Non Performing Assets being solved through Insolvency and Bankruptcy Code. If the NCLT goes with the deal offered by ArcelorMittal then the recovery will be above 85 percent and if it goes with the offer of the Ruia family then there will be 100 percent recovery. However, it is very unlikely that the offer of Ruia family will be taken seriously, given its previous track record.
"The shareholders of Essar Steel have today (Thursday) submitted a proposal to the Committee of Creditors (CoC) for full settlement of the entire admitted claims of the financial creditors, operational creditors, and workmen and employees of Essar Steel India Ltd (ESIL), aggregating Rs 54,389 crore, under Section 12A of the Insolvency and Bankruptcy Code," the company said in a statement. Therefore, the deal with ArcelorMittal is expected to be finalized very soon.
Ruia's are infamous for Essar leaks which include e-mails, office memos, telephone conversations of union ministers, business rivals, bankers and bureaucrats. Ruia brothers (Shashi Ruia – Chairman, and Ravi Ruia – Vice Chairman) tapped high level decision making conversations to know about important decisions and probably even to blackmail these people. They also tapped the phones of the Ambani family (Mukesh Ambani, Anil Ambani, Nita Ambani) to know about their business deals.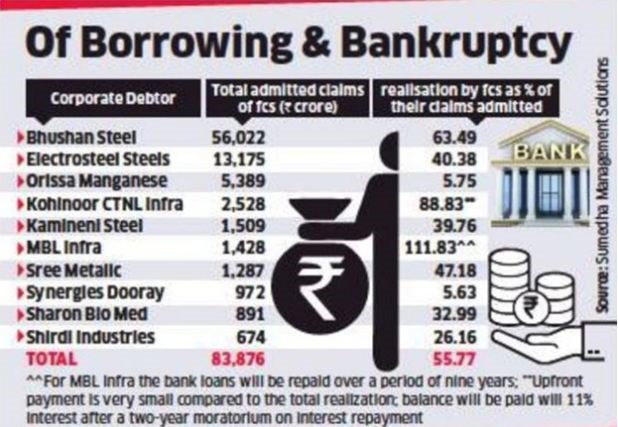 Banks have recovered a total of Rs 1.1 lakh crore from defaulters who were unwilling to pay earlier. If the defaulter goes through IBC process, the promoters will lose control and will not be able to even bid for their own company. The fear to lose control over management is making the promoters pay loans. "It would be wrong to say that all the cases are withdrawn because the debtor pays up, but we are seeing that dues are cleared in a large number of cases once a case is filed," said a senior government official. So far 977 cases have been filed in National Company Law Tribunal (NCLT) where lenders led by banks or operational creditors such as suppliers initiated the process. This fiscal year, public sector banks are aiming to recover 1.8 lakh crore which is two and half times more than the last fiscal year.