The prices of petrol and diesel have gone up substantially in the last few days. Rising crude oil prices in international market and market control of prices led to the hike in petrol and diesel prices. The middle class of country is suffering because household expenditure has gone up due to hike in petroleum prices. To give relief from increased petroleum prices, CM of Rajasthan, Vasundhara Raje announced 4 percent reduction in VAT on petroleum and diesel. "We have decided to reduce VAT on diesel and petrol by 4 per cent, which will provide much-needed relief to the people of the state, be it farmers or women or others." said Raje.
पेट्रोल व डीजल में वृद्धि को देखते हुए आज वैट 4 फीसदी कम करने की ऐतिहासिक घोषणा की। पेट्रोल 30 से 26 प्रतिशत और डीजल 22 से 18 प्रतिशत होने से प्रदेशवासियों को बड़ी राहत मिलेगी। #PeopleFirst #JaiJaiRajasthan pic.twitter.com/MlBJ9EqZ4h

— Vasundhara Raje (@VasundharaBJP) September 9, 2018
पेट्रोल-डीजल की कीमतों को कम करने से पड़ने वाले करीब 2 हजार करोड़ के वित्तीय भार को जनहित में #Rajasthan सरकार वहन करेगी। इससे पेट्रोल-डीजल के दामों में करीब ढाई रूपये प्रति लीटर की कमी होगी।#PeopleFirst

— Vasundhara Raje (@VasundharaBJP) September 9, 2018
हमारी सरकार जनता की सरकार है, जनता की आवाज हमारे लिए ईश्वर की आवाज समान है इसलिए हमने जनता की आवाज पर पेट्रोल-डीजल के दामों में यह कमी की है। इस कमी से आम व्यक्ति, किसान, व्यापारी, विद्यार्थी, नौकरीपेशा करने वाले व्यक्ति, महिला और सभी वर्गों को राहत मिलेगी।#PeopleFirst

— Vasundhara Raje (@VasundharaBJP) September 9, 2018
The 4 percent reduction would result in relief of 2.5 rupees per liter on petrol and diesel. The VAT on petrol was 30 percent and 22 percent on diesel, now it will be reduced to 26 percent and 18 percent respectively. It will cost Rajasthan government 2000 crore. The bold decision by Raje government given the high cost is laudable. Other states in country could also follow the initiative. Central government has long been blamed by the media and opposition for hike in fuel prices. However, it is state government which benefits most from taxes on fuels. The state government levies Ad valorem tax ("according to value"), which means that this tax changes with a change in oil prices. Whenever the price increases, the tax also increases, and vice versa. For example, if the price of oil is Rs. 100 and the tax on that is 20 percent then the consumer has to pay Rs. 20 as a tax, but when the price is Rs. 200 then the consumer has to pay Rs. 40. Different states have different tax rates on petroleum ranging 40 percent to 10 percent.
So, it is the states which benefit from hike in petroleum prices, thus they should go for a cut, not the central government. Taxes on petroleum is milking cow for state governments, the first thing 'Mahagathbandhan' government did in Karnataka is to increase taxes on petrol and diesel, to finance farm loan waivers. Tax on petrol was increased from 30 to 32 percent and on diesel 19 percent to 21 percent.  Five states — Maharashtra, Gujarat, Madhya Pradesh, Himachal Pradesh, and Rajasthan reduced the VAT rates on petrol and diesel in October following the excise cut by the center. At that time all these states were ruled by the BJP except Himachal Pradesh.  Other states like Delhi, ruled by Arvind Kejriwal and West Bengal, ruled by TMC did not reduce the prices to pass on the benefits to the consumer, and are now conveniently blaming the Modi government for increased oil prices. The money that different states got over the last two days after an increase in prices of petrol and diesel are as following: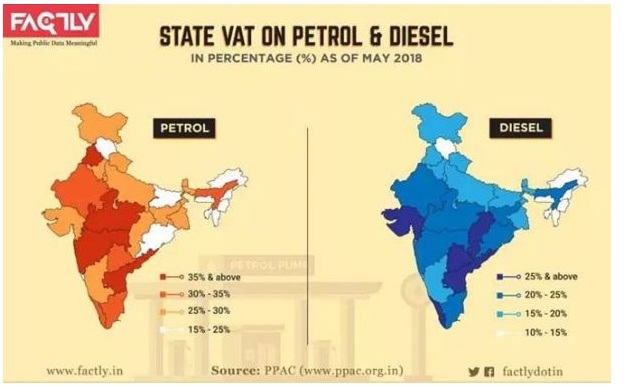 Central government imposes a fixed central excise duty on petrol and diesel, which is currently Rs 19.48 per liter of petrol and Rs 15.33 for diesel. Hence, there is no scope for the Modi government benefiting from a price surge because the tax by the central government is fixed, irrespective of increase in prices. The rates were changed last on October 4, 2017, when the government slashed the price by two rupees. The next important point that needs to be noted is that the Fifteenth Finance Commission had increased states' share of Union taxes to 42 percent from the previous 32 percent. Therefore, 42 percent of what the central government earns through central excise duty ultimately goes to the states. So, even what central government earns through taxation on petroleum, almost half of that goes to states.
 The question is if states are the prime beneficiary of petroleum taxes and state governments had fiscal space to lower the taxes then the why opposition and 'National Media' blames central government. Well, opposition blames central government because they do not have any real issues to fight for. 'National Media' blames central government due to various reasons. Many journalists do not understand technicalities of the taxation process. The self proclaimed tag of 'National Media' compels them to not worry about state government issues. TRP will be low if they go in technicalities of things in their show and going after particular states will limit their audience. Other states can definitely learn from the Rajasthan government to reduce the burden of the consumers.