Cristiano Ronaldo is like a gold mine which has an unlimited amount of precious metal for football clubs. Ronaldo switching to Juventus from the mighty Real Madrid was the second biggest news after world cup results in the football world. Since the official announcement of Ronaldo's signing was made, the market capitalization of Juventus has increased by 25%, or 169 million euros, to 837 million euros. The Italian club bought Ronaldo for a whopping 340 million euros and now it dreams to achieve the 'superclub' status.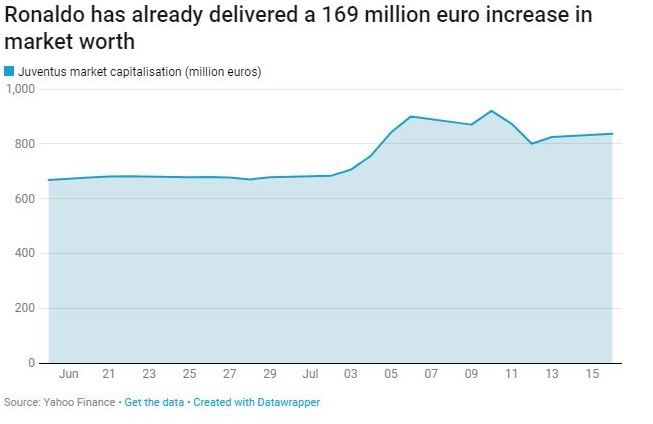 A superclub is where revenues, spending, ambition, expectations are magnified, each feeding into the other, creating a self-serving circle that must keep expanding for its own sake. Their operational revenues are near 500 million euros and have a global standing. Among the six European clubs that exist in that rarefied space, none are from Italy. Now Juventus seeks to join the elite league with the 33-year-old Ronaldo who is at the peak of his footballing powers and commercial value.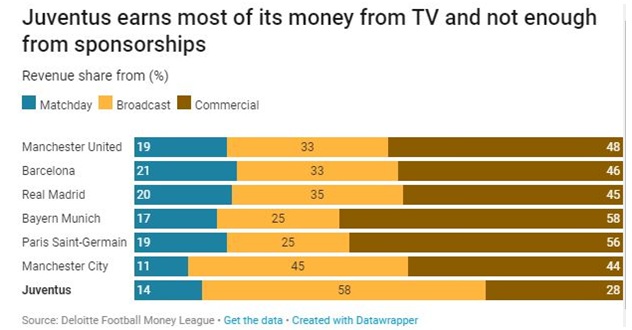 The revenues of European football clubs are classified into three categories by annual Deloitte Football Money League report, the match day, broadcast and commercial. The smallest share of revenue comes from match day segment but the problem with Juventus team is that this segment is even smaller for them. The reason behind this is that Juventus' Allianz Stadium in Turin has a modest seating capacity of about 41,500.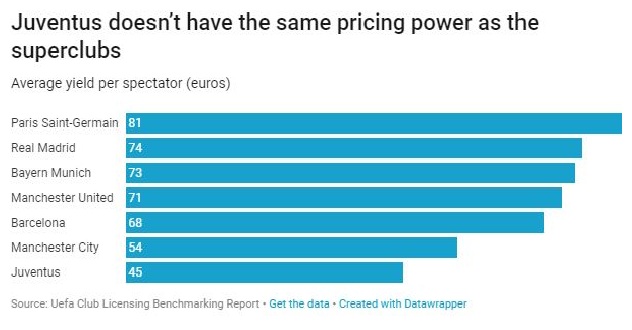 This is small in comparison to the superclubs like Manchester United and Real Madrid with whom it seeks to compete with the mighty prowess of Ronaldo. The stadium strength of Real Madrid and Manchester United is 81,000 and 75,000 people respectively. In 2016-17, a year in which it made the Champions League final, Juventus did not even feature in the top 20 clubs by attendance. Further, in 2016-17, Juventus earned an average of €45 from each spectator per match—12th highest among all European clubs. This was significantly less than what the superclubs realized.
In the broadcast category which is TV rights revenue, Juventus performs exceptionally well. Almost 58 percent of the team's revenue comes from this section which is far greater in proportion than the superclubs. The team earns more from TV because it has performed excellently in European football despite the fact that it lacks star players. The team reached to finals in 2014-15 and 2016-17 season, although losing up both times to Portuguese football clubs. In 2016-17, the Real Madrid defeated it of which Ronaldo was part of at that time. Now adding Madrid's star is the first step in its resolve to exact revenge.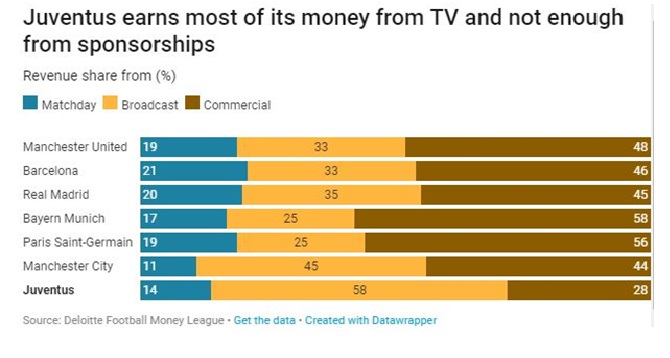 The greatest leverage and growth potential for Juventus is commercial revenues, which covers sponsorship, merchandising and other commercial operations. Barcelona, Real, and Manchester United have kit deals of 75-150 million euros a year. By comparison, Juventus operates in the 25-75 million euros band. According to estimations Juventus has sold Ronaldo jerseys worth 50 million euros in the first 24 hours but that is still a fraction of a total of 340 million euros it is paying for him. Another reason behind low commercial revenue for the team is that it is owned by the Agnelli family, which also owns the Fiat Group. Therefore Juventus jerseys are bound to carry a Fiat automobile brand, Jeep, which reportedly earns the club 20-25 million euros a year. The greater visibility that Ronaldo brings is a terrific advertisement for Jeep. Alternatively, Juventus can bring in a marque brand on the jersey, and elsewhere, on sizeable terms.