One of the major achievements of the Modi government is the achieving of above target and before time project completion by some ministers. Recently, Nitin Gadkari was in the news for completing the Delhi-Meerut expressway before the targeted time period. Now the RK Singh led Ministry of Renewable Energy (MRE) has revised the target of 175 GW renewable energy generation by 2022 to 227 GW.  
A few months ago, PM Modi had said in Davos "To save the environment and to fight climate change, my government has planned a major campaign. By 2022, we want to generate 175 GW of renewable energy. In the last three years, we have already achieved 60 GW or around one-third of this target." RK Singh said in a statement that "The target for 175 GW renewable energy capacity addition is not being revised, we will be 'overachieving' the target." The new target for 2022 in different renewable energy sectors is as following.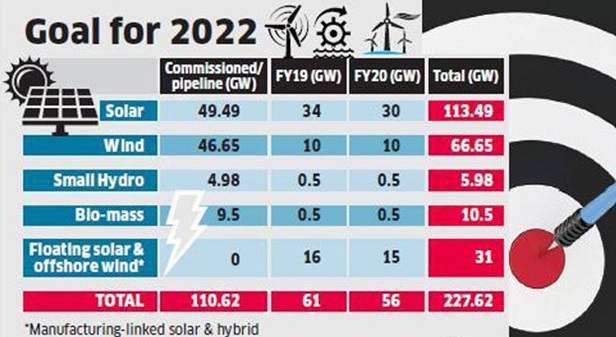 The largest growth in renewable energy generation is in the sector of solar energy which has grown nine times in the last four years. The solar industry is expected to benefit further from the reforms in China which announced last week that they would cut the subsidies to developers and halt the approvals of new solar projects to ease its pace of expansion. This will result in lower demand in China which is the biggest market, and therefore, producers in the country will be forced to look for alternate foreign markets. This will bring the prices of of photo-voltaic cells to a significantly lower level.
"Tariffs in India's next solar auction scheduled for mid-June may fall below the 2.44 rupees per kilowatt hour record set May 17 last year", said Sanjay Sharma, General Manager at Solar Energy Corp. of India, the agency responsible for implementing India's renewable targets. India is the largest importer of photo-voltaic cells from China, accounting for more than 3 percent of its exports.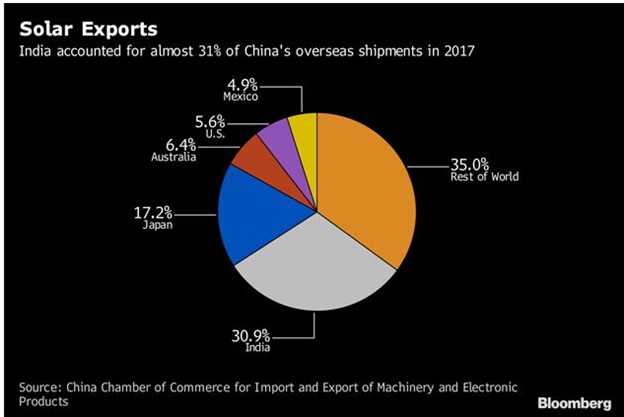 India has doubled its capacity generation in renewable energy in last four years with solar energy capacity growing 9 times and wind energy capacity growing 1.5 times.
Addressing a press conference on 5th June on completion of 4 years of Modi government, RK Singh said "India's current renewable-based power capacity stands at 70 GW, and we will cross the 175-Gw target well before 2022. We have new schemes like offshore wind, floating solar, which will help us over-achieve the current target." Comparing the performance of previous governments with last four years he further said "We added a 24,000 Mw power generation capacity per year, compared to 4,800 Mw by earlier governments. Besides, a 25,000 circuit km transmission capacity was added per year, compared to 3,400 circuit km during the previous governments."
The share of different sectors in energy production in the year of 2014-15 is given in the following table.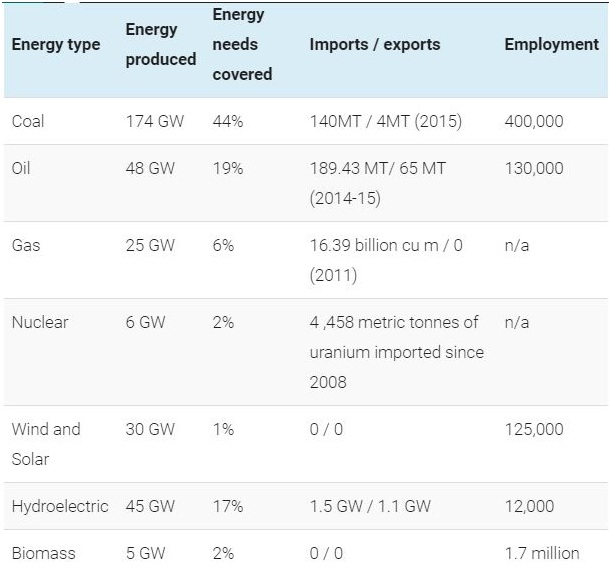 India has made a great leap forward in the energy sector under the Modi government, as all the villages of India are electrified and its renewable energy sector has attracted investments of 42 billion dollars in the last four years. According to the Ministry of Renewable Energy "Globally, India stands 4th in wind power, 5th in renewable power and 6th in solar power installed capacity. Solar energy capacity has increased by 8 times from 2.63 GW in 2014 to 22 GW. Wind energy capacity increased by 1.6 times from 21 GW in 2014 to 34 GW." 
Energy use in India has almost doubled since 2000, although per capita consumption is only around a third of the global average. Three-quarters of its energy demand is met by fossil fuels, a share that has been rising as households move away from the use of solid biomass (mainly fuel wood) to liquefied petroleum gas (LPG) for cooking. The growth in energy consumption is very important as it is one of the indicators of economic development. If the growing energy demand is met through fossil fuels, then it would be very harmful on the environment and on human health. Therefore, it is very important that the Modi government makes investments in the field of renewable energy