The Canadian Prime Minister Justin Trudeau began his week-long tour to India on February 17th, 2018. He arrived with his wife and three children. It is Justin Trudeau's first trip to India since taking office in the year 2015. The trip was planned by the Canadian Prime Minister to improve the ties between India and Canada. The liberals have complained that the Prime Minister of Canada, Justin Trudeau received a cold welcome by the government of India (the complaint, as usual, is wrong, Trudeau has been received as per the protocol everywhere). However, the trip of Justin Trudeau is grabbing eyeballs more for the fashion choices of the family than for official and political reasons. As it has, the Trudeau's visit has generated enough controversy (regarding his perceived support for Khalistanis and the invitation of Khalistani militant Jaspal Atwal to one of Trudeau's events) that now even his choice of dressing has amused people. The Trudeau family have visited The Taj Mahal in Agra, the Golden Temple in Amritsar, the Akshardham temple in Gandhinagar, Sabarmati Ashram in Ahmedabad, Jama Masjid in New Delhi and Mumbai. In almost all of these visits, the family is seen wearing traditional Indian outfits.
Justin Trudeau, his wife Sophie and their three children have been donning traditional Indian outfits by some of the biggest designers of India. It looks like the Trudeau family have come for a family holiday instead of an official trip.
The headline of even an Indian English magazine Outlook (which can be considered to be liberal) asks its readers if the Trudeau family's attire is "too flashy even for an Indian?". Outlook is not the only one to question their fashion choices. Justin Trudeau and his family are being criticized by many on the social media for overdoing the outfits. They wore color-coordinated Indian outfits with garlands at the Sabarmati Ashram in Ahmedabad and Akshardham Temple in Gandhinagar.
Then in Mumbai while meeting top businessmen and film stars, Trudeau wore a golden sherwani with heavy work on it. His wife wore a cream colored beaded saree and the children were seen donning sherwanis and lehenga. In contrast the Bollywood actors were seen wearing simple suits, jackets. A tweet said that Justin Trudeau looks like he has come out of a Manyavar Ad. The sherwani makes him look like a bridegroom of an Indian wedding.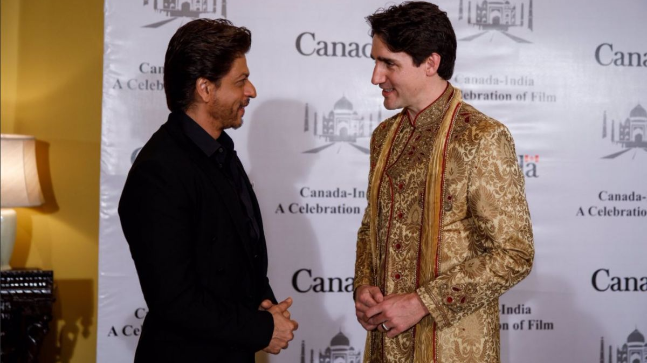 Some in Pakistan also took a dig at Trudeau's outfits. Pakistani journalist, Naila Inayat tweeted about Trudeau's golden sherwani and insinuated that it was apt for his attendance at Imran Khan's third wedding and reception than for his meeting with the Bollywood stars. On the fourth day of his trip, he visited the Golden Temple along with his wife and children. The family was again seen wearing traditional Indian designer outfits.
By now the family received a lot of criticism for their choice of dresses. People on the social media feel that the family should have rather kept it simple and elegant instead of going over the top. On the fifth day of his 'official visit' Trudeau and his family visited the Jama Masjid in Delhi, again wearing designer Indian outfits that even Indian people do not wear usually to such places. Omar Abdullah tweeted a collage of pictures of the Trudeau family and wrote "Is it just me or is this choreographed cuteness all just a bit much now? Also, FYI we Indians don't dress like this every day sir, not even in Bollywood". The social media is full of tweets, comments on the Trudeau family's dresses.
Is it just me or is this choreographed cuteness all just a bit much now? Also FYI we Indians don't dress like this every day sir, not even in Bollywood. pic.twitter.com/xqAqfPnRoZ

— Omar Abdullah (@OmarAbdullah) February 21, 2018
Justin Trudeau, who became the Prime Minister more than two years ago is the leader of the liberal party in Canada. He is known for his sometimes bizarre and outlandish behavior even as the head of his country. Recently, while mansplaining to a woman, he asked her to use "peoplekind" instead of mankind. Maybe, the next time an Israeli Prime Minister is on an official trip to India, he should wear a flashy sherwani instead of the usual formal outfits. Although we feel it is an individual's choice to wear whatever outfit he or she likes, the wardrobe of the Trudeau family looks like they have gone overboard in trying to flatter the host country.
This Canadian taxpayers is not wrong here when she says:
https://twitter.com/DianeDallas10/status/966350636609552384