With an extremely close brush in Gujarat and BJP losing as many as 16 seats as compared to their previous record, its high time that BJP understands who their core voters are. They will have to return to appeasing their core voters rather than trying on the section who would either never vote for them or the party won't be able to pull in a considerable section.
With Narendra Modi coming in power in 2014, Hindus who had felt oppressed and inferior for no reason for a thousand years, got a bright ray of hope and loaded the man with expectations. Even though it sounds unjust for a four year government to deliver everything as per the expectations, the government will at least need to deliver what they had promised in their Election Manifesto of 2014. Hindus won't like having the same manifesto in 2019, so in order to outstand their political competitors, BJP needs to up their Hindutva Ante and provide results in 2018 itself.
Narendra Modi's image as a Chief Minister of Gujarat
Modi's image as a Chief Minister had been of a staunch Hindu which surely added to his vote share in 2014. The way Modi managed to control Godhara riots after a fanatic sect of society burnt the train carrying devotees of Shri Ram added to his long list of fan following all over India as well as NRIs.
In 2013, Modi openly declared that he is a Hindu Nationalist.
Even in 2017, open supporter of Hindutva cause, Dr. Subramanian Swamy was quoted saying, "The prime minister is a pracharak of the RSS. So, if you peel off his exterior it is all Hindutva."
Promoting Hindutva on a world stage – What went RIGHT?
»YOGA: Yoga is one of the ṣaḍdarśanas or one of the six āstika philosophical schools of Sanatana Dharma. With the efforts of Narendra Modi, Yoga got a worldwide recognition. The Indian Prime Minister Narendra Modi in his UN address suggested the date of 21 June to be celebrated as International Day of Yoga, as it is the longest day of the year in the Northern Hemisphere and shares special significance in many parts of the world. As the practice basically promotes breathing exercises for a healthy way of life, entire world welcomed the step.
» BHAGWAD GEETA: He has gifted copies of the Bhagavad Gita to former US President Barack Obama, Chinese President Xi Jinping and to Japanese PM Shinzo Abe, Japanese Emperor Akihito. He took a dig at seculars back in the country saying they could kick up a storm and trigger TV debates back home.
While gifting the scripture to Emperor of Japan, he was quoted glorifying the book as, "Because I don't think that I have anything more to give and the world also does not have anything more to get than this." The scripture starts with the description of soul's dilemma in the world, how God provides direction to the soul and ends at surrendering to the Lord and is one of the most distributed books in the world.
» SANSKRIT: Unlike the ministers who had been pleasing the audience with lust knitted Urdu shayaris, Modi took the world stage (United Nations) and Indian Parliament to glorify Sanskrit, world's oldest language revered as Devbhasha in Sanatan Dharma. Modi proudly recited Sanskrit shlokas and Subhashit verses that speak about betterment of entire humanity.
» TEMPLE IN ABU DHABI: Narendra Modi's biggest achievement to promote Hinduism is getting a land for building first Hindu temple in Abu Dhabi. He thanked the UAE government in his tweet: "I am very thankful to the UAE Govt for their decision to allot land in order to build a Temple in Abu Dhabi. This is a great step."
» RELIGIOUS CONVERSION: In an attempt to break the backbone of religious conversions of Hindus, BJP led government cancelled Licenses of around 20,000 of 33,000 NGOs after they were found to be allegedly violating various provisions of the Foreign Contribution Regulation Act (FCRA), thus barring them from receiving foreign funds.
Religious conversion in India remains a major issue as it drives on money rather than philosophy. No religion of world can match Hinduism when it comes to values. Mahatma Gandhi is quoted in 'Harijan' on November 5, 1935 as "If I had the power and could legislate, I should stop all proselytizing."
» RECITATION OF SAUNDARYA LAHARI: In October, 2017, Narendra Modi joined a massive gathering of 75,000 people (60,000 out of which were women) for singing Saundarya Lahari, praise to Goddess Parvati, in Bengaluru.
» RAM SETU: Recently, Prime Minister called some of the cabinet ministers and came to a conclusion that any project damaging Ram Setu won't be approved.
There are many isolated events where the Government has shown positive inclination towards Hindutva. Few examples are getting deity of Lord Nataraja (dating back to Chola dynasty) back from Australia, gifting Kadhua Banarasi silk (mentioned in Mahabharata) saree to Michelle Obama, Uttar Pradesh's CM Yogi Adityanath celebrating Diwali on a grand scale, Madhya Pradesh's CM appreciable preparations for Simhastha Kumbha.
But these examples alone don't suffice what BJP had promised in the manifesto, what could have been easily achieved or what should not have happened.  
Senior BJP leader Dr. Subramanian Swamy forecasted in 2016 that the party will need to stick to Hindutva and consolidate the votes to stay in power for following terms. He was quoted saying, "The politics that has been going on before 2014 was (about) how to divide the votes on caste, region, religion and language, by consolidating the minority and dividing the majority. If one has to combat that, then majority vote has to be consolidated. Hindus are 80 per cent, but BJP got 31 per cent votes (in 2014). Consolidating Hindu vote is compulsory,"
http://www.news18.com/news/politics/bj-needs-to-mix-hindutva-with-development-to-win-polls-subramanian-swamy-1320075.html
What needs IMPROVEMENT?
It has not been a cakewalk for BJP since 2014 and there are few areas where they will have to rectify few things before 2019.
» NEW FOUND HATRED FOR TIPU SULTAN: With Karnataka's Congress government celebrating the birth anniversary of a tyrant who slaughtered countless Hindus, BJP was quick to act and send senior party members to the state to mark their outrage.
SUGGESTION:  Change the name of Tipu Express/12614 to 'Cariappa Express' immediately to mark an actual protest.
» BJP LED MAHARASHTRA:
1-A) You can't install a statue even on your private land if 'minorities' object:
Maharashtra is a land of festivals which proudly celebrates Ganesh Chaturthi, Janmashtmi, Durga Puja, Diwali on a very large scale. A mandate like this will puncture BJP's Hindutva image.
SUGGESTION: This needs to be reverted with no further anti-majority mandates. Hindus worship idols and any mandate like this hurts religious sentiments.

1-B) Anti-cracker campaign during Diwali, Be Santa campaign during Christmas:
Chief Minister Devendra Fadnavis administered a pledge to students to observe a 'cracker-free Diwali' this year. Meanwhile, his wife Amruta Fadnavis attracted a social media outrage from Hindus for celebrating 'Be Santa' campaign.
SUGGESTION: There should not be appeasement for one religion and bashing for other. Secularism is not a one-way street, either appease all or none.
1-C) Forceful imposition of UPA-2's Right to Education: This bill is set to destroy Hindu budget schools and it grants autonomy to minority owned schools.
SUGGESTION: This must be immediately rolled back.
There are many more acts of Maharashtra Government if not checked soon, it will result in BJP losing all the Hindu votes of state.
» Appointing Interlocutor in Kashmir: Center has appointed former Director of the Intelligence Bureau Dineshwar Sharma as its interlocutor for Jammu and Kashmir to initiate and carry forward a dialogue with elected representatives, various organizations and concerned individuals.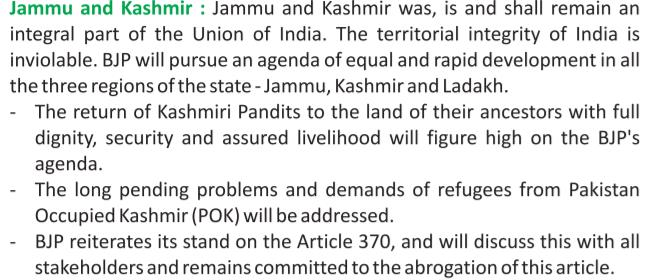 SUGGESTION: Till now, it only appears to be what we can term merely as a step towards what was actually promised in the party's manifesto. The party will need to become hard headed now to provide long awaited justice to Kashmiri Pandits.
» NAMAMI GANGE: With no significant actions taken yet in the project and as suggested by latest CAG report, majority of the funds remain unused. The official site of Namami Gange suggests that maximum projects have not started delivering yet and are in implementation phase. In 2017, the government had to transfer all the related offices from Uma Bharti to Nitin Gadkari. The recent comment from Satyapal Singh suggesting Hindus not to immerse ashes, flowers in Ganges also show his poor knowledge of the religion where he forgot the very cause of Ganga's advent on earth by Bhagirath.
SUGGESTION: With whooping 20,000 crore government approved budget, 100 crore from Maa Amritanandmayi, 500 crore from Vedanta group's Anil Agarwal and a special mention in manifesto, the government should start the project in full swing with no further delays.

» With no visits to Ayodhya yet, a cancelled visit to Janakpur temple, Prime Minister will have to make sure he pays due respect to the most revered dhaams of Hindus before 2019 elections.
» Muslim terror outfit PFI's threat to poison Kumbha rivers: The government has to take strict legal action to arrest all the members of armed outfit spilling venom against Hindus and creating a rift in society. Needless to mention PFI's father country is completely dependent on India for water.
What went WRONG?
All the following issues are extremely close to hearts of Hindus. If government doesn't soon rectify their stand on these and take positive action, they will again face a close brush with other parties in 2019.
» GAU RAKSHA:
2.) With no significant step taken for the protection of cows, India exported 2.4 million tonnes of beef (cow + buffalo) and veal in FY2015, compared to 2 million tonnes by Brazil and 1.5 million by Australia. These three countries account for 58.7 per cent of all the beef exports in the world. India itself accounts for 23.5 per cent of global beef exports. This is up from a 20.8 per cent share last year as per data released by the U.S. Department of Agriculture.
3.) While seeing their hopes getting shattered, some of the people who tried protecting illegal transfer of cattle were slammed multiple times by the Prime Minister himself.
4.) BJP has no issues with Northeast's beef eating: Manipur CM Biren Singh
https://economictimes.indiatimes.com/news/politics-and-nation/bp-has-no-issues-with-northeasts-beef-eating-manipur-cm-biren-singh/articleshow/58990216.cms
1.) Tourist Minister K J Alphons passed a statement that people in Goa, Kerala are free to eat beef and says tourists who want some should eat it before they come.
2.) Violation of Prevention of Cruelty to Animals Act 1960: Maharashtra Government ordered Mumbai Police in August not to detain, question or interrogate Muslim Vehicles carrying Animals for slaughter at Deonar Abbatoir on Eid.
» Loose Stand on Ram Mandir: With four years already passed, government has taken no step that shows a positive sign for construction of Ram mandir as mentioned in their manifesto. Home Minister Rajnath Singh went a step ahead and said it won't be possible to build Ram mandir with no majority in Rajya Sabha. He was quoted saying, "BJP does not have a majority in Rajya Sabha, so this time it is not possible to bring motion in the Parliament to make law for the construction of Ram temple," the senior BJP leader said.
http://www.thehindu.com/news/national/home-minister-rajnath-singh-on-ayodhya-temple/article7190557.ece
Snippet from BJP's election manifesto
» After making fun of Hindu Gods in his movie PK, Amir Khan was earlier slammed by RSS and then in an event at the 75th Dinanath Mangeshkar Awards, Mohan Bhagwat awarded Amir Khan with Vishesh Puraskar for Dangal.
» Continuous killings of Hindus in Kerala and West Bengal: With almost everyday news of a Hindu/RSS worker/BJP worker mercilessly slaughtered in the states, BJP has not yet taken any substantial action against the state governments. The state governments continue to rule as independent nations. Hindus had expected that not even a single murder would be tolerated but it has become a ritual now. Narendra Modi, as a CM, had jumped in a flood-hit Gujarat to save his people but the same valor seems to be getting cold.
Subramanian Swamy predicted in 2016:               
"Our (BJP) spokespersons keep talking about development, but they should learn from (Atal Bihari) Vajpayee because even he talked about India Shining (BJP's campaign slogan in 2004 Lok Sabha polls) and left other things. We lost badly and (the BJP tally) were reduced to half," Swamy said, adding "in politics, economic development is a must, but that is not sufficient".
We hope BJP will soon realize the interests of its core voters and return to fulfilling their promises to come out with flying colors yet again in 2019.