In the year 2004 when young Rahul Gandhi entered Indian politics by contesting from Amethi in Loksabha election, he was the apple of the eye of an Indian media. Media put all their energy in projecting Rahul Gandhi as a natural politician and the rightful heir to the Nehru Gandhi dynasty and as someone who'll change the discourse of Indian Politics. Media waxed eloquent about Rahul Gandhi's godly looks, his education from Harvard and Cambridge to his calm demeanor. His Education was exposed as Hoax by Swamy later and his calm demeanor was a direct result of his lack of general knowledge. But the media didn't leave even a single stone unturned to launch him in a grand fashion.
It has been 13 Years, and Rahul Gandhi is still getting launched.
Despite, his loss in Gujarat and failing to turn the tide in his favor despite conducive conditions, he has still been showcased as a moral winner by the media. He's like that bowler in cricket who gets hit for 5 sixes on the first five balls of the over but claims moral victory over the batsman because he somehow manages to bowl a dot ball.
And it is not just about Rahul Gandhi, media has always been on a hunt for their next messiah, someone who can stop the Modi Juggernaut.
Arvind Kejriwal was in a way a media creation, rather a media hype who became a full time politician. The part-time Delhi chief minister of Delhi who also has a knack for reviewing movies was also hailed in his early days as a next big thing. Kejriwal was projected as the savior who will clean the sludge of corruption, nepotism and other isms from the Dirty Politics of India. Kejriwal however went on to form a government with Congress who were the enemy number one during campaigning phase. Soon it was clear that Kejriwal was no administrator. From practicing secularism that will put the likes of Mamata and Maulayam to shame to hobnobbing with people with known Maoist and Khalistani links, Kejriwal didn't just turn out to be a bad experiment but a dangerous one at that.
Then came Kanhaiya Kumar who became an overnight sensation because of the infamous anti-India protests in JNU. Media put all its might behind this poor student leader Kanhaiya Kumar who used iPhone for broadcasting his poverty and flew around in planes. Kanhaiya turned out to be all-gas-no-substance and soon faded from media limelights as a similar angry young man was slowly rising to take Modi on his home turf. Apart from sharing many similarities with Kanhaiya, Hardik also shared an interesting similarity. He too was booked for sedition, which led to his ineligibility to contest in the election. Hardik was touted as the one who will bring an end to BJP's long rule in Gujarat but that didn't happen. Despite a prepoll alliance with the Congress Party, Hardik failed to make an impact in the election and BJP romped home with an increased vote share. A frustrated Hardik then resorted to EVM bashing which has become a standard excuse-template in last one year. Hardik was another media balloon which burst even before taking off.
After Nitish Kumar unceremoniously dumped Lalu & Co. in Bihar, Media went on to discover a new darling in the younger son of Lalu Prasad Yadav, Tejashwi Yadav after he delivered a speech that got labelled as 'emphatic' by the Indian media. What was hailed as an emphatic show by Tejashwi Yadav was nothing more than an acrimonious rant by the leader of a party who had been outsmarted by a much wily political rival.
A report about Bihar RJD in media read "Tejashwi rises in show of Opposition unity". The Telegraph published a eulogy to Tejashwi with a cringeworthy title "Boss, a Boy grows up– The Birth of an Opposition Star"
After miserably failing to create a leader who can take on the invincible Modi, Media's latest experiment is Jignesh Mevani.
In mid July of 2016, a video of an incident in Una town in Gujarat surfaced where a mob was beating up four Dalit youths for picking up a cow carcass. The incident sparked widespread protests in the state against. Jignesh Mevani, a 35-year-old lawyer and activist became one of the leaders of these protests. He formed the Una Dalit Atyachar Ladat Samiti, a body to fight atrocities against Dalits. All good till now but the ambitions of Jignesh Mevani were exposed when he joined hands with Congress, a party that hasn't done a thing for Dalits since independence. Despite ruling the nation for almost 70 years they failed to bring a change in the lives of Dalits.
Jignesh Mevani soon went on to act and talk exactly like Mayawati who has used the Dalit Card to keep her political fortunes intact. Uttar Pradesh election came as a rude shock to her, however as you cannot fool a section of the society for long.
A first time MLA, Jignesh Mevani had the impudence to call PM Modi a senile old man who should retire from the politics and go to Himalayas and dissolve his bones, that too on live television. By winning a MLA seat, Jignesh Mevani has become a small part of the democratic machinery that Prime Minister Modi heads but with his loose remarks he made it amply clear that he doesn't possess the qualities befitting a good leader.
But that didn't stop the media from heralding the arrival of the messiah of Dalits, and an extremely articulate Young Leader called Jignesh Mevani. The Wire otherwise known for shoddy hitjobs on BJP dedicated a eulogy to Jignesh Mevani.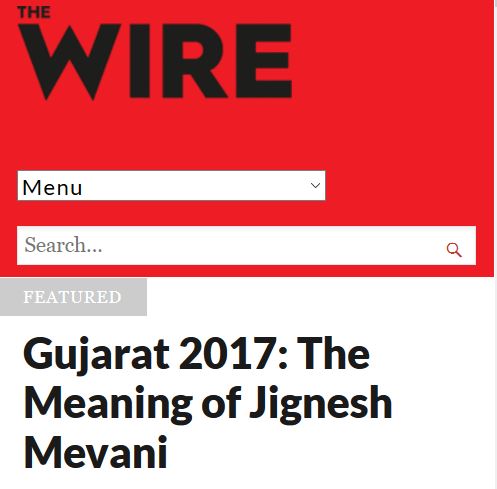 'The Print' a Boutique media outlet launched by Shekhar Gupta called Mevani a nightmare for BJP.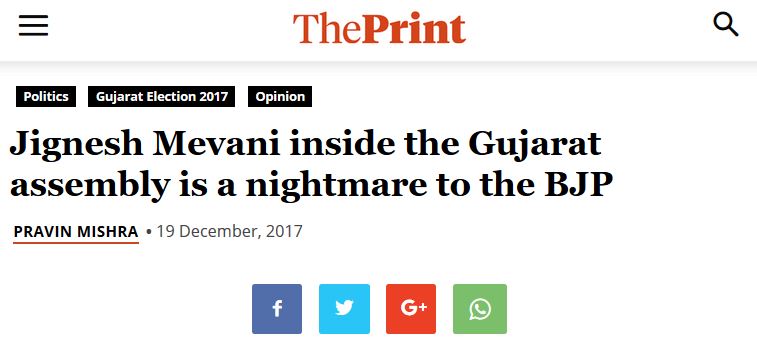 DailyO called Jignesh Mevani's victory a Victory for Dalits.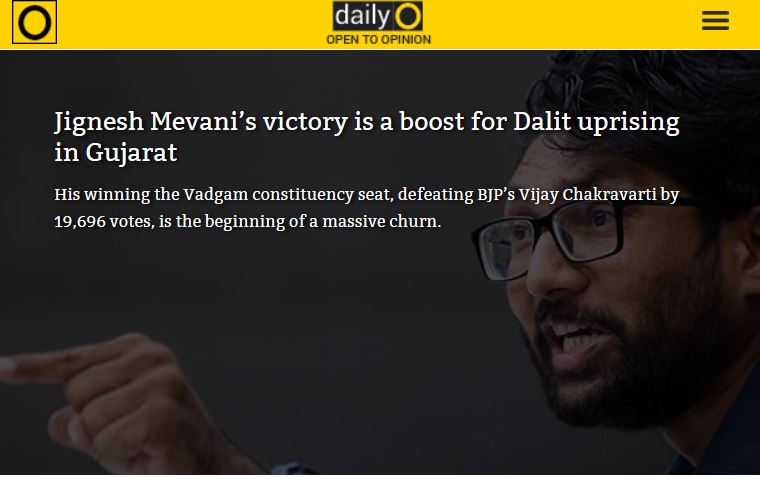 So it is once again clear that the Media is trying to create another leader who can effectively take on Narendra Modi. In fact Jignesh Mevani will be campaigning in Karnataka elections too. Let us see for how long can this new media experiment stay relevant in Indian politics.