Intolerance– This word came into limelight when a group of angry people allegedly killed a middle-aged Mohammad Akhlaq of Dadri for allegedly stealing a calf, killing it and then eating it up. The murders of Kalburgi, Pansare and Dabholkar also accelerated the intolerance movement. Movie stars, media, opposition, rationalists all formed one single unit and started calling India an intolerant nation subtly suggesting that the majority community i.e. Hindus are intolerant by nature.
However, there were also the second sides of these much hyped stories. Though the MSM is more interested in news related to the Gau Rakshak "terror", Pehlu Khan, defacing of the Rangoli of Padmavati, pollution by crackers (not by vehicles and factories), Sanathan Sansthas's involvement in Journalist Gauri Lankesh's murder, etc., they overlooked the stories of the cattle smugglers, distortion of history, 1 crore registered vehicles in city of 1.8 crore population, etc. There are certain news which were dumped into the garbage bin of the MSM because these didn't suit the agenda. The latest entry in the "out-of-agenda" story is the death of the BSF personnel Deepak Kumar Mandal.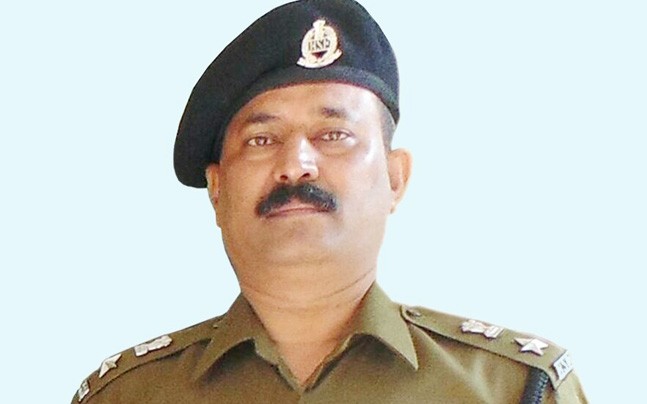 Deepak Kumar Mandal was the second-in-command rank officer in the BSF's 145th battalion. On 16th of October, he was patrolling an unfenced area in Belardeppa border post in the Sipahijala district of the India-Bangladesh border in Tripura to check cattle-smuggling and illegal activities across the border. He noticed a group of 25 smugglers carrying cows and other cattle in trucks, trying to cross the border. The patrol team challenged the smugglers who were armed with sticks, lathis and machetes. The smugglers attacked the patrolling team and when Deepak Mandal tried to stop them, he was hit by one of the smugglers' vehicle from behind.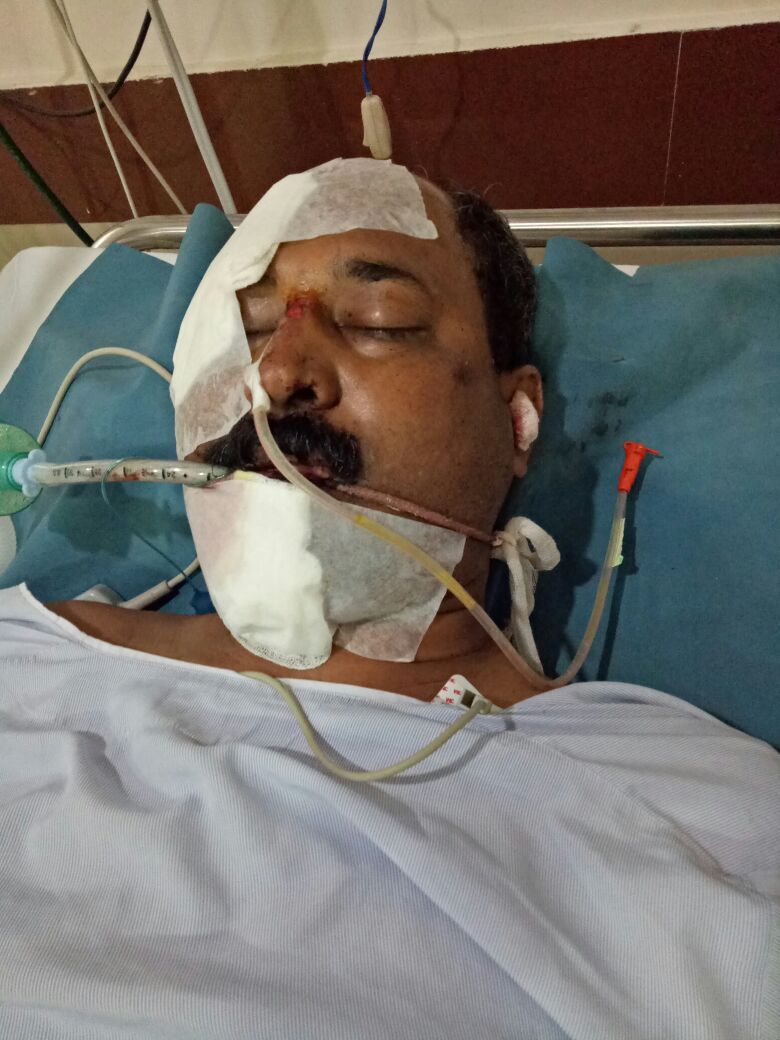 He received severe injuries in head and legs, and was flown to Kolkata. On Diwali, when the whole nation was celebrating celebrating the festival of lights, Deepak Mandal was oscillating between life and death. He died on 20th of October.
But, the death of the BSF personnel Deepak Mandal was not a topic on which media could host prime time debate shows because the culprits were cow smugglers and not the dreaded Gau Rakshaks.
This was not the first time that a BSF jawan was killed by cow smugglers. On September 14th 2017 Tushar Kanti Das, a BSF head constable belonging to the 64th battalion of the paramilitary force noted an Indica car carrying 5 cows when he was patrolling in the Gaighata area in North 24 Parganas district of West Bengal. Sensing it to be another attempt of illegal cattle smuggling, he challenged the driver to stop the car. The vehicle crushed him mercilessly, but lost its balance and hit a barricade. The driver fled from the crime scene and Das died due to his injury. This news received even lesser attention, which is evident from a simple fact. At least some MSM news portals like Indian Express, India Today, etc. reported Deepak Mandal's news with his picture. No MSM media published Tushar Das's picture. Only a site called Troll Indian Politics published Das's pictures. Kudos to the TIP Team!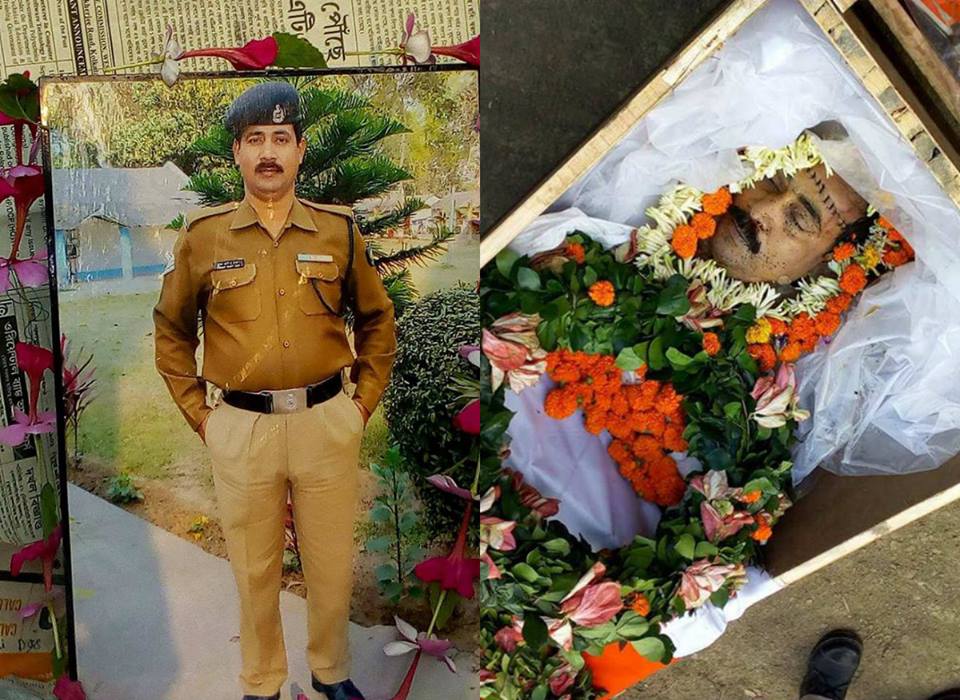 The amount of neglect is further evident from the fact that Indian Express reported the vehicle to be a mini truck instead of an Indica car. Actually, the smugglers stuffed the cows in a small car because they thought the size of the vehicle would not arouse any suspicion.
Due to utter neglect by the MSM, very few people including West Bengal BJP's Dilip Ghosh, knew about Tushar Das who tweeted about his death.
1.1 @BSF_India Jawan(64BN) Tusharkanti Das was crushed to death by a vehicle while trying to stop it from cow trafficking. pic.twitter.com/diHocpefVf

— Dilip Ghosh (@DilipGhoshBJP) September 15, 2017
When we talk about "outrage", the word seems hollow in context of India. We see severe outrage from the media and the opposition when a Pehlu Khan is thrashed, but we hardly see the same media criticizing cow smugglers and illegal cow slaughters. This is evident from the various attacks and murders by cow smugglers, which includes a recent case where a Bangalore techie called Nandini (45) was attacked for reporting cow slaughter. The same hypocrisy was visible in the outrage around Gauri Lankesh's murder. Media houses were quick in presuming and accusing some Hindu organizations for her murder and held the Central government responsible for "silencing her voice". But as soon as Gauri's tweets resurfaced suggesting that she had disagreement with some Naxal and Maoist groups, the leftists, liberals, intellectuals, etc started dropping their voice and even shifting goal-posts. When Gauri's brother told the media that she had been receiving death threats from Maoists, leftist camp went completely mum. When Deccan Chronicle published a report claiming that the country-made gun used to kill Gauri was the hot favorite of the Naxals, the leftist camp abandoned the case altogether. However, soon some news emerged claiming that 5 persons from a Hindu organization called Sanatan Sanstha were the key accused of Gauri's murder. The leftist camp gained new energy and went back to full outrage mode. Alas, their celebrations were short-lived as SIT soon ruled out Sanathan Sanstha's involvement in Lankesh's murder. Yes this is the game Media Plays.
On 21st of October, an RSS activist named Rajesh Mishra and his brother Amitesh Mishra (reported as Amitabh Mishra by TheHindu) were shot by two bike-borne assailants at their shop in Karanda area of Ghazipur district of UP. Rajesh was also a local journalist of the famous Hindi Daily Dainik Jagran. Rajesh died on the spot while his brother was severely injured. As expected, media overlooked this news entirely, just the way they neglected the murder of another RSS activist in Punjab called Ravinder Gosain. Just like in Rajesh's case, two masked bike-borne assailants shot Ravinder Gosain near his house in Basti Jodhewal area of Ludhiana on 17th of October, four days before Rajesh was murdered. He was with his grandson and granddaughter when he was killed- fortunately, the grandchildren were not hurt. Due to the appeal from the RSS delegation, the CM of Punjab transferred the case to NIA. The people, who were vocal about Gauri Lankesh's murder, were dead silent in the cases of Rajesh Mishra, Ravinder Gosain and the murder of RSS-Punjab deputy chief Jagdish Gagneja, which took place last year in 2016. According to investigation reports, a radical Sikh militant outfit called "Deshmesh Regiment" and a follower of Khalistani separatist ideology might be behind the murders of Gagneja and Shiv Sena's Durga Prasad Gupta. The same media and the same people remained silent when a BJP and RSS activist called Remith was hacked to death in Kannur, Kerala just few days after Yogi's Kerala tour. His father was also killed by CPIM in 2002.
.@BJP4Keralam activist Ramith hacked to death by @cpimspeak hitsquad in Pinarai, the home town of @vijayanpinarayi , Kerala CM pic.twitter.com/vy84c9U1EH

— HaindavaKeralam (@HKupdate) October 12, 2016
Outrage is selective, It depends on political interests and agenda. This is evident when the so called liberals of this country remain selectively remain silent over the numerous murders of RSS activists in Kerala. Some deaths don't even grab the attention of the Rohingyas loving Human Rights Organizations.