The Indian auto industry is the fifth largest in the world with 4,488,965 units produced in 2016 as per Organisation Internationale des Constructeurs d'Automobiles – A distinguished Paris based trade association.
Source (https://en.wikipedia.org/wiki/List_of_countries_by_motor_vehicle_production)
The industry accounts for 7.1 per cent of the country's Gross Domestic Product (GDP). India is also a prominent auto exporter and has strong export growth expectations for the near future. In addition, several initiatives by the Government of India and the major automobile players in the Indian market are expected to make India a leader in the 2W and Four Wheeler (4W) market in the world by 2020.
Source : https://www.ibef.org/industry/india-automobiles.aspx
Strategy &, a global strategy consulting firm predicted in one of its report titled as "Revving the Growth Engine India's Automotive Industry Is on a Fast Track" that India's path to mass motorization will be very different from that of developed countries; it must first develop the new technologies, business models, and government policies that will pave the way to increased automobile penetration.
Source : https://www.strategyand.pwc.com/media/file/Revving_the_Growth_Engine.pdf
So what government can do to pave way to increased automotive penetration?
Make in India!! Yes that is the answer. The Wire in a report stated "the closer you get to the lion, the more the roar sounds like a meow" and same report shows the following numbers.
Source : https://thewire.in/62808/a-closer-look-at-make-in-india/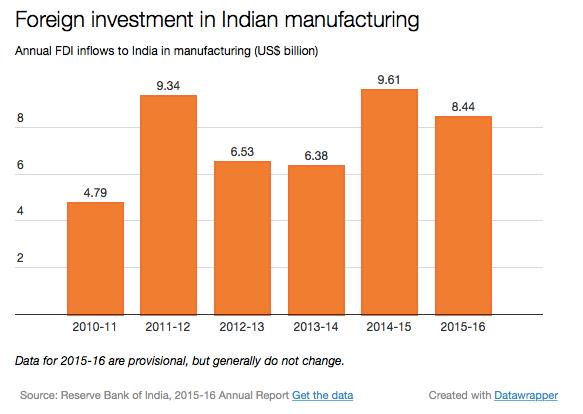 But www.tradingeconomics.com has published following numbers. :
Source https://tradingeconomics.com/india/foreign-direct-investment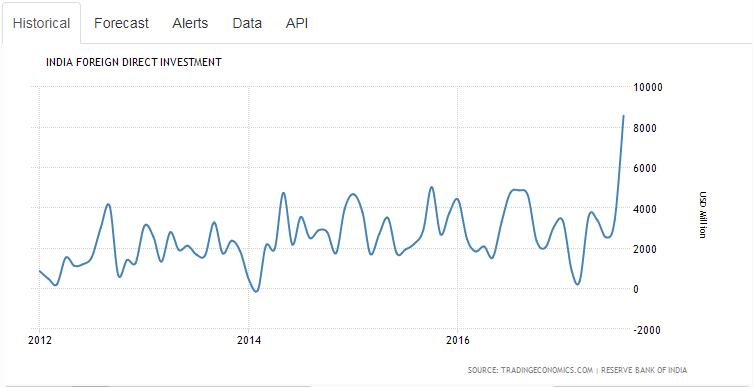 Any new scheme requires some time to exhibit the results and the first Volvo XC90 out of Volvo's Bangalore plant is one of the many fruits which this "Make in India" tree will yield in near future.
The Assembly plants are located near Indian IT hub "Bengaluru" in Karnataka, India and are focused on models that are based on the Volvo's  signature SPA modular platform. Apart from the XC90, which has already begun rolling out, are based on the SPA architecture and are slated for local assembly.
Volvo Cars is working in tandem with Volvo Group India – the truck, bus, construction equipment and Penta engines manufacturer – for its assembly operations and is making use of Volvo Group India's existing infrastructure and production licenses near Bengaluru.
Number of BMW, Jaguars, Mercedes, Audi and Porche models are increasing on the road day by day. Amid this trend Swedish luxury car manufacturer is expected to achieve 10% of market share by 2020.
Based on the 'Make in India' the directives to assemble in India will benefit customers and Volvo both as the cost of the assembly will be reduced, while the Indian market segment remains relatively small, it is likely to grow rapidly in the coming years and Volvo will be partner in this growth. 
Source : http://www.financialexpress.com/auto/car-news/first-india-builtvolvo-xc90-leaves-bangalore-plant-heres-more-on-volvos-make-in-india-plans/888897/
But before I end my article I will try my best to make "The Wire" understand, What is "Make in India". With the following example:
They claimed following without considering the fact, LCA Tejas flies on General Electric Engine GE404 and eyes are "Hybrid version of Israel's Elta EL/M-2032 multi-mode fire control radar". Both will be replaced in Mk1A version.

DRDO Officials have already stated that HAL Tejas will fly on Made in India Kaveri Engine by 2019 and Snecma is working on the project with HAL and even if they are not successful. The deal covered the purchase of 99 GE F414 engines; an initial batch will be supplied directly by GE and the remainder to be manufactured in India under a technology transfer arrangement by "Make in India way".
Source :  http://www.newindianexpress.com/states/karnataka/2017/feb/12/in-a-first-prospective-customers-to-get-feel-of-tejas-1569796.html
And now "Brahmos" – It's a joint venture between the Defence Research and Development Organisation (DRDO) of India and the Federal State Unitary Enterprise NPO Mashinostroyenia (NPOM) of Russia under BrahMos Aerospace. India holds a 50.5% share stake in the company and Russia holds the other 49.5%. The establishments are in Hyderabad, Thiruvananthapuram and Nagpur. After India Joined MTCR Bhramos 2 is under development and Bhramos ER is in testing. Also what makes Make in india relevant here is amount of localization of the components.
Source : https://en.wikipedia.org/wiki/BrahMos_Aerospace
Hope It helps!!
We are all here on earth to help others; what on earth the others are here for I don't know. – H. Auden
On this positive node I will wrap this article!!
Jai Hind