Myanmar's government, following the unjust policies, since the late 1970s, have compelled hundreds of thousands of Muslim Rohingya to flee their homes in the predominantly Buddhist country. As a result, an estimated 4 million Rohingya have dispersed worldwide, and most of them have dispersed to India and Bangladesh. However, Rohingyas and Myanmar nationals entering the North Eastern part of India have become a major security issue as fourteen Myanmar nationals with fake Aadhaar cards were arrested at Imphal airport on Saturday.
14 Rohingyas were arrested with fake Aadhar cards
Fourteen Myanmar nationals with fake Aadhaar cards were arrested in Imphal airport on Saturday. According to the Organiser's report, these people carried fake Aadhaar cards to board the flight. The chief minister of Manipur N Biren Singh said, "the state government has taken this matter very seriously. Stringent actions will be taken up against those people who enter the country without proper documents. There are almost 6000 Myanmar refugees taking shelter in Manipur. Most of them are Rohingya."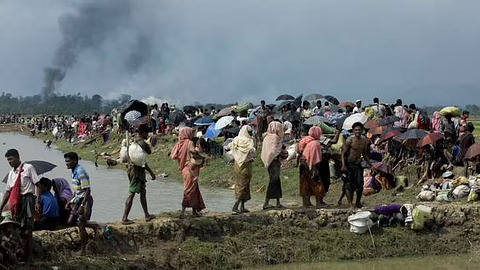 ISI behind the illegal Rohingyas in Northeast
It is not the first time that Rohingyas were arrested by the Northeast police. Earlier in July this year, while travelling to Delhi and Agartala, Assam police had arrested 24 Rohingyas in Guwahati and Badarpur railway station. Moreover, it was last month when Assam Police had arrested 26 Myanmar nationals travelling to Delhi with fake Aadhaar cards and college identity cards.
Additionally, Police also arrested 3 Indian Muslim handlers of the arrested Rohingyas. It was found that the Rohingyas entered Assam, Tripura through Bangladesh borders and Manipur, Mizoram through Myanmar border with the help of these handlers.
Aman Ullah of Nagrota Jammu, a Muslim Indian handler, after being arrested from Guwahati with a group of Rohingyas, said in his confession that he was trying to set up a network base for Arakan Rohingya Solvency Army (ARSA) in Assam and North East. Thus, it has been suggested from the intelligence agency in Guwahati that a few Bangladesh based Islamic militant organisations, aiming at establishing its radical terrorist outfit, are helping displaced Rohingyas.
However, a few reports also suggest that Pakistani notorious intelligence agency ISI is the mastermind behind this dispersion. The ARSA is looking for sympathetic support from Muslims in Assam and Manipur and it is pertinent to note that migrant Muslims in Assam are demanding refugee status for Rohingyas in the state. Thus, it will become easier for the ARSA to find sympathy and support in the Muslim areas of Assam and Manipur as well.
Rohingyas are a security threat to India
Earlier reported by TFI, Pakistan is relentlessly trying to spread terror in India and is now using the Rohingya Muslims to fulfil their nefarious agenda. Bangladesh Prime Minister, Sheikh Hasina had also highlighted the threat posed by the Rohingya Muslims. She had said that the 10 Lakh Rohingyas who fled from Myanmar to her country following "persecution" are a "threat to the security" of the entire region. She also urged the global community to resolve the issue. She had made this remark while addressing a three-day event, 'Dhaka Global Dialogue-2019'.
Read more: Pakistan is training and recruiting Rohingyas for terror attacks in India
Moreover, out of the 40,000 Rohingyas living in India, less than half- 18,000 are registered with United Nations High Commissioner for Refugees (UNHCR). This only strengthens the genuine apprehensions about Rohingyas posing a threat to national security and also the fears of communal disharmony, peace and stable law and order in the state.
Read more: They entered India illegally, now they encroach our lands too illegally. There is nothing authentic about Rohingyas
If one takes a deep dive into the above instances and facts, it can be assumed that Rohingya Muslims could become a major security concern for the region and the country as well if everything goes according to their plans. Thus, it is high time that the Indian government must seriously contemplate a policy about the unrestricted and free movement of illegal immigrants who ought to be identified and expelled from the soil to safeguard national interests and security.