At a time when countries like the USA are struggling with soaring cases of Covid-19, India has not just opened up its economy but is also growing at a record pace. The economic recovery under Prime Minister Modi has forced India's critique Moody's to upgrade India's rating after a period of two years.
Moody's upgrades India
Moody's Investors Service, the New York-based rating agency has upgraded India's economic outlook. Though it has still maintained its Baa3 rating for India, it has changed the outlook from negative to stable. A stable outlook means that they will not tamper with India's rating in the near term, while a negative outlook for India meant that they could at any time declare our country as an at risk nation for investment.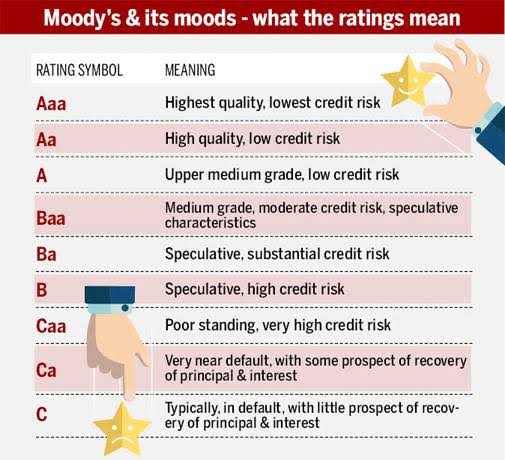 In a statement, the rating agency said- "An economic recovery is underway with activity picking up and broadening across sectors". They further explained how increased revenue with efficient spending will help reduce the fiscal deficit (the difference between revenue and expenditure) of government. The low fiscal deficit allows the government to borrow more for their expenses.
Moody's also appreciated India's stable Covid policies, saying that instead of shutting the whole country down, India used lockdowns to maintain a balance in the economy. Additionally, they also appreciated India's vaccination drive.
India's fundamentals are strong
The rating agency was appreciative of the fact that the Indian economy is fundamentally strong and doesn't depend on short-term events. They said-"Risks that a negative feedback loop between the financial sector and real economy have receded, resulting in lower susceptibility to event risk".
Predicting a high GDP growth rate, Moody's further stated- "Following a deep contraction of 7.3% in fiscal 2020 (ending March 2021), Moody's expects India's real GDP to surpass 2019 levels this fiscal year, rebounding to a growth rate of 9.3%, followed by 7.9% in fiscal 2022".
Moody's acknowledges their mistake
The agency acknowledged that their predictions were wrong regarding NPAs in India and described how banks' efforts have led to the writing-off of existing loans. Appreciating the Indian banking sector's readiness to drive the Indian economy, the agency said-"In addition, banks had strengthened their capital positions, pointing to a stronger outlook for credit growth to support the economy".
Acknowledging the Modi government's efforts, the agency had last upgraded Indian ratings in 2017, after a gap of 14-years. But, in November 2019, it had again downgraded sovereign ratings citing weak reform push leading to slow growth predictions.
Read more: Moody's Ratings Upgrade for India: The Most Comprehensive Analysis on the Internet
India's recovery accelerating
Recently, key economic indicators have been constantly hinting towards India's economy returning to its pre-pandemic level.
For the first time in history, India's exports were worth more than $ 100 billion in a quarter ending in September 2021.
India's GDP recorded a growth of 20.1 per cent in the April-June quarter of 2021.
The E-way bill (an indication of movement of various agents in the economy) generated in September 2021 was the highest in six months.
International rating agencies have a shoddy record of being biased against India. Agencies like Fitch, Moody, Standard and Poor's were heavily criticised by Indian governments in the 2020-21 economic survey.
Read more: First on TFIPOST: Modi govt's 2021 Economic Survey exposes credit rating agencies for bias against India
The Myth of ratings and India
Despite poor ratings from top rating agencies, India was successful in defying its myth. The record-breaking numbers of foreign direct investments, as well as foreign portfolios investments, are proofs that poor ratings could not impact India's economic growth.
Read more: India successfully defied the myth of global rating agencies with mammoth FDIs
In a post-Covid world, where companies are leaving China and looking for investments destinations abroad, India has emerged as one of the most favourable destinations. Initiatives like Aatmanirbhar Bharat, Make-in-India, and schemes like Production linked incentive are on their way to revolutionise India's formal economy and bring informal ones into the formal category.
The post covid recovery by the Indian economy is becoming an example for the developed world. Looking at these developments, it should not come as a surprise if other agencies decide to upgrade India's ratings.