In what can be seen as a massive push towards ensuring adequate water supply to all citizens of the country, the Modi government had planned to invest 3,60,000 crore rupees in the next five years under the Jal Jeevan mission. Improving the lives of millions in the country, five crore households have been already provided with water connection and tap water is reaching every household in about 1.25 lakh villages since the launch of the Jal Jeevan Mission in 2019.
Five crore households provided with water connection
While addressing the media after interacting with gram panchayats and village water and sanitation committees (VWSC) on the Jal Jeevan Mission, Prime Minister Narendra Modi said, "Five crore households have been provided with water connection since the launch of Jal Jeevan Mission in 2019 and now tap water is reaching every household in about 1.25 lakh villages."
He further added, "The mission was village-driven and its vision was not just to make water accessible to the people, but it was also a big movement of decentralisation. Today's India has done more work on this front in just two years than what was done in seven decades."
Modi Government fulfilled the promise of household power supply
It is pertinent to note that as of 2015, 16.3 crore people in India lacked access to clean water. It is the highest in any country and it is in this context that the Modi government's efforts should be well- appreciated. Modi Government in 2019 brought a fixed dedicated fund for the ambitious plan aimed at ensuring the supply of piped water to every rural household by 2024.
Taking a dig at the previous government, PM Modi said those who had the responsibility of policy-making for a long time, lived in the abundance of water."In the places where these people lived, they had never seen such a problem with water. They did not even know what the pain of life without water is. They had water in the house, water in the swimming pool, an abundance of water," he said in his address.
"These people should have strived for an ideal village but they kept liking the shortcomings in the village," PM Modi further said.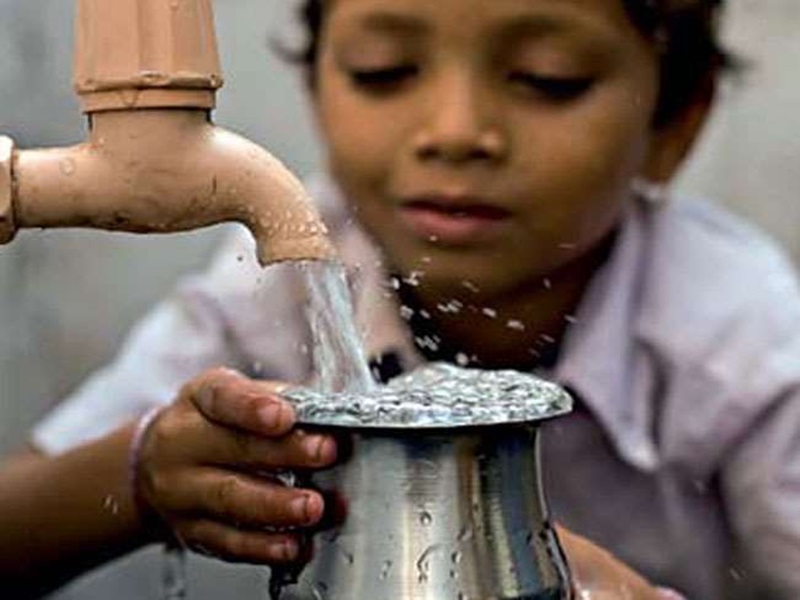 In a bid to improve awareness among stakeholders and to better the transparency and accountability of schemes under the mission, the Prime Minister also launched the Jal Jeevan Mission. Additionally, he also launched the Rashtriya Jal Jeevan Kosh, through which any individual, institution, corporate or philanthropist, be it in India or abroad, can contribute to providing tap water connection in every rural household, school, Anganwadi centre, Ashram Shala and other public institutions.
In a development, more than 7.1 lakh women have been trained to test the quality of water by using field test kits. In the aspirational districts, the number of tap connections has increased from 31 lakh to 1.16 crore.
Read more: 55 Litres of clean water to every citizen every day – Jal Shakti Mantralay sets ambitious outreach program in motion
Jal Shakti Ministry to look after water related issues
India receives high rainfall in comparison to other countries like Israel and South Korea, but water management is overall very poor in India. However, countries like Israel which receive very little rainfall, never face water scarcity thanks to their exceptional water management techniques. Only 4 per cent of water is used for drinking purposes while 80 per cent of the water is used in agriculture. The water consumption in India is largely unregulated and very inefficient. Thus, the Modi government newly created the Ministry of Jal Shakti to look after water-related issues. This Ministry deals with work of Ministry of Water Resources, River Development and Ganga Rejuvenation and Ministry of Drinking Water and Sanitation.
Read more: Modi government to give massive impetus to "Har Ghar Jal' as it plans to pump Rs 3,60,000 crore in Jal Jeevan mission
The water crisis in India
Despite facing a very serious water crisis, the concern around the matter seemed very limited in the country. NITI Aayog had once claimed that India is suffering from the worst water crisis in its history and millions of lives and livelihoods are under threat. "Currently, 600 million Indians face high to extreme water stress and about two lakh people die every year due to inadequate access to safe water." It was estimated the crisis is going to get worse by 2030 when India's demand is projected to be twice the available supply. It is now or never for the Har Ghar Jal initiative to take off in order to avert a full-blown crisis in the future.
It is remarkable how the Modi government is addressing concerns which touch the lives of ordinary citizens. The Jal Jeevan Mission has improved the lives of ordinary citizens, especially those living in water-stressed conditions.
'Har Ghar Jal' is a great initiative because as of today, only 18.24 per cent (32.57 million out of 178.54 million) households have access to piped water.