In politics, there is no concept of permanent enemies or permanent friends. The only permanent thing in politics is the interest. Right now, if there is anyone who is exemplifying this quote in real-life politics, it is Sharad Pawar, the octagenarian bigwig of NCP. He has a knack for playing his cards at frequent intervals to keep both his opponents and friends, in check.
Pawar appreciates Gadkari..again
Recently, Sharad Pawar was seen appreciating Nitin Gadkari, despite the latter being a key member of the BJP. Speaking at a function in Ahmednagar, Maharashtra, where Pawar and Nitin Gadkari were sharing the stage, Pawar commended the appropriate use of the power by Nitin Gadkari. He claimed that he attended the function only because Nitin Gadkari was invited along with him. "I am attending this function because I was told that Gadkari was going to inaugurate many projects in Ahmednagar which would solve long-pending issues of the city, and he wants me to be present," said Pawar.
Also read: The real reason why Sharad Pawar met PM Modi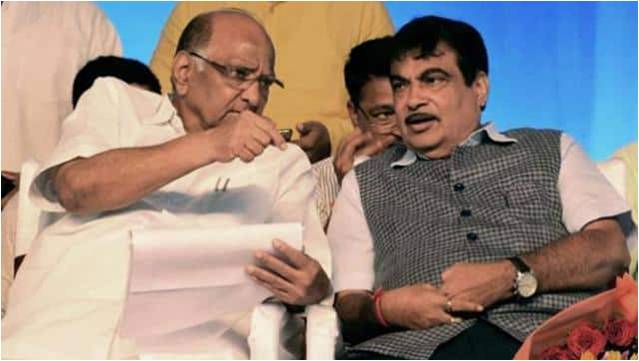 Appreciating how Gadkari does not involve in PR photo opportunities and performs his job even when no cameras are there to capture him, Pawar said– "Very often nothing happens once the stone-laying ceremony takes place for a project," the NCP leader said, adding, "But when it comes to Gadkari's projects, within a few days of the function one sees the work starting." Slamming previous governments and ministries of lackluster attitude, he said- "I remember that before Gadkari took over this responsibility (of the ministry of road transport and highways), about 5,000 km of work had been done. But after he took over, the figure has crossed 12,000 km,".
Also read: By sidelining the Gandhi family, Sharad Pawar has made his intentions clear and is leaving no option for Congress
Sharad Pawar is currently the president of the Nationalist Congress Party and is a Rajya Sabha MP from Maharashtra. Previously, he held the post of Minister of Defense and Minister of Agriculture in the union government. He has also been the chief minister of Maharashtra, for three terms. Besides politics, he also held the presidency of BCCI and the International Cricket Council (ICC) for 3 years and 2 years, respectively.
After the 2019 Maharashtra Legislative Assembly election, Shiv Sena and BJP had a split over government formation in the state. After the split, Maharashtra Vikas Aghadi (MVA), a state-level ideologically divided coalition of the Indian National Congress, Shiv Sena, and NCP, was formed. Currently, Sharad Pawar is the incumbent president of the MVA.
Pawar's love affair with meetings
During the recent 12 months, Pawar and his meetings have been a cause of speculation among political circles. Firstly, he met Prime Minister Modi over the issue of cooperative banks. As soon as Amit Shah took charge of the Ministry of Cooperation, Pawar wasted no time in fixing a meeting with the minister. Before meeting Amit Shah, Pawar had also held a meeting with erstwhile RJD chief Lalu Prasad Yadav, at his daughter Misa Bharti's residence. In June this year, he held a series of meetings with the infamous poll strategist Prashant Kishore, BJP's Maharashtra-face Devendra Fadnavis, and senior NCP leader Eknath Khadse. Later, he also attended a meeting where he invited people from all political factions. The meeting included senior JD(U) leader Pawan Verma, AAP MP Sanjay Singh, CPI general secretary D Raja, NC president Farooq Abdullah. Pawar also talked to Mamata Banerjee on call.
Also read: A Timeline of Sharad Pawar's failed attempts of becoming the Prime Minister of India
With so many meetings on his back, it cannot be clearly speculated if Sharad Pawar is giving any clear signs about his political future. On one hand, he seems to be happily engaging with the BJP, while on the other hand, he is wining and dining with the opposition as well.
The string of meetings with BJP leaders (including Prime Minister Modi) seems to be only indicative of a signal towards Uddhav Thackeray, and Sharad Pawar wants to remind Uddhav that Pawar is still the kingmaker of Maharashtra.