The transfer of Australian footballer Jordan Murray from Kerala Blasters to Jamshedpur marks the 152nd transfer during the transfer window for the 2021-22 season of the Indian Superleague, the biggest football tournament in India. 
A transfer window is a period during the year in which a football club can transfer players from other playing staff into their playing staff. Such a transfer is completed by registering the player into the new club through FIFA. The headline of this year's transfer window was Christiano Ronaldo getting back to Manchester United, 12 years after he left the club. The transfers during the ISL window were overshadowed by the transfers in European football clubs. 
This should not have been the case with a country whose audience occupies 20 per cent of the world's audience.
India has underachieved
Post-Chinese origin Covid, The world sports Industry is currently valued approximately at $388billion, while according to a recent report by GroupM ESP, the Indian sports industry is estimated at $796million of which 87 per cent is occupied by cricket only. It makes the Indian sports industry a net contributor of 0.2 percentage in the world sports Industry. Before COVID, while the world sports industry was valued at approximately $600 billion, the Indian sports industry was valued at around $1 billion.
The number has been achieved on the back of multi-million-dollar leagues such as the Indian Premier League, Indian Super League, and Pro-Kabaddi league.
ISL, KPL doing wonders
Pre-2014, too much government control on sports had left Indian potential stranded. Cricket was the main Centre of attraction for audiences all around the country. Most advertisements, sponsorships, TV deals went to stars of the game. However, the advent of the Indian Super League in football, Pro-Kabaddi league in Kabaddi, and the Hockey India League in Hockey opened up the circuit for other sports to follow suit. In the first week of their telecast, the Indian Super league touched massive numbers in its reach. The league secured a viewership of 170 million, 12 times more than the Indian audience for the 2014 FIFA world cup.
At the end of the first season, it was reported that the ISL drew a total of 429 million viewers across India, just a bit lower than the Pro Kabaddi League, and two and a half times more than the FIFA World Cup. The league is expanding globally in its popularity and in 2020-21 it was broadcasted in 82 territories across the world. Similarly, the Pro-Kabaddi league was the second most-viewed sports league in India in 2014 and this year, the first-week viewership went up by 36 per cent on a year-to-year basis. The surge in the audience has brought in money, and players who earlier travelled by city buses to fulfil their passion for the game are now living rich lives thanks to the sponsorship deals brought in by private equity. Indian Hockey league has turned out to be a boon for Indian players, having been freed from financial constraints, India went on to win the Bronze medal in 2021, their first medal after a gap of 41 years.
Olympic success- An opportunity for India
With schemes like TOPS, Khelo India, Fit India, and numerous others, 2021 proved to be the best year for India in terms of sports. We won our first track-and-field Gold medal this year and returned with a total of 7 medals in the Olympics, while Indian Paralympians outshined Olympians with a total of 19 medals. Various prizes have been announced for these successful athletes. But India has the world's biggest audience after China and, it will be foolish to not utilize our consumer market. We will have to get few things to keep improving. The steps previously suggested by TFI are still relevant, some of them are:-
Removing sports from the chains of bureaucracy
 Commercialize our sporting culture
 The talent hunt should start at a young age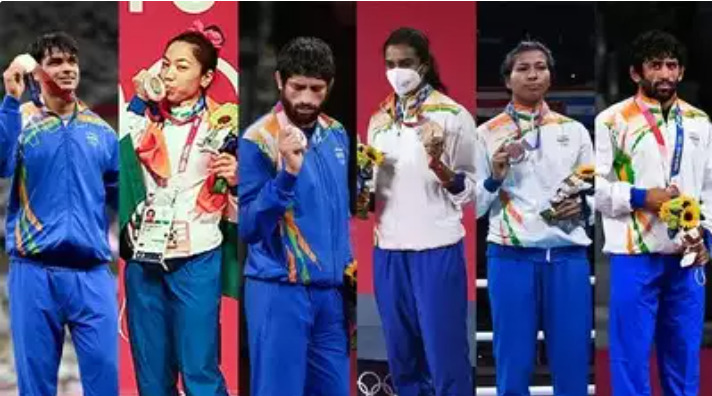 Read more: BCCI vs sports federations: Case for privatising every single sports body in the country to make India competitive
Modi Government is all in for sports
With various schemes running for the benefit of individuals participating in sports, the Government is also helping in improving existing infrastructure as well as building new ones for sports. In February this year Home minister announced the construction of one athletic and football stadium and two indoor stadiums. In a tweet on BJP Twitter handle, Amit Shah said- "An athletic stadium for football and track-and-field sports will be built with a seating capacity of 50,000 people. Two indoor stadiums with 12,000 and 15,000 capacities will also be built. Another hockey stadium, named after wizard Dhyan Chand, will be built". Earlier, a centre of excellence for para-athletes had been built in Gandhi Nagar. Similarly, Sardar Vallabhbhai Patel Sports Enclave is an under-construction sports enclave being built in Ahmedabad, Gujarat. Once the sports enclave is fully built, it will be one of the largest of its kind in India.
An athletic stadium for football and track-and-field sports will be built with a seating capacity of 50,000 people. Two indoor stadium with 12,000 and 15,000 capacities will also be built.

Another hockey stadium, named after wizard Dhyan Chand, will be built.

– Shri @AmitShah

— BJP (@BJP4India) February 24, 2021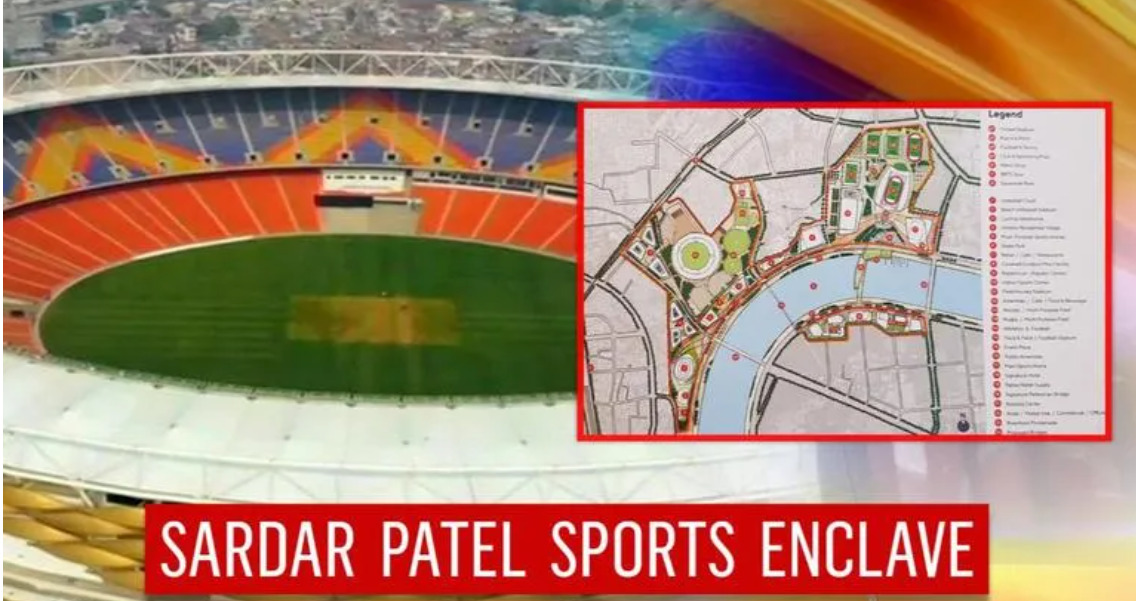 Read more: What Indian Sports need to compete with the world
The battle of supremacy with Giants like China, America and Europe is tough, but we are 1.4 billion in numbers, and as they say – "The Harder the battle, the sweeter the Victory''. The sports sector has the potential to transform India into a $5trillion economy, way sooner than our current speculations.