Farmer leader Rakesh Tikait led 'Kisan Mahapanchayat' chanted 'Allah hu Akbar' in an attempt to appease Muslims during the protest against three contentious farm laws in Uttar Pradesh's Muzaffarnagar. Tikait, who is trying to win over Muslims of Muzaffarnagar with Muslim appeasing chants as he plans to contest in upcoming UP Assembly elections, is unknowingly serving UP on a golden platter to Yogi Adityanath, the incumbent CM of Uttar Pradesh.
Kisaan Andolan Rally of Muzzafarnagar pic.twitter.com/O8eKsFr7cq

— Tajinder Pal Singh Bagga (@TajinderBagga) September 6, 2021
Tikait's Muslim appeasement
Thousands of farmers and supporters gathered for 'Kisan Mahapanchayat' at Uttar Pradesh's Muzaffarnagar to protest against the government's three farm laws. Called by Sanyukt Kisan Morcha, the Mahapanchayat in Muzaffarnagar witnessed a massive crowd of farmers, not just from UP, but also from neighbouring states of Uttarakhand, Haryana and Punjab.
However, the agitation seems more about political agendas and not the farm laws because Rakesh Tikait went on to appease the Muslim community for his own political benefit in upcoming elections as he dreams of contesting in it. In such a move, he urged the farmers as well as the supporters to chant 'Allah Hu Akbar'.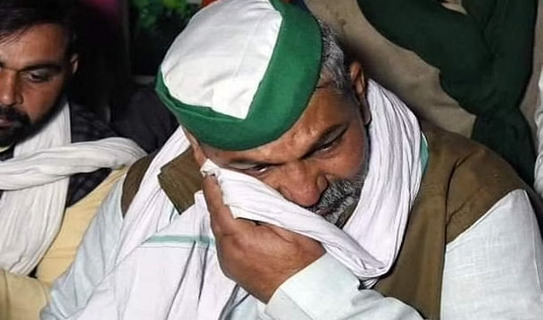 Jatts out, Muslims in
Right after 'Allah Hu Akbar' chants started picking pace, Tikait tried to balance between both the prominent community, that is, Jatt and Muslims. He smartly went on to call out 'Har Har Mahadev' but failed miserably.
Tikait, trying to cover up the mess, said that these chants had been previously raised together and will be raised together in future too. He also said, "These people (BJP) have always worked to divide people and are responsible for riots. We will have to stop them. We will have to work constructively. We will not give our Uttar Pradesh in the hands of those responsible for riots."
However, with such a move to grab the vote bank of Muslims, Tikait has not only insulted the Jatts of the region but has also lost their trust. During the so-called farmers' protest, he has already antagonised the Hindus by promoting Khalistani elements.
Read more: Jat leaders face a threat from Rakesh Tikait and his Communist comrades
Rakesh Tikait and 2013 Muzaffarnagar Riots
Tikait, who has been desperately trying to gain political mileage from the ongoing farmers' protests, was once accused of provoking unrest seven years back in the 2013 Muzaffarnagar Riots.  He was booked for stoking communal disharmony that eventually led to the 2013 Muzaffarnagar flare-up. He was one of the "primary culprits" for the gruesome communal flare-up witnessed by the town. Washing his hands off the violence that resulted in its wake, he alleged that the crowds were out of control and they were not listening to any leader.
Tikait had then said, "They were not our people. They were not listening to any leader. They did not belong to any platform. They were furious with police for naming people wrongly in the initial FIRs regarding the August 27 incident,"
Exposing double-faced Tikait, Rahul Shivshankar tweeted, "Correction: Rakesh Tikait raising Allahu Akbar slogans at Mahapanchayat is duplicitous. This "inclusive" farmer was booked in connection with the Muzaffarnagar riots in 2013."
Correction: Rakesh Tikait raising Allahu Akbar slogans at Mahapanchayat is duplicitous. This "inclusive" farmer was booked in connection with the Muzaffarnagar riots in 2013.

— Rahul Shivshankar (@RShivshankar) September 6, 2021
However, the Muzaffarnagar riots 2013 accused Rakesh Tikait has once again called for Muslim appeasement by chanting 'Allah Hu Akbar' that will eventually lead him to lose the vote share of Jatts in the upcoming elections. Furthermore, with this incident, Tikait has made it quite easy for Uttar Pradesh Chief Minister Yogi Adityanath to sideline him and win the upcoming elections.