Sidhu's resignation has sent Congress leadership in a frenzy as no one is willing to take the responsibility.
Captain Amarinder Singh, Kapil Sibbal, Manish Tewari, Ajay Makan have shot verbal bows at each other as well as on party leadership.
If Congress does not change its ideological leaning and organisational structure, the party is bound to perish.
A military coup needs sacrifice and courage, but a political upheaval requires cheating, deceit, backstabbing, and a lot of verbal curse-war. By heeding to Navjot Singh Sidhu's demands, Congress has set the stage for a possible political coup, as the party members are busy cursing each other.
Sidhu resigns taking high moral ground
The abrupt return of the Gandhi family from their vacation in Shimla did not turn out to be fruitful as Navjot Singh Sidhu resigned from the presidency of the Punjab Pradesh Congress Committee. It is being said that Navjot Singh Sidhu was not happy with the appointment of various ministers in the new Punjab Cabinet. Moments after his resignation, he played a sacrilegious card by vowing to preserve the dignity of Guru Granth Sahib. Interestingly, the Congress government appointed senior advocate APS Deol as its advocate general. APS Deol was the counsel for DGP Sumedh Singh Saini, the police officer during the protest against the desecration of Guru Granth Sahib in 2015.
Amarinder predicts Sidhu's future
The erstwhile chief minister Captain Amarinder Singh termed Navjot Singh Sidhu's resignation as a sheer drama and classified him as a non-trustable politician. He also remarked that Sidhu will soon ditch the Congress and Join another party. Reminding people of how Navjot Singh Sidhu had deserted the Indian cricket team in 1996, he said, "I've known this boy since his childhood, and he has been a loner and can never be a team player." He further described how Sidhu turned out to be an incompetent minister in his cabinet and called him a flamboyant speaker and buffoon. He described him as more of a comedian than a politician and said that he can make people laugh, as whatever he speaks has no substantive value.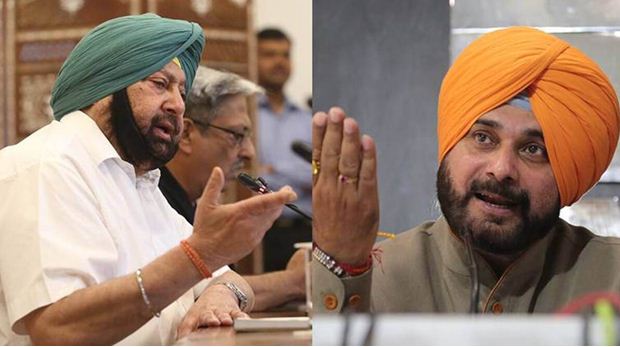 Manish Tewari thinks ruckus in Punjab will help Pakistan
The untimed resignation along with the emotional Guru Granth Sahib card did not go down well with the senior congress members as well. Manish Tewari, the Lok Sabha MP from Anandpur Sahib did not mince his words before criticising the proceedings in Punjab. In an indirect attack on Sidhu's hunger for power, he remarked that peace and stability in the state should be the main concern for the politicians, rather than the power. He also stated that the ruckus in Punjab will only benefit neighbouring Pakistan.
In a statement to ANI, Tewari said-"Punjab is a border state, it's going through intense social upheaval primarily because of angst in people against farm laws. Under those circumstances, if such shenanigans played themselves out in public space, it has serious implications on the stability of a border state."
There's a higher ideal than power, than ministers holding org positions. That higher ideal is ensuring peace, tranquillity & stability of a border state like Punjab. Under those circumstances what has been playing itself out is extremely unfortunate: Manish Tewari, Congress pic.twitter.com/8nZs3a9hpQ

— ANI (@ANI) September 29, 2021
Sibbal indirectly questions the Gandhi family
Meanwhile, senior Congressman Kapil Sibbal went one step further and raised a question on senior leadership in the party. 23 senior Congress leaders including senior congressmen Kapil Sibbal and Ghulam Nabi Azad have written to Sonia Gandhi asking for a full-time president. "In Congress, there is no elected president now. Who is taking calls? We don't know who is taking decisions in the party,"-said Sibbal. Emphasising on sycophancy culture prevalent in the part Sibbal added-"We are G-23, definitely not Ji Huzoor-23. We will keep raising issues."
Makan patronises Sibbal
Meanwhile, Ajay Makan, the general secretary of the All India Congress Committee (AICC) patronised Kapil Sibbal and said that Sibbal does not have his own identity and his identity is mainly a gift from Sonia Gandhi. Makan described how Kapil Sibbal became a minister, despite not having an organisational background. He further added-"I want to tell Mr. Sibal and others that they shouldn't degrade the organisation that gave them an identity."
The ruckus inside the congress party has been confusing for even an astute political observer. The party has deviated from its ideological leaning and organisational set-up that there is no coordination between central leadership and leadership on the ground. Any minor election victory changes into a power grab scuffle within the party itself. Even if Congress succeeds in forming a government, ultimately Punjab-like power struggle leads to their demise.
Read more: As Punjab hogs all limelight, Congress fizzles out in Goa
Congress is becoming a suicidal bag
As India strengthens its economic might, its strategic significance keeps on growing, and this was clearly visible in the recent US tour of PM Modi. For a political party to survive for a long period of time, it has to strictly adhere to its ideological position and a central leadership in command.
The Congress of 2021 has no one to guide its way through. Rahul Gandhi, its main leader has turned out to be a meme material for Indians and even his party members do not take him sincerely. Jyotiraditya Scindia, the only competent leader in Congress has already joined BJP, while Sachin Pilot is on the verge of quitting the party.
The chaos in the Punjab Congress is proving to be much-needed fuel to the fire of Congress' internal disharmony. Either Congress changes its ideological and organisational leaning, or it's time for the 136-year-old party to perish.