China's forced hegemony is constantly being given several blows by countries all around the world, especially India. India has come off as a major contender to topple China in the next decade. With initiatives like 'Make in India' grinding well with the campaign Aatmanirbhar Bharat, India is ready to provide shelter to companies leaving the Chinese market. The Production linked incentive has been a game-changer in this transformation of Indian economic space. The latest blow to Chinese hegemony has come from Taiwan-based Wistron Corporation.
Taiwan's Wistron and India's Optiemus Electronics Limited (OEL) have signed an agreement to manufacture mobile devices, IT hardware, and automotive-EV products. Under the strategic partnership agreement, OEL will invest Rs 1,350 crores in the next 3 to 5 years, the revenue expected from this investment is Rs 38,000 crores in different product segments. It is expected that 11,000 jobs will be created based solely on this agreement. The alliance will work towards the design and manufacturing of tablets, laptops, hearables/wearables, telecom products, IoT/Industrial IoT, smart meters/devices, and automotive-EV products. This partnership will provide greater market access to both Wistron as well as Optiemus. "The strategic combination of manufacturing expertise and technical prowess of both India and Taiwan will herald a new era in Indian electronics eco-system and help realize the vision of a $5 trillion economy. We also look forward to participating in future PLI schemes announced by the Government in line with our capabilities," A Gururaj, MD, Optiemus Electronics said.
Earlier in April, the IT ministry had notified PLI as a part of national policy on electronics. It would give incentives of 4-6 percent to electronics companies that manufacture mobile phones and other electronic components such as transistors, diodes, thyristors, resistors, capacitors, and nano-electronic components such as microelectromechanical systems. In accordance with the scheme, companies that make mobile phones selling for Rs 15,000 and above will get an increment of 6 percent on incremental sales, while companies owned by Indians will get an incentive of Rs 200 crore for the next 4 years. The total incentive to be given to electronics has been capped at Rs 40,951 crores. It is to be distributed in a sequential manner, in the first year the incentive is capped at Rs 5,334 crores, Rs 8,064 crores in the second, Rs 8,425 crores in the third, Rs 11,488 crores in the fourth while Rs 7,640 crores in the fifth years.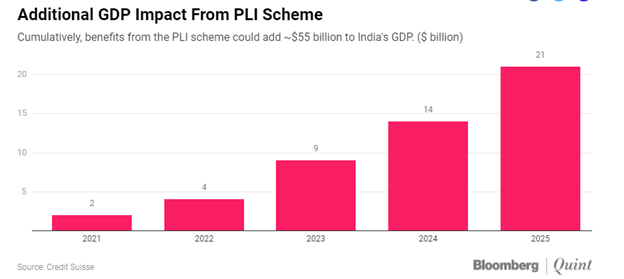 PLI scheme से जो बदलाव आ रहा है उसका उदाहरण यह है कि 7 साल पहले हम लगभग $8 billion के मोबाइल फोन आयात करते थे और आज हम $3 billion के मोबाइल फोन निर्यात भी कर रहे हैं: पीएम @narendramodi #IndiaIndependenceDay pic.twitter.com/F8rEQSdYvz

— Ashwini Vaishnaw (@AshwiniVaishnaw) August 15, 2021
In April 2020, the Modi government had announced production linked incentives for few sectors. The main aim of the PLI scheme is to boost manufacturing and increase jobs inside the country. It gained momentum in the wake of COVID-19. As China started to lose credibility in the international market, India emerged as an emerging destination for the companies looking to shift their production outside Chinese borders. Keeping a close eye on the interests shown by the companies, India decided to expand the PLI scheme to a total of 13 sectors. It started to quickly bear its fruit. Within one year Apple decided to produce IPAD in India, India's pharmaceutical exports grew in exponential numbers. With the help of PLI, India has decided to export $400billion worth of merchandise in 2021-22. With China hell-bent on destroying its own domestic industries, India is well on its way to solidifying itself in the space vacated by China's ousting.