Far-left joker Kunal Kamra has found a new platform for putting up his clownish show. Under the garb of attacking Prime Minister Narendra Modi and the ruling BJP government of India, the clown is trying to revive his dead career. As a joker, Kunal Kamra has earned the distinction of making gullible and unknowledgeable people laugh at political jokes almost always aimed against the BJP, Hindus and conservatives. With the Covid-19 pandemic, however, Kunal Kamra's fortunes have taken a big hit, which is why the world-acclaimed anti-India publication – New York Times allowed the man its platform for spreading lies and anti-Modi propaganda.
While featuring in a video for The New York Times, joker Kunal Kamra took aim, at the behest of lies and falsities, on Indian Prime Minister Narendra Modi and his government, and accused them of failing to control the Covid-19 pandemic. "My people are needlessly dying. Our government has blood on its hands", Kamra remarked. "No world leader can compete with Modi. He runs India on a cocktail of bizarre lies and high-octane hypocrisy. And boy, he can act," the joker added.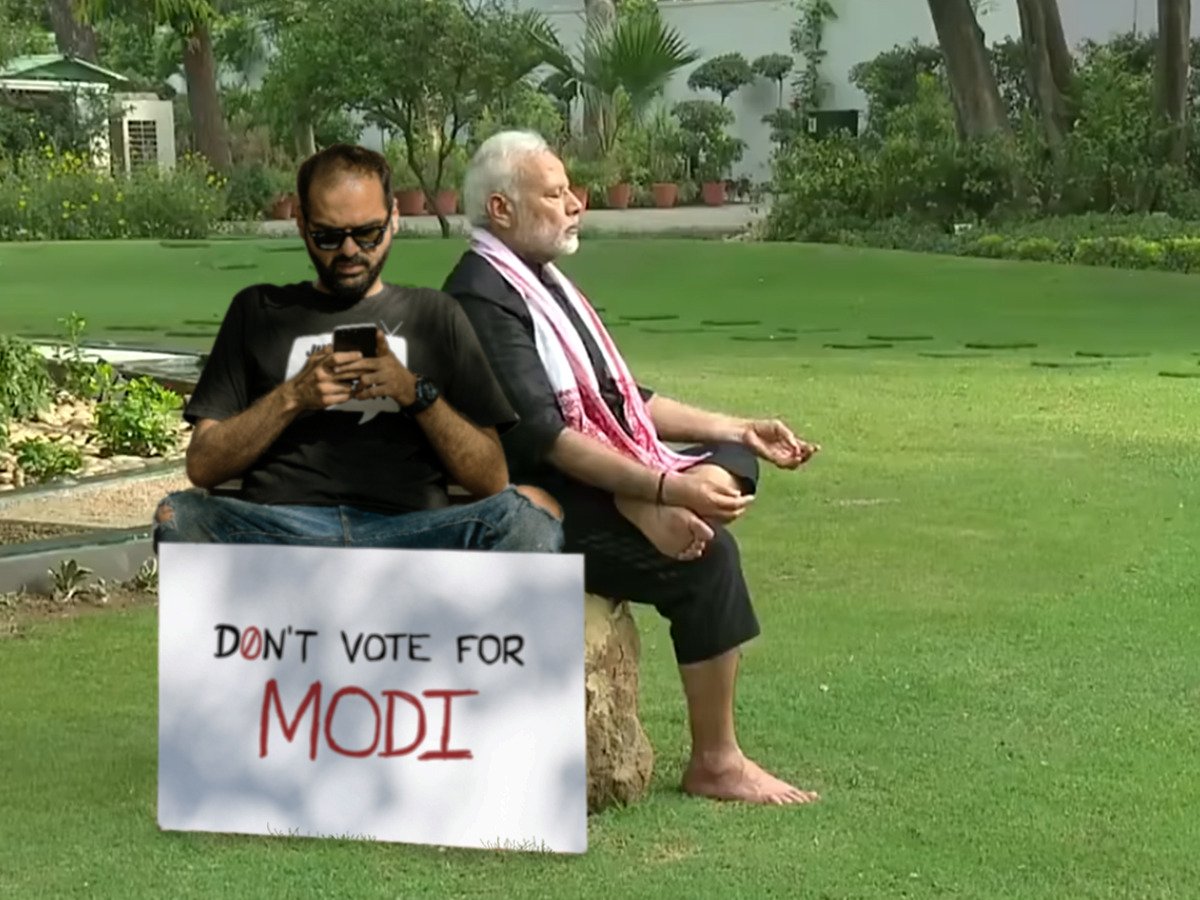 In an open attack on Hindus, Kamra slammed the organisation of the Kumbh Mela, saying "in March, not only did the Modi government refuse to cancel the Kumbh Mela festival, but they actually promoted it," and added that Kumbh saw the participation of millions and millions of Hindus. "Most of these Hindus went to wash away their past sins but they should've stayed home and prayed for a better future," he said.
Kunal Kamra then went on to rant against the government for acting tough on fake news peddlers and propagandists. "We live in an out-and-out lie," adding, "but our government is a master of one domain, attacking its critics," Kamra said. In another attack on Indian culture, Kamra attacked the Indian government for promoting Yoga during the Covid-19 pandemic. "Modi's Ministry of Science and Technology commissioned research into how yoga and breathing exercises can help fight COVID. The government dropped flowers from helicopters on doctors, as a tribute. As a mark of respect. But if you die as a doctor treating a COVID patient, we've cancelled your life insurance. That's some sneaky pickpocketing." This is a brazen lie, and Kamra must be booked for his barrage of lies.
The joker concluded by saying, "Even I, as a comedian, I'm struggling to satirise this absurdity. It's a state-orchestrated COVID massacre, and I am outraged and heartbroken. And that's all I got to say." "And you know what? You elect a joker – expect a f***ing circus."
Read more: Obsessed, obnoxious and absolutely psychotic: Kunal Kamra is that deranged lover your father warned you against
Last year, mediocre joker Kunal Kamra was accused of harassment and badgering by a woman called Anubha Sinha, who alleged that the "NYT contributor" used to make fake Twitter IDs to harass other fellow women comedians. In a blog titled "When Kunal Kamra was unheard of, fat, unfunny and would harass female stand-up comics by making fake Twitter accounts," Sinha said she overheard Kamra say that he and MeToo accused Utsav Chakravarty would make fake accounts on Twitter to harass female stand-up comedians.
The New York Times has found its match in Kunal Kamra. It's a circus of the jokers. A clownish publication meets the clown incarnate. It's a good thing that no sane Indian, with the exception of the obvious liberal lunatics, is taking the marriage of Kunal Kamra and the New York Times seriously.