Twitter is a platform that keeps giving. However, this time around, they have messed with the wrong people. Amul, the dairy giant of India which is well known for its topicals and creatives on trending issues, both national as well as international, was recently made to face the brunt of Twitter's explicit bias against anyone remotely nationalistic, or dare we say, remotely non-Left.
It was not a Monday for Amul when it decided to make a topical on China's incursions into sovereign Indian territory, however, for Twitter to block Amul's handle was definitely a first.
Amul, in a creative, had called for the boycott of Chinese goods, subtly so, with the Amul girl rejecting the dragon's products and a picture of the TikTok logo at the back. It had framed the same in the manner of a question, and the creative read, "Exit the dragon?" but soon after that, Twitter restricted Amul's account.
#Amul Topical: About the boycott of Chinese products… pic.twitter.com/ZITa0tOb1h

— Amul.coop (@Amul_Coop) June 3, 2020
Following this tweet, Amul's Twitter handle was suddenly found to be non-functional, or if it were to be put in a more blunt fashion, blocked. Indians, meanwhile, were outraged over Amul's handle being blocked by Twitter, for a country like China, which has itself banned the microblogging site.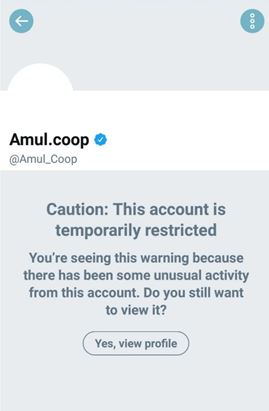 So, @Amul_Coop, a proud Indian brand, makes an ad advocating "make in India", & minimising use of Chinese products. Why have @Twitter/ @TwitterIndia got their knickers in a twist over that?
Are they a Chinese brand?
Do they take money from China?
Are they shilling for China? pic.twitter.com/XaMaktsLrx

— Smita Barooah (@smitabarooah) June 6, 2020
And once again @Amul_Coop captures the pulse of the nation. No need to butter up the dragon. Stare the dragon down. India should stay deployed all along #LAC. #Doklam lasted 73 days. #SumdorongChu much much longer. And reduce dependence on #MadeInChina goods. Start small, aim big pic.twitter.com/9TbuopNThz

— GAURAV C SAWANT (@gauravcsawant) June 6, 2020
If there is a #BharatRatna for the best creativity, it must go to @Amul_Coop . Some decisions have to be taken in time. pic.twitter.com/cItsy8n646

— Tarun Vijay தருண் விஜய் (@Tarunvijay) June 6, 2020
RS Sodhi, Managing Director at Amul told Republic TV, "On Saturday, some of our users told us that the Twitter page isn't working. We attempted all procedures and later the page was restored. We have written to Twitter but have not received any reply as of now. We do not know why was this done. Amul Butter girl comments on all trending issue, it is like news. She tells you the mood of the nation. She does not even promote the Amul products, she comments on issues around the world and she has been doing it for so many years, we don't know why would someone file a complaint against her."
It must be remembered that Amul is India's largest food product organization, with an annual turnover of close to USD 5.1 billion in 2019-20. Above all, in India, Amul is a household name, and seldom will one be unable to find an Amul product in any Indian home. Yet, Twitter, in order to please the CCP, has shamelessly decided to trample upon Amul's freedom of expression as an organization, within India no less. What does Twitter think of itself to be? How did it have the temerity to block Amul's handle for speaking their mind within India, on an issue of national importance, whose clarion call was first given by PM Modi himself? Amul was merely touching upon the call for an "Aatmanirbhar Bharat". Why did that affect Twitter?
Earlier, Google had taken down millions of 1-star reviews against TikTok by Indians, helping its reviews on Play Store shoot up once again. It then also removed an app from Play Store which was being used by many to weed out all Chinese apps from their phones.
Twitter must explain to the people of India as to what epileptic fit caused them to block Amul's handle. Amul, meanwhile, would be well advised to demand a public apology from the shame of a microblogging site that Twitter has become.