The Gandhi scion, whose pack of lies about the Rafale deal brought infamy to the Congress leading to the grand old party's humiliating defeat in the 2019 General Election, has once again resorted to fabrications.
While India is battling the Coronavirus outbreak with unprecedented and unparalleled vigour, Rahul Gandhi has been continuously trying to instill a sense of fear and trigger panic. Now, he has posted another uniformed tweet on his official handle making false insinuations against the Modi government on the issue of Coronavirus.
In his tweet, he has alleged, "Respected Prime Minister, WHO"s advice 1. Ventilator 2. Surgical Mask, why did the Indian government allow the export of all these things till March 19, instead of keeping sufficient stock? Which kind of forces have encouraged these games? Isn"t this a criminal conspiracy?" He shared a link of the radical leftist Carvan Magazine, which is infamous for its toxic, misleading reporting.
आदरणीय प्रधानमंत्री जी,

WHO की सलाह

1. वेंटिलेटर
2. सर्जिकल मास्क
का पर्याप्त स्टाक रखने के विपरीत भारत सरकार ने 19 मार्च तक इन सभी चीजों के निर्यात की अनुमति क्यों दीं?

ये खिलवाड़ किन ताक़तों की शह पर हुआ? क्या यह आपराधिक साजिश नहीं है?#Coronavirus https://t.co/tNgkngZ936

— Rahul Gandhi (@RahulGandhi) March 23, 2020
However, Rahul Gandhi being Rahul Gandhi, is lying through his teeth and fabricating the entire issue in order to trigger panic. The truth is that on January 31 itself, India had banned the export of all Personal Protection Equipment (PPE), including all masks and coveralls, vide a Directorate General of Foreign Trade notification.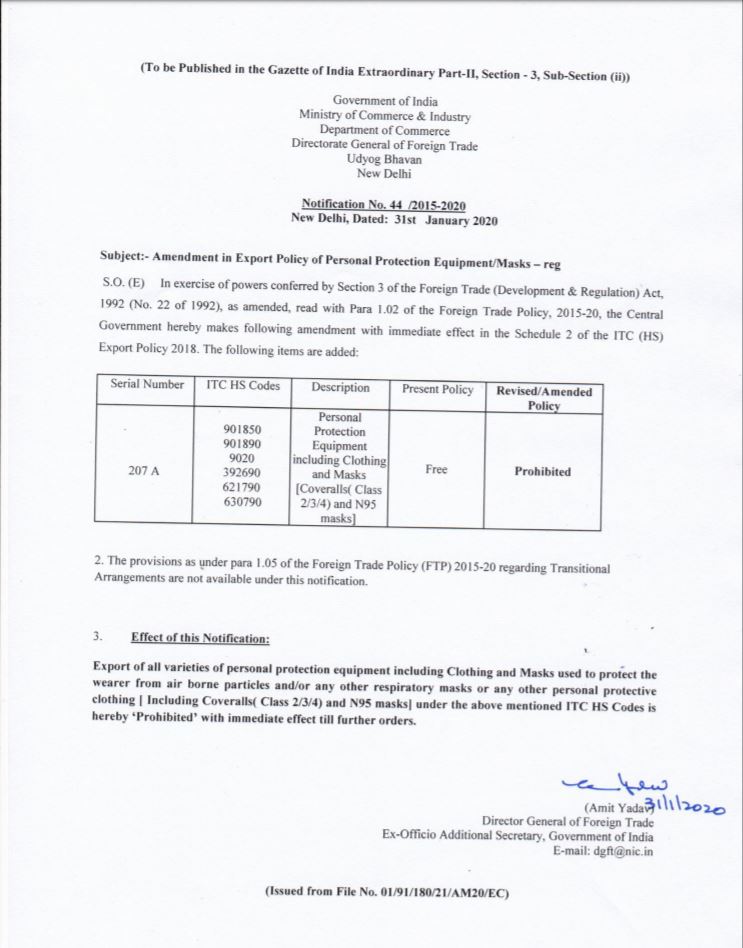 The government had started preparing even before Coronavirus had hit India in a major way. Thereafter, the government slightly relaxed the ban on export of Personal Protection Equipment and an exception was made only in terms of Surgical masks/ Disposable masks (⅔ Ply) and all gloves (except NBR gloves). Therefore, the export of N 95 masks was still kept "prohibited".
The decision to slightly relax the exports was taken due to the dire global condition at the time. India had been receiving distress calls from around the world, and therefore it was decided that some help would be extended to the Coronavirus-afflicted countries.
Moreover, on February 25 even though some more items such as gas masks and disposable shoe covers were opened for export, it was decided that the ban on export of all Personal Protection Equipment (PPE) necessary in healthcare activities such as clothing and masks would continue. But Rahul Gandhi has surreptitiously concealed this and has tried to trigger panic once again being the habitual liar that he is.
Finally, on March 19 an absolute ban was imposed on Personal Protection Equipment (PPE) and all exceptions were removed from the list of items banned for export. Rahul Gandhi is lying through his teeth by suggesting that the ban itself was imposed for the first time on March 19.
In fact, the Union Health Ministry has been on its toes and had made it clear early last month itself that it would stock up at least 50,000 Personal Protection Equipment (PPE) kits for the doctors and other medical staff on the frontlines combating COVID-19. The Modi government has kept pace with the Coronavirus outbreak.
It is also an act of sheer hypocrisy that Rahul Gandhi should make such false insinuations against the Modi government, when the Ashok Gehlot government in Rajasthan has come under the scanner as 2.5 lakh N 95 masks worth Rs. 2.5 crore have gone missing from the Sawai Man Singh (SMS) Hospital in Jaipur.
It is preposterous that Rahul Ganhi has made false, make-believe allegations against the Modi government, alleging shortfall of Personal Protection Equipment (PPE), but has not spoken a word about the massive irregularity that has cropped up in Rajasthan with Ashok Gehlot at the helm of affairs in the state.