Holi is around the corner and so is the annual exercise to tarnish the festival of colours as a criminal activity. This is the time when Hinduphobes join hands to get together and unabashedly portray the festival as a form of Hindu terrorism and molestation. For the past few years, propaganda against the festival has been the routine and 2020 is no different except for the fact that this vicious exercise has gone beyond India this time and its intensity is even higher this time around.
Hindu terrorists unleashing terror on the street in the name of Holi… pic.twitter.com/ehJMOsjmok

— The Frustrated Indian (@FrustIndian) March 3, 2017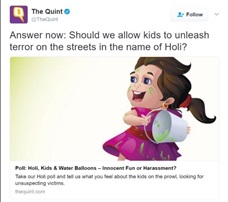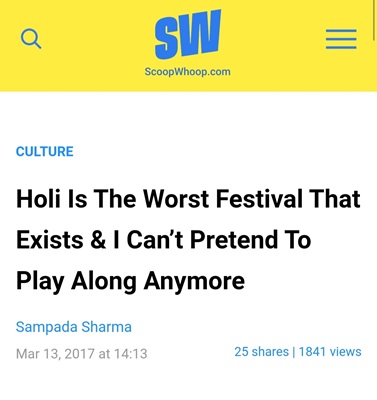 Last year, it was a vicious surf excel ad– a story about a young girl who helps her friend go for his namaz without getting stains of Holi colours on his clothes by finishing off all the colours on herself, which had caused massive outrage, but this time the elements that we are facing are even more influential and radical, apart from being bigger Hindu haters.
Take a look at this tweet, for instance, where Holi is defiled by being proclaimed as "rape culture".
Bura na mano Holi hai is rape culture.

— Zedsdead (@DeadZedb) March 7, 2020
Similarly, an Indian Muslim (read 'Islamist') describing him as a "Hindu reformer" has posted this utterly obnoxious, shocking and Hinduphobic tweet about the festival.
Entire world: "molestation and groping are criminal acts"

Hindus: 🎶 "tohar choli me rang daalab aye bhauji" 🎶

— علي (@OpusOfAli) March 9, 2020
Also take look at this Twitter thread, which completely discards Holi as the most misogynist, criminal exercise in the world. The thread uses derogatory epithets for Holi like "symptom of a sexually repressed society." It also dismisses "Holi hai" as a war cry.
The thread seems to be an attempt to paint all Hindu men as desperate molesters who come together to publicly molest and rape women in the garb of Holi. This thread reeks of anti-Hindu, anti-Holi superstition of the worst kind. With claims of molestations of girls as young as six years, there is a nefarious attempt to paint the entire festival as some sort of centuries Hindu conspiracy to molest women.
I don't play Holi for the simple reason that from the ages of 6-13 years where I did participate in the festivities, I got molested.

It scarred me. To this day, "Holi hai" sounds like a war cry to me, a justification to attack me in any way they wanted, with no consequences.

— Shachi Nelli (@nellipiercing) March 7, 2020
However, all such myth-making and propaganda is largely in line with the kind of hateful narrative within India that we Hindus have to live with every single time Holi is around the corner. Islamists and leftists within the country usually join hands when it comes to defaming the Hindus, and the exercise invariably peaks during Holi.
But this time around, more nefarious elements have joined this league when it comes to profaning Holi. As a part of this sinister conspiracy, 'Students against Hindutva (SAH)'- a radical, anti Hindu students group operating in the United States also organised 'Holi against Hindutva', a hateful event to desecrate one of the most significant Hindu festivals.
Now Islamists are targeting Hindu festival celebrations abroad. Our people should counter it aggressively. pic.twitter.com/04hH7Yx6Mx

— अंकित जैन (@indiantweeter) March 4, 2020
As a part of 'Holi against Hindutva' students from different college campuses, including Harvard, Brown, Princeton and Columbia gathered for a Holi on March 5.
However, unlike a usual Holi which is a festival of colours and where people throw different colours at each other, this Hinduphobic exercise entailed organisers supplying white powder even as sheer hatred for Hindus came to the fore. The participants were also asked to come in black colours, instead of the traditional whites worn during Holi.
Apparently, the Hinduphobic event was organised in the context of Delhi riots and it seems that the SAH, whose very nomenclature reeks of hatred towards the Hindus decided to go a complete rampage, desecrating the festival of colours.
Similarly, Medium, a website founded by Evan Williams who was also the co-founder of microblogging website, Twitter has also published one such story titled "Why Do We Say No to Holi? A Guide To Challenge Casteism", tarnishing the image of the festival. It in fact goes on to blatantly persuade Hindus to desist celebrating a festival which holds a pivotal place in their faith.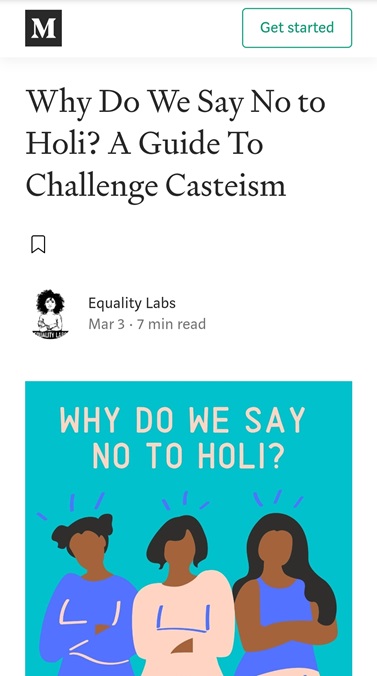 Holi has always been at the target of Islamists and leftists who have worked overtime to profane this festival. This year too, the propaganda has begun in full flow. But what sets apart this round of propaganda is the exponential rise in intensity of hatred against the Hindus as well as the involvement of foreign entities and blogging websites in the anti-Holi bigotry.