At a time when the AAP has managed to come back for a second term in the National Capital with a comfortable mandate, all doesn't seem to be well within the Kejriwal led party.
While AAP won the Assembly Elections comfortably, the Delhi Deputy Chief Minister and the number two within the AAP, Manish Sisodia won the Patparganj seat with a slender margin of about 3,000 votes. For a major part of the counting day, he was even trailing behind the BJP candidate.
Sisodia is Aam Aadmi Party's go-to man, and the entire election campaign of AAP was based on what the party claims to be revolutionary, world-class school education system in Delhi.
Even the Mohalla Clinic, a flagship scheme of the Delhi government, which was also central to the AAP Election campaign, is believed by many to be Sisodia's brainchild.
While even many average and mediocre AAP candidates too succeeded, a stalwart like Sisodia won with a slender margin which raised many legitimate questions, primarily of internal sabotage by none other than his most trusted confidante – Arvind Kejriwal.
Throughout the AAP campaign, Kejriwal and Sisodia had been campaigning on different, dichotomous narratives.
Days before the Election day, Kejriwal had said, "If Delhi Police was under our jurisdiction, we would have opened the Shaheen Bagh roads in 2 hours." This was in sharp contrast to Sisodia's stance of declaring support for the Shaheen Bagh protesters.
"If Delhi Police was under our jurisdiction, we would have opened the Shaheen Bagh roads in 2 hours": #KejriwalToNDTV #DelhiElections2020 #NDTVExclusive pic.twitter.com/K86cG2AmP2

— NDTV (@ndtv) February 4, 2020
Kejriwal went on to recite the Hanuman Chalisa during a television interview in the midst of the poll campaign. This was in response to a question which probed him over whether he visited Hanuman temples or not. He felt the need to be a seasonal Hindu because, of many things, he has not had a good track record when it comes to respecting the Hindu faith.
This too was inconsistent with Sisodia's campaign strategy of playing up anti-CAA fears. When anti CAA violence had gripped the National Capital, Sisodia was caught red-handed spreading fake news claiming that Delhi Police had set DTC buses on fire. The idea was to give a clean chit to anti-CAA rioters and hooligans.
It is important to mention here that while Kejriwal is a "CM with no portfolio" and has also drawn fire for his confrontational attitude in the past, his lieutenant Sisodia has a completely different personality.
During AAP's last tenure in Delhi, Sisodia did most of the heavy lifting. He handled several portfolios- Finance, Planning, Tourism, Land & Building, Women & Child, Art, Culture & Languages and most importantly, the Education Ministry.
He was seen as the man of action- one who delivers the goods and performs with an air of calmness around him, something that is in sharp contrast with Kejriwal's over the top persona.
It was because of this reason why Sisodia never really became a pale shadow of the Delhi CM. With his image of a quiet achiever, he emerged as a threat to Kejriwal. This is also a plausible explanation behind a possible attempt to sabotage his election campaign in the Patparganj constituency.
It is in such state of affairs that fresh signs of the AAP supremo and his Second in Command has embarked on a collision course have emerged.
Despite Sisodia being the second most popular AAP leader, he is nowhere to be seen in the party's celebratory photos. Raghav Chadda and Sanjay Singh can be seen beside the AAP supremo, Kejriwal in this celebratory photo.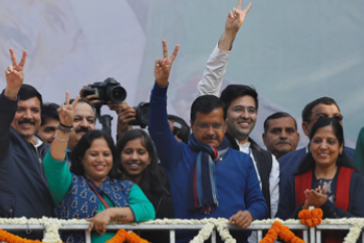 This celebratory photo is enough to send warning bells ringing. Kejriwal is not the who would allow people to express themselves around him. Yogendra Yadav and Prashant Bhushan were also thrown out of AAP once they had started to make their presence felt, there is no reason to believe why Sisodia won't meet the same fate.
While Sisodia remained absent from AAP's celebratory photos, he tweeted celebratory images from his constituency, in what seems like subtle signalling by the AAP legislator to the party leadership.
पटपड़गंज से तीसरी बार विधायक चुनने के लिए पटपड़गंज की जनता को दिल से आभार.

मुझे फ़ख़्र है कि आप सबने काम की राजनीति को बहुमत से विजय दिलाई और नफ़रत की राजनीति को जीतने नहीं दिया. pic.twitter.com/h21rg9fnYo

— Manish Sisodia (@msisodia) February 11, 2020
Meanwhile, AAP has also tweeted a photo of Kejriwal and Sisodia in an attempt to showcase their old bond and friendship. The two leaders have been closely associated with each other since 1998, from the times of Kejriwal running an NGO called Parivartan.
This seems like an attempt to reassure the party cadres about the equations at the top level. There is no other plausible explanation as to why the party would bring up the decades-old camaraderie between the two leaders for no specific reason.
For many more years to come…@ArvindKejriwal & @msisodia pic.twitter.com/sjC3VXJEz1

— AAP (@AamAadmiParty) February 11, 2020
Given the manner in which Sisodia has acquired a larger than life image after AAP government's last term in power, Kejriwal has two options- retain Sisodia as Deputy Chief Minister and risk threatening his own position, or find a replacement for the second most important position in Delhi, toppling Sisodia.
If Sisodia is not retained as the Delhi Deputy CM, it would be naturally seen as a demotion. But Kejriwal cannot risk allowing Sisodia to grab any more limelight.
Sisodia seems too formidable a leader for a supremo like Kejriwal who would rather fancy sycophants around him. As Kejriwal seeks to overcome the threat posed by his deputy's towering popularity, a coup against Sisodia might be in the offing.