In a befitting reply to China and Malaysia, India has ditched Regional Comprehensive Economic Partnership (RCEP). Previously, Chinese and Malaysian officials had made statements that RCEP will move forward, with or without India.
The RCEP negotiations started on November 12 and so far there have been 27 rounds of negotiations. The 7th RCEP Ministerial Meeting in Bangkok took place on 8 September 2019 and Indian concerns remained unaddressed.
To pressure India into signing the deal, China proposed Free Trade Agreement (FTA) with ASEAN+3 (China, Japan and South Korea) in May 2019. The proposed deal was aimed to force Australia and New Zealand to convince India to be more flexible with RCEP negotiations. By ditching RCEP altogether, India has given a befitting reply to Chinese pressure tactics.
India has major apprehensions regarding RCEP as the previous trade deals with ASEAN had not benefitted the country so far. According to a report from the Asian Development Bank, the FTA utilization rate of India is 25 per cent, among the lowest in Asia.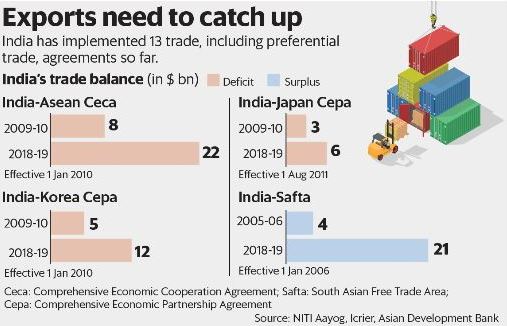 The ASEAN India free trade deal was signed during UPA I and came into effect in 2010. In FY 10, India's trade deficit with ASEAN countries was 8 billion dollars. In the last 9 years of FTA, the trade deficit widened due to poorly negotiated trade deal. Among all FTAs signed by India, ASEAN was most poorly negotiated and it badly hurt the Indian industries most.
The ASEAN-India FTA, signed in 2009 by the UPA government gave disproportionate concession to the countries like Vietnam and Indonesia. India agreed to eliminate 74 per cent of tariff lines while Indonesia and Vietnam eliminated only 50 and 70 per cent tariff lines respectively.
The then CM of Kerala, V. S. Achuthanandan, led a delegation to PM Manmohan Singh to protest against a free trade deal with ASEAN. Kerala, a major exporter of plantation products, experienced setback due to the South Asian Free Trade Agreement (SAFTA), signed in 2006 by the UPA government. The cheap coconut imports from Sri Lanka hurt the state's coconut cultivation industry. The CM was aware that the FTA with ASEAN will further hit Kerala's agro-industries because ASEAN countries will dump the cheap products in India and are going to destroy the domestic industries.
But, the then UPA government left the issue unaddressed and signed FTA with ASEAN. The state received another setback in the form of ASEAN-India FTA due to cheap palm oil imports from Malaysia, which is second-largest producer of Palm oil. The cheap palm oil imports from Malaysia severely hit Kerala's capacity. Recently, Modi government raised import duty on palm oil from 45 per cent to 50 per cent in the wake of Malaysian Prime Minister's comment on Kashmir.
The cheap imports from countries like Malaysia destroyed the domestic businesses and trade deficit with ASEAN countries widened. The poorly negotiated India-ASEAN FTA severely hit the farming sector of the country, especially in South India, which has a similar product base as that of Southeast Asia.
The industry players from India are asking for a renegotiation of ASEAN FTA because the previous deal was poorly negotiated. Taking the industry demand to ASEAN members, in Thailand, PM Modi said, "the decision to re-examine the India ASEAN FTA (free trade agreement). This will make our economic links stronger and will make our trade more balanced."
The 22 billion dollar trade deficit is unsuitable. A trade deal, which is skewed in favour of ASEAN countries, could not be maintained for long. India must renegotiate the ASEAN India FTA with the Southeast Asian nations.
India had very solid reasons to back off from China-led RCEP. The member countries of RCEP include ten member states of the Association of Southeast Asian Nations (ASEAN) (Brunei, Cambodia, Indonesia, Laos, Malaysia, Myanmar, the Philippines, Singapore, Thailand, and Vietnam) and 6 Asia-Pacific countries (Australia, China, India, Japan, South Korea and New Zealand). Out of the 15 member countries, India already has trade deals with ASEAN (10 countries), Japan, and South Korea.
The only countries whose market access India would get are Australia, New Zealand and China. The government is already working on bilateral trade deals with New Zealand and Australia. India is not interested in signing a free trade deal with China as China already has a 63 billion dollar trade deficit.
The wave of multilateral free trade deal is over since the rise of protectionism. The economic superpowers like the United States, United Kingdom are going for bilateral trade deal rather than multilateral ones. India had taken a leaf out of their book and ditched RCEP for bilateral trade deals.