Another day, another Hinduphobic tweet from another foreign media person. This has been the story in recent times where the blatant hypocrisy and venom-spewing of the so-called "liberal media" is on full display. This time around, Furkan Khan, a producer at the US-based National Public Radio (NPR), found herself at the center of a Twitter controversy after she implied that if Hindus gave up Hinduism, they could solve their problems "what with all the piss drinking and dung worshipping".
The comments not only show her deplorable state of mind but also highlight her bigotry which is similar to that of the views of Islamists sitting in Pakistan, terrorists and suicide bombers like the Pulwama suicide bomber. It comes as no surprise that these media houses support extremism and would go to any lengths to protect their interests. Messages expressing hate for Hinduism and Hindus, often emanating from Pakistan, have exploded on social media following the abrogation of Article 370 of the Constitution which granted special status to the former state of Jammu and Kashmir and it seems Furkan Khan is playing from that side only.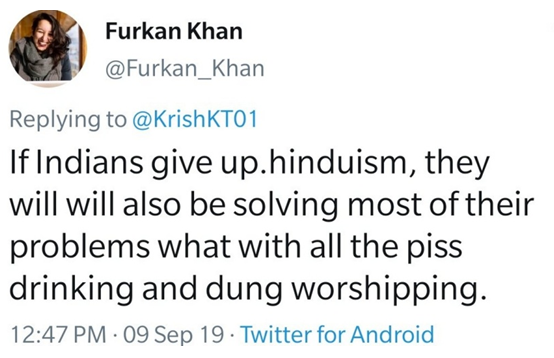 The Twitterati went berserk after Furkan Khan's Hinduphobic remarks, from academicians to journalists, people on Twitter called out Furkan for her "bigotry" and apparent "Hinduphobia", meanwhile bashing her left, right and center after which she was compelled to issue an apology which more so felt like a half-hearted apology meant just to quash the fire. She tweeted that she took down the tweet so that it was not misrepresented, but it comes as no-brainer how it could have been misrepresented as her apparent misogynist, Hinduphobia was in full-view and it could only be a constructed one way, that Furkan Khan is a closet jihadist dressed in the garb of a liberal.
I have taken the tweet down so that I am not misrepresented.

— Furkan Khan (@Furkan_Khan) September 10, 2019
However, this is not the first time Khan has posted her hate-filled words on the social media platform. In the past, she called the genocide of Kashmiri pandits as the "normal conflict collateral damage" and has glorified the slain-terrorist Burhan Vani.
So a normal conflict collateral damage of Pandits is Hindu-muslim but this is not. Have some shame, with your double standards.

— Furkan Khan (@Furkan_Khan) September 5, 2019
Following this controversy and uproar on Twitter against Furkan Khan, NPR stated that it "regrets the unacceptable tweet by the New Delhi producer Furkan Khan" and went on to say, "She has publicly apologized and has resigned from NPR," indicating that Furkan may have been asked to leave NPR following the derogatory remarks against Hindus.
.@HinduAmerican just received the following from @NPR. Thank you @lfrayer and @NPR for taking Hindu community concerns about @Furkan_Khan 's tweet seriously. pic.twitter.com/CBXeP0uPOZ

— Suhag A. Shukla (@SuhagAShukla) September 11, 2019
Previously, Ira Trivedi, a yoga teacher, and known Hindu-hater was also sacked from Doordarshan and trolled mercilessly on twitter for her anti-Hindu remarks in which she had said, "The Quran is a deeply progressive text! Modern-day Hinduism is deeply regressive." She had gone on to say that "beef is the cheapest source of protein' amidst the beef controversy and also said that  Hindu women fear to go to temples as they think they will be molested. Clearly showing her hatred for the Hindu community.
"It regrets the unacceptable tweet by New Delhi producer Furkan Khan. This comment does not reflect the views of NPR journalists and is a violation of our ethical standards. She has publicly apologised for her tweet and has resigned from NPR," the radio said in a statement, as usual distancing themselves from the perpetrator.
Calling Hindus 'cow piss drinkers' or 'dung worshippers' is a common insult used by propaganda-peddlers to deride Hinduism and after Modi led BJP came into power in 2014, these liberal-hinduphobic journalists have upped their game of bringing down Hindus and the whole community. They ridicule the nationalists, mock people's faith and ultimately use hate-speech to flare the communal tensions. It is an age-old trick in the books of these pseudo-journalists who need to be checked upon continuously and if possible be blacklisted immediately when try to spread their fake narratives and vile sentiments on the common masses. However, much has also changed with how the Hindu community reacts to such bigots, given how it registers strong protest against such comments. Bigots like Furkan Khan and Ira Trivedi have found out the hard way that their venomous and bigoted statements can cost them their jobs and that Hindus would not be bogged down by the empty-cacophony hate-speeches against them anymore.