CBI, which is investigating the NDTV promoters Prannoy Roy and Radhika Roy in tax fraud and few other financial crimes, has booked a 'fresh case' against them for violation of FDI norms and laundering money of public servants in shell firms. Roys along with NDTV's former CEO Vikram Chandra and unknown officials from Income Tax department are among those named in FIR.
Previously Roys were detained at Mumbai city airport from where they intended to travel to an 'undisclosed destination' at the behest of CBI which has placed look out circular (LOC) against them.
In the case registered yesterday, NDTV was alleged to have floated many shell firms from 2004 to 2010 to launder the black money of corrupt public servants. "During the period from May 2004 to May 2010, NTV Ltd floated around 32 subsidiary firms all over the world, mostly in tax havens viz. Holland, UK, Dubai, Malaysia, Mauritius etc," reads the FIR.
"It is alleged that these transactions are sham transactions and the aforementioned funds are invested by unknown Public Servants through NDTV Ltd and later laundered back to India through multiple layers of complex transactions and shell companies. Proceeds of corruption of unknown public servants were investigated through NDTV," it added.
As per the FIR, Foreign Investment Promotion Board which was headed by the then finance minister P Chidambaram gave dubious clearance to NDTV to receive FDI worth 800 crore rupees till September 2009.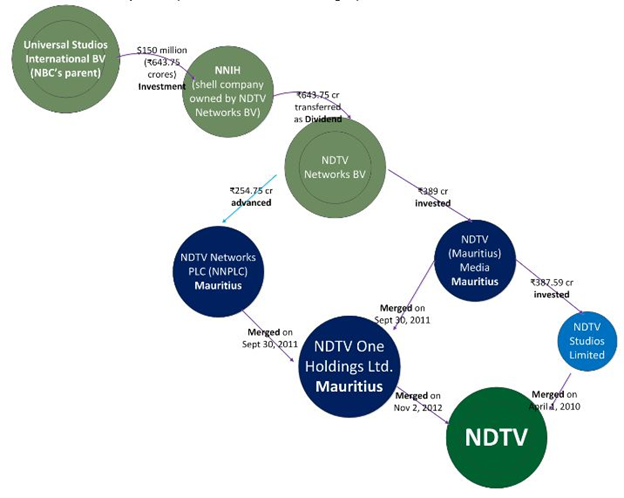 Chidambaram who enjoyed close links with NDTV, was also alleged to have invested 40 million dollars (200 crore rupees) in NDTV. "NDTV Ltd. needs to be investigated over parking of bribe of US $40 million by Maxis and its owner T. Ananda Krishnan (accused in the Aircel-Maxis case) on behalf of P Chidambaram and Karti P. Chidambaram for obtaining FIPB approval in Rs.3500 crores Aircel-Maxis deal fraudulently claiming the proposal for Rs. 180 crores only when gross value of the proposal was to be considered and which has been hushed up by certain IRS officers in lieu of bribe paid by NDTV Ltd," said Sanjay Kumar Srivastava, an Information Tax Commissioner who is whistleblower of financial irregularities in NDTV in a 88-page letter to CBI.
There are similarities between the cases of Roys and Chidambaram. They are accused in the cases of financial fraud and corruption in more than one case. The financial of corruption of both of them is related to Foreign Investment Promotion Board (FIPB) and violation of FDI norms. Both are being investigated by CBI and the heat turned on both of them in last few months.
The most important similarity in both the cases is that Subramanian Swamy, the legendary anti-corruption warrior, is taking personal interest in both cases. He has kept both cases in public eye through tweets, statements in media, and judicial activism. "Will NDTV Gang join PC family in Tihar?" tweeted Subramanian Swamy.
Will NDTV Gang join PC family in Tihar?

— Subramanian Swamy (@Swamy39) August 21, 2019
Given the personal interest of Swamy in NDTV case and strong evidence against, the Roys might join their good friend and 'business partner' Chidambaram in Tihar jail.