Sanjay Kumar Srivastava, an Information Tax Commissioner who is whistleblower of financial irregularities in NDTV dealing has informed Central Bureau of Investigation (CBI) that P Chidambaram has put 40 million dollars (200 crore rupees) in NDTV. "NDTV Ltd. needs to be investigated over parking of bribe of US $40 million by Maxis and its owner T. Ananda Krishnan (accused in the Aircel-Maxis case) on behalf of P Chidambaram and Karti P. Chidambaram for obtaining FIPB approval in Rs.3500 crores Aircel-Maxis deal fraudulently claiming the proposal for Rs.180 crores only when gross value of the proposal was to be considered and which has been hushed up by certain IRS officers in lieu of bribe paid by NDTV Ltd," said Srivastava in a 88-page letter to CBI.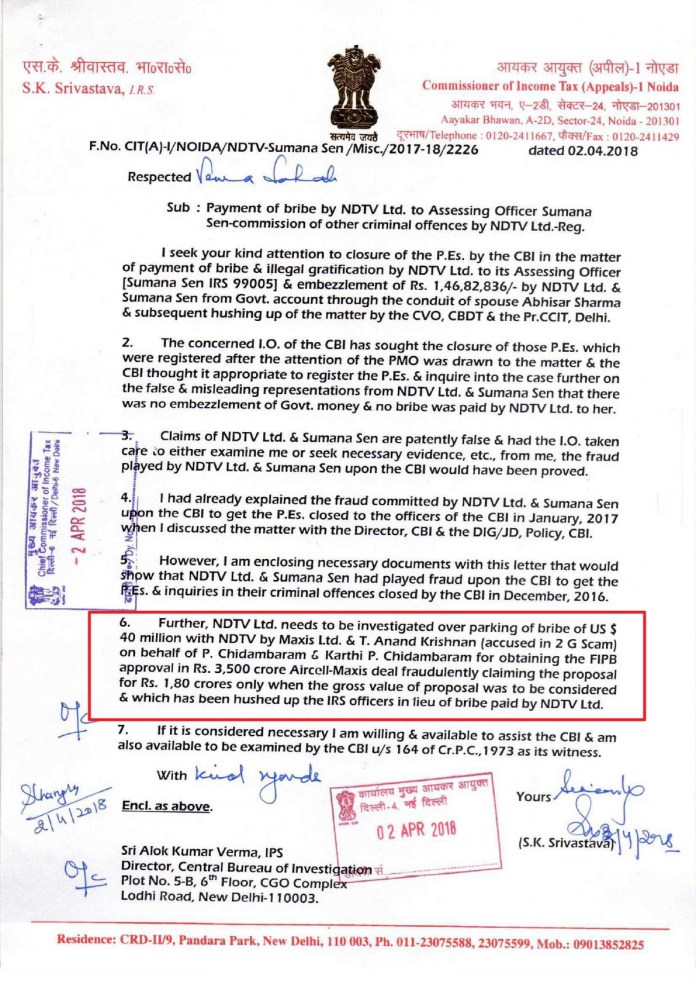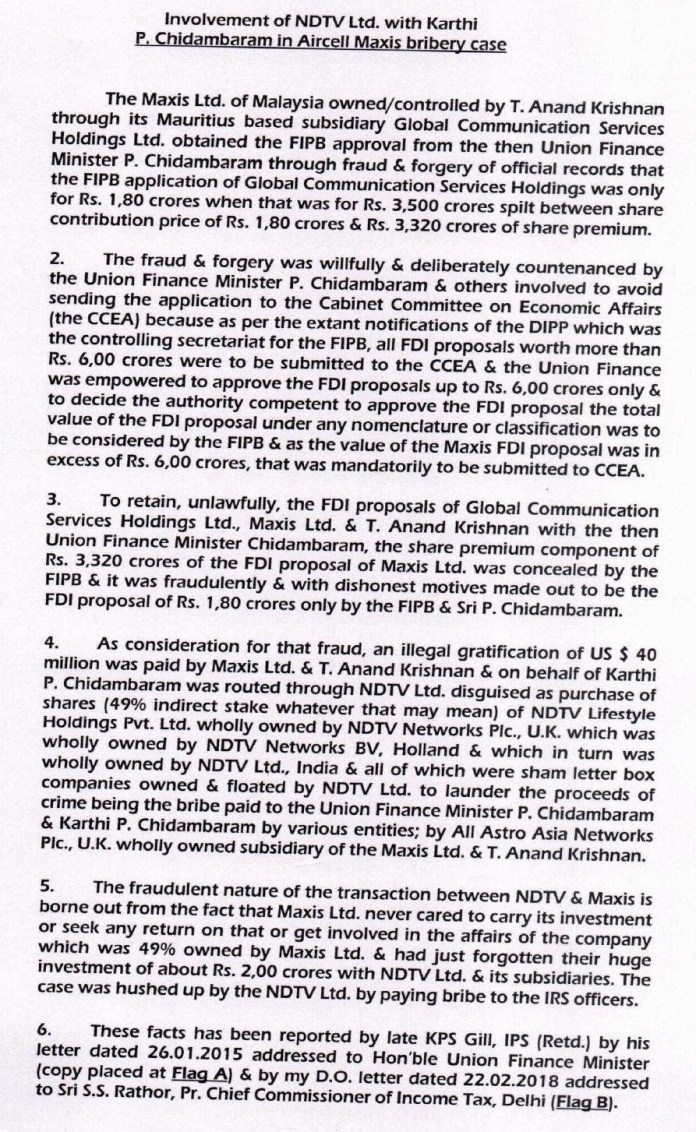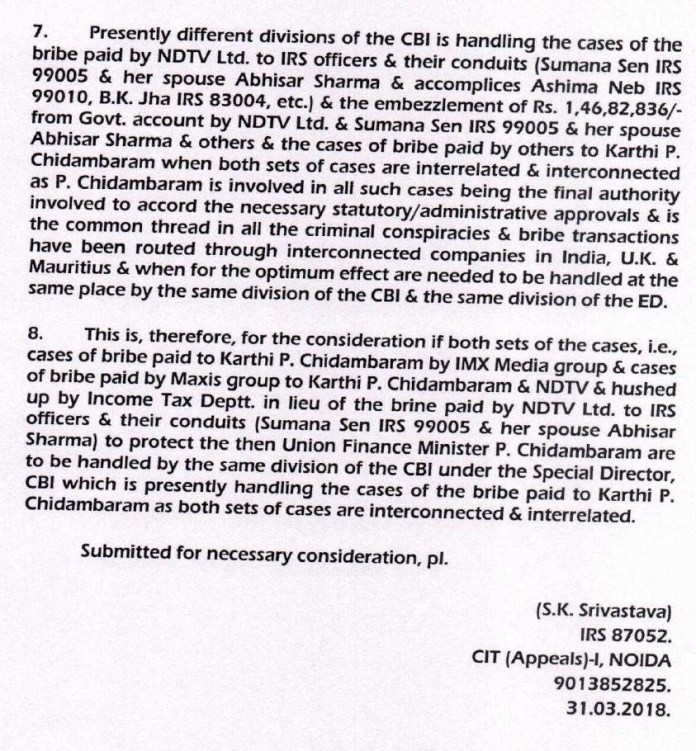 The investigation agencies- Enforcement Directorate (ED) and CBI are probing P Chidambaram and his son Karti Chidambaram in Aircel Maxis scam. The Aircel Maxis scam has its roots in the 2G scam. Aircel chief C Sivasankaran complained to the CBI about being forced by Telecom Minister Dayanidhi Maran to sell 74% stake to Malaysian based Maxis Communications. In return, the Maran brothers received kickbacks in the form of investments by Maxis Group in Sun TV networks, owned by the Maran family. Chidambaram's son Karti owns a company by the name of Advantage Strategic Consulting Private Limited, which had loaned 26 Lakh rupees to Aircel. Chidambaram withheld the FIPB approval of this deal until his son Karti received a 5% share of Aircel to get a part of the 40 million paid by Maxis for a 74% share of Aircel.
It was also revealed by Srivastava that certain CBI officers closed preliminary enquiry against three Indian Revenue Service (IRS) officials who were accused in NDTV's financial irregularity.  "Presently different divisions of the CBI are handling the cases of the bribe paid by NDTV Ltd to IRS officers and their conduits (Sumana Sen IRS & her spouse and then NDTV anchor Abhisar Sharma and accomplices Ashima Neb IRS and BK Jha IRS) and the embezzlement of Rs.1, 46, 82,836 from Government account by NDTV Ltd," said Srivastava on how Chidambaram used the money earned through corruption to replenish the coffers of NDTV.
Earlier, the Securities and Exchange Board (SEBI) has told Vishvapradhan Commercial Private Limited (VCPL) to make an open offer to New Delhi Television (NDTV) within 45 days for indirectly acquiring up to 52 percent stake. VCPL owns a majority stake in NDTV after it gave a loan of Rs.350 crores to NDTV in July 2009 for a period of 10 years. The term of the loan will end in July this year. NDTV's promoter group made an open offer in 2008, for which they borrowed Rs 540 crore from Indiabulls Financial Services to finance this open offer. The promoters then took another loan of Rs 375 crore from ICICI Bank to repay Indiabulls and the ICICI Bank loan was repaid in 2009 with Rs 350 crore loan from VCPL. The ownership of VCPL was in the hands of Reliance Investment Limited (RIL) when it was incorporated in 2008.
Through the financial dealings of NDTV it seems that none of the dealings of the company is clean. Everywhere it tried to evade taxes and get money through questionable means. The whole left-liberal cabal supports the media organization financially and legally. In Niira Radia tapes controversy it was found that journalist Barkha Dutt lobbied for A Raja as the telecom minister during the infamous 2G scam by mentioning that she would talk to Ghulam Nabi Azad. The channel and Congress party seem very close in terms of elitism, corruption, bureaucratic establishment.