As the trade to GDP ratio of the countries across Asia is showing southwards trend in last few years, India is the only country which is showing positive gains. Hit by the trade war with America, the Chinese economy is currently witnessing the worst phase in last four decades. The exports as well as domestic consumption have declined in the Communist country. This hit Asian economies for whom China was a major importer. However, in a news that reflects the strength and resilience of the Indian economy, India is the only major Asian economy whose share of exports have actually risen amid trade war.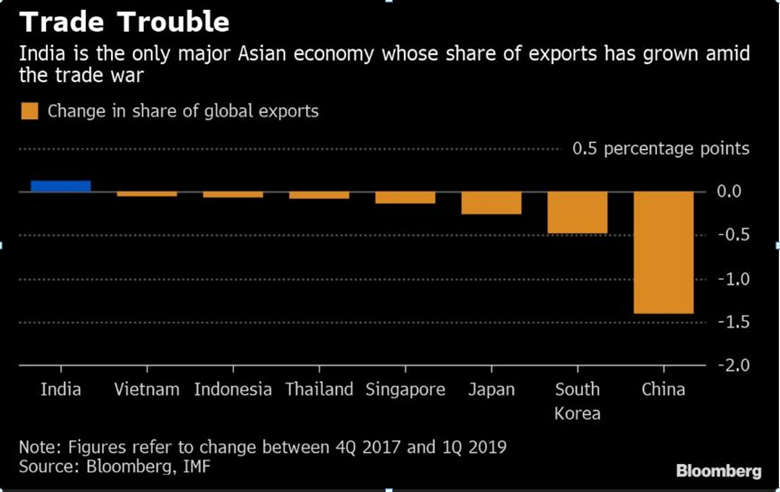 The slowdown in the economy of China has forced the Chinese people to consume less and this has resulted in a reduction in imports. South Korea, Japan, Singapore and many other countries registered decline in their share of total global exports because a huge market for them is China. However, Indian exports are not very much dependent on China. United States, the Middle East, and Europe are a major hub for Indian exports and therefore Indian exports have not been hit so far.
As per a report compiled by Bloomberg, the share of India in total global exports has increased amid the heightened trade war. The share of India in global exports rose to 1.71 per cent in the first quarter of this calendar year from 1.71 per cent in the fourth quarter of 2017 calendar year. India is still not very well integrated in the global supply chain as compared to its Asian peers and not gravely dependent on exports as in the case of China. This is the reason that the country is not severely hit by the global trade war.
"India is not part of the global value chain," said RBI governor Shaktikanta Das in an interview. He added that US-China trade war does not impact India as much as several other economies.
Suresh Prabhu, the former minister of Commerce and Industry must be given credit for rise in India's share in global export. He explored the ins and outs of India's standing on global trade and exploited the disorienting Trade War between the US and China to increase India's export share. India's goods exports peaked at $331 billion last fiscal and services exports surpassed $200 billion. India's exports to China were particularly impressive where the number witnessed a 31 percent jump to $17 billion and reduction in imports ultimately led to a fall in the trade deficit with China by $10 billion.
"China is more willing to give market access to India than ever before," said Ajay Sahai, director general and chief executive officer of the Federation of Indian Export Organizations.
Under Suresh Prabhu's watch, the Ministry of Commerce and Industry has cut the bureaucratic red tape which hurt the growth in previous years. The recent Ease of doing business ranking which also recognized the ranking for 'trading across borders' saw second highest improvement after construction permits, it rose to 80 from 146 last year. The time and cost for import and export in terms of documentation which largely moved online and border compliance has also been made more efficient. The revival of exports and textile industry will help the economy of the country.
The government is also ready to overhaul the customs duty architecture to boost cross-border trade. "We want to go in for something which will be radically different from what we have been doing. We are going to venture into a new territory called faceless assessment. We could start a pilot in a month's time," said S Ramesh, chairman of Central Board of Indirect Taxes and Customs (CBIC).
PM @NarendraModi is set to unleash the next generation of reforms with changes to Customs Duty architecture that will do away with face-to-face interaction with officials, enable e-Tracking of shipments & allow uninterrupted movement of merchandise https://t.co/bsLPJ1cGHo pic.twitter.com/dwl3GTQ2aL

— Piyush Goyal (@PiyushGoyal) December 4, 2018
India has been able to exploit the ongoing trade war between the USA and China so far. Given the young and bright Piyush Goyal at the helm of Commerce ministry, the country will be able implement innovative reforms which will further boost India's share in total global exports.