The Modi government of Friday appointed nine professionals as Joint Secretaries in various ministries under its lateral entry scheme. The professionals were appointed in Level 14 of the Pay Matrix as per the 7th Central Pay Commission, for a period of three years, as per the order.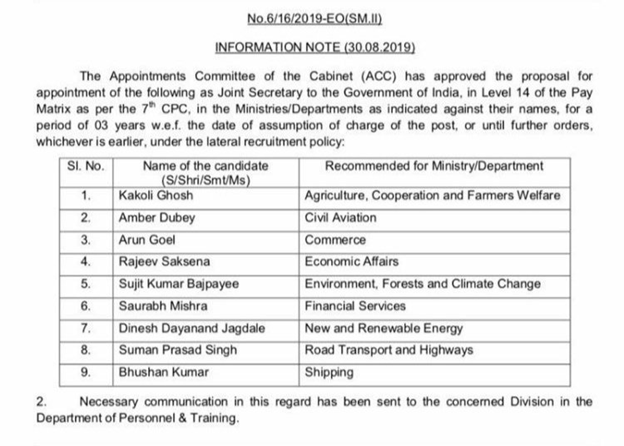 UPSC had earlier shortlisted candidates for the appointment at several posts in April, who have now been cleared by the Appointments Committee of the cabinet to be finally commissioned at their respective posts. This list of Joint Secretaries includes professionals selected from various industries and fields relevant to their respective appointments. Since coming to power, the Modi government has tried its best to reform the lagged bureaucratic framework of the nation. The reform of the lateral entry scheme is surely a revolutionary step taken by the Modi government.
This step is seen by many as a game changer as far as Indian bureaucracy is concerned. The lateral entry scheme will help to improve the inefficiencies of the bureaucratic set up of the country. The scheme has offered the individuals with age above 40 and with 15 years of experience in economics, aviation or commerce, or other fields to join the government at Joint Secretary levels. PM Modi has always laid stress on bureaucratic reforms and efficiency in governance as well as policy-making. This move demonstrates how the Modi government is living up to its promises. It is true that the IAS and other civil service cadres consist of several hard-working and capable individuals but it is also true that it is also prone to lethargy, inefficiency and corruption.
While the Modi government carries forward this administrative reform, the Congress and similar minded opposition parties have been perpetually opposing these moves. They have continued with their ugly political remarks and have politicized even this commendable reform.
RJD's Tejashwi Yadav had earlier alleged that the lateral entry scheme is "unconstitutional" and "anti-reservation". He had also alleged that tomorrow the government will appoint prime minister and cabinet ministers without holding polls. Another opposition leader, Sitaram Yechury had also called this an attempt to subvert SC, ST and OBC reservations. However, questions arise that how can appointments at such a high level at an age of more than 40 years be detrimental to reservations? It is important to note that, reservations in the UPSC civil services have been left untouched. This is not even remotely connected to SC/ST reservations. The Congress had even gone a step further in this intellectual bankruptcy and announced that it will challenge this decision before the courts as being undemocratic.
PM Modi's plan to revive and remodel the Indian bureaucracy is surely a positive step ahead to churn the old system which is considered inefficient and corrupt by many. The Prime Minister is keen to introduce the new system of large scale sourcing of lateral entry officers from 2020. This is likely to result in a massive reshuffle of the administration and the preparations have already begun.