A poll conducted by ET Magazine among CEOs of India Inc. on the performance of Modi government has revealed the confidence of executives in the incumbent government. The magazine polled 130 CEOs out of which 95 responded. These CEOs were from diverse sectors including startups and investors (33%) and services (21%).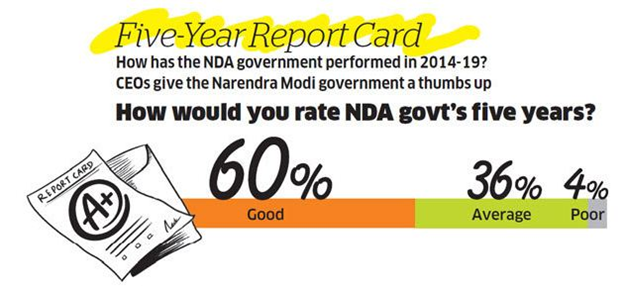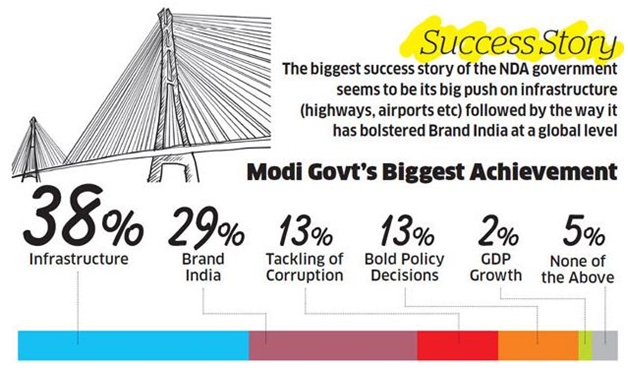 An overwhelming majority of 60 percent rated the last five years of Modi government as good while 36 percent called it average. Infrastructure (38%), strengthening of brand India (29%), tackling of corruption (13%), and bold policy decisions (13%) were rated among the biggest achievements of the incumbent government.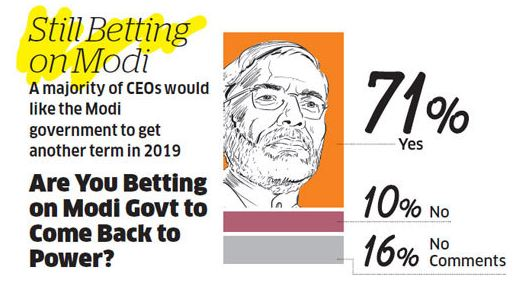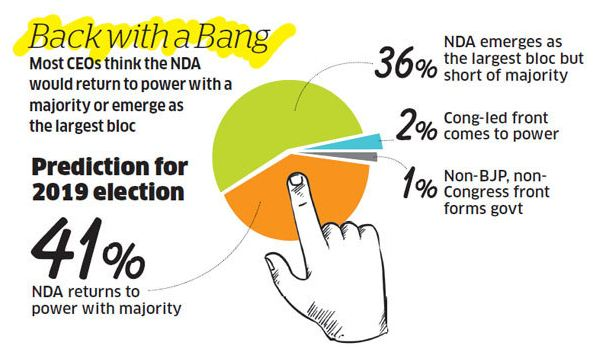 Most of the CEOs (71%) were confident that Modi government will come back to power with 41 percent voting for NDA majority and 36 percent saying that it will emerge as the largest block. Nitin Gadkari, Minister of Road, Transport and Highways and Minister of Railways and Coal Piyush Goyal came out as best performing ministers.
Earlier, many industrialists and investors from India and across the globe had shown faith in Modi government. Ratan Tata, the ace industrialist and former chairman of the Tata Group displayed confidence in Prime Minister Modi in an interview with columnist and author Suhel Seth. On being questioned about the Prime Minister, Tata said that Modi is capable of delivering the 'New India' that he has promised to the people of the country. R. Narayana Murthy, the pioneer of Indian IT industry reasoned for another term for Modi government. In an interview with ET Now, Murthy said, "We must be grateful that there is at least a national leader of Modi's calibre who is interested in improving India. Looking at last 5 years, I feel that having a leader who is focused on nation, focused on discipline, cleanliness, and economic progress is a good thing. Continuity of government would be a good thing."
John Chambers, a former executive chairman and CEO of CISCO said that "India's growth is at risk if Modi is not re-elected." The corporate leaders at home and around the world have praised Modi government for economic and social reforms.
 In the last four and a half years, PM Modi has taken many path-breaking steps to modernize the Indian economy. The steps include demonetization, GST and IBC. The Modi government has been able to take forward the economic development along with the development of the people at the grass-root level. Also, steps like the Swachh Bharat Abhiyaan, Ujjawala Yojna etc. have received praises by the corporate leaders and people across the political spectrum.
Under the Modi government, India became fastest growing major economy in the world leaving behind its eastern neighbor- China. The macroeconomic indicators of the country are in very good shape and in the coming years, the country will reap the benefits of reforms carried out in Modi government's first term. The GDP growth of the country is expected to reach double digits in the next decade.