A few weeks ago, Barkha Dutt had tweeted an obscene picture claiming that 'nationalists' were sending her these. This incident had come against the backdrop of fake outrage on a nation-wide attack on Kashmiris. 
Now, four persons have been arrested for sending obscene messages to the ex NDTV journalist, including pictures of their genitals. The main culprit who sent the obscene pictures online is named Shabbir Gufran Pinjari.
Shabbir Gufran Pinjari, a butcher by profession from Surat, turned out to be the actual culprit behind the weird case. He was arrested along with three others by Delhi Police, and is currently under judicial custody.
The other three are residents of Delhi, as per the local media sources. A case has been registered against the four accused under the IPC sections of 354-D (stalking), 506 (threatening), 507 (criminal intimidation) and 120-B (criminal conspiracy), and sections 67 and 67-A (publishing or transmitting of material containing sexually explicit act) of the IT Act.
For those unaware, Barkha Dutt took to Twitter to talk about the threats she was allegedly receiving for trying to shield the Kashmiri citizens, who were under fire for having celebrated the Pulwama attacks on the CRPF convoy. She alleged that people sent her photos of their genitals on her WhatsApp account, as shown below: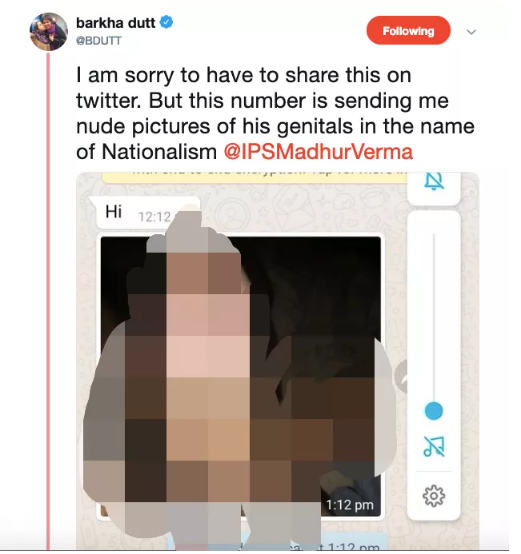 She also mentioned in the FIR filed with the cyber cell that, "I appear to have been made a victim of some fake news propaganda and my number has been shared on all social media platforms. I have been sent nude pictures and sexually abusive text messages. I fear for my well-being, security and life as this is a coordinated assault by a violent mob."
However, Barkha Dutt promptly tried to demonize the nationalists by using such obscene pictures. Sexual harassment of any kind is not welcome, but that does not give an excuse to demonize nationalism in such a ridiculous way.
When Twitter blocked some of her account features in order to prevent such incidents for her own safety, Barkha Dutt took it the wrong way and accused Twitter CEO Jack Dorsey of 'siding with the culprits'. This was so, after Jack himself supported their ideals time and again, including holding a card that said 'Smash Brahminical Patriarchy'.