Maharashtra government under Devendra Fadnavis has saved 12,000 crore rupees by eliminating bogus claimants in the farm loan waiver scheme. The exchequer saved money by using direct benefit transfer (DBT) for the loan waiver. The Maharashtra government waived loans worth 34,022 crore rupees to end the farmers' distress in the state. Moreover, the factors which contribute to farm distress in the state are declining output prices and rising input prices. The Fadnavis government waived loans to solve the problem of rising input prices while the declining output side stress is being rectified through incentivizing marketing techniques and amendment in the Mandi act.
"Our farm loan waiver scheme was executed on a digital platform and by that we could save Rs 12,000 crore just because of digital intervention. Had it been the regular way, we would have ended up paying Rs 12,000 crore more to the people and that is the power of digitisation," said Fadnavis in an event organized by corporate body Confederation of Indian Industry (CII). He also said that the government is working to improve every aspect in the lifecycle of crops. "From sowing to harvesting, everything will be managed through a digital platform and that will give advantage to farmers to make this sector more sustainable, predictable. We are trying to make agriculture more precision-oriented so that we bring down the cost, make it predictable and connect farmers directly to technology," he added.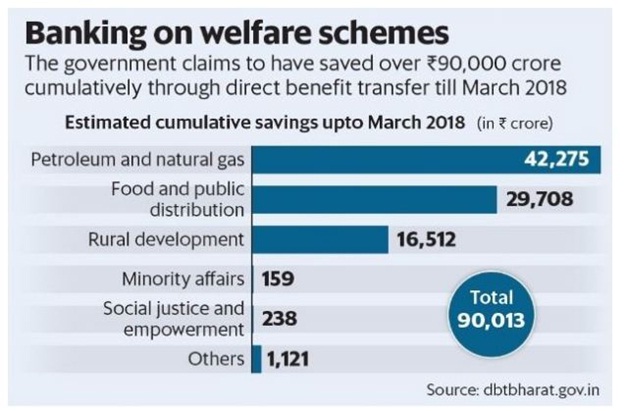 The government has saved leakage of almost 90,000 crores through DBT.  In 2016-17 alone, the government saved worth 32, 984 crores by plugging leakage. DBT has made the transfer of MGNREGA benefits more transparent and has also removed the concept of middle man. Earlier the gram pradhans used to force the beneficiaries to do household work or gave them some agricultural work in their own land. Some jobs were so unproductive that workers had to dig a pond and then refill it because they had no actual work to do, while the government had already promised to give a job of at least 100 days to them. DBT has been hugely beneficial for the government when it comes to control the leakage in the delivery of public services. One of the prominent leaders used to say that if 100 rupees is sanctioned for public welfare, only 10 percent of that reaches to people at grassroots. Now by using DBT, the government is able to transfer 100 rupees directly to beneficiaries' account. 
As the Supreme Court's verdict on Aadhaar has allowed the unique identity to be used for Direct Benefit Transfer (DBT), the government is now poised to use Aadhaar identity for more such schemes. Universal Basic Income (UBI) is being debated among policy circles of the country and here also Aadhaar can be used to transfer a fixed amount to people's bank account. As of now, the government uses DBT for 465 schemes which range from LPG subsidy to college scholarships. "The Supreme Court judgment is a great step forward for use of technology in governance. Aadhaar is already being used in several areas, several state governments have used it. I am sure it will continue to be of great benefit to the society," Jaitley said while briefing reporters after the cabinet meeting.