Controversial Bollywood actor Kamaal Rashid Khan, also known as KRK, is known for his antics on and off the stage. A self-proclaimed critic, KRK has landed in yet another controversy for his comments against LGBTQ community. An FIR has been filed against the actor for derogatory comments against the LGTBQ community. 
A day after Supreme Court passed its historic verdict on LGBTQ, wherein it decriminalized consensual same-sex relations; KRK posted a video on Youtube.
The 5 minute 16 seconds long video was posted on September 7, 2018 and has over 2.83 lakh views and is filled with usage of inappropriate language and filthy comments.
A 19 year old Vadodara based student Ujjawal Krishnam on October 2, filled a criminal case against KRK for the remarks that he made in his video, wherein he gave offensive statements referring to transgenders and people who identify themselves as homosexuals, the complaint stated.
Krishnam in his complaint said, "Kamaal Rashid Khan, a self-proclaimed Bollywood critic, in a recent video, can be seen delivering a hate speech against a specific community. Despite this (SC's) remarkable judgment, this fellow didn't stop to deliver a speech which can't be called less than obscene, vulgar, derogatory and offensive."
He also expressed his concern that even after 9,000 dislikes that the video had none of the viewers stepped forward to file complaint against Khan's derogatory comments.
Furthermore, Krishnam was advised by the Gujarat Police to approach the Mumbai Police and get his case registered.  On Friday, following Krishnam's email to Mumbai Police, an FIR was filed against KRK at Bandra Police Station.
The police said that KRK has been booked on the charges of vulgarity, promoting communal hatred, passing lewd remarks aimed at causing aversion or enmity between classes and defamation under the Indian Penal Code.
Senior Inspector, Girish Anavkar from Bandra police station said, "We will serve a notice to the accused to explain why he made those remarks. The investigation will then proceed."
This is not the first time that KRK has made any controversial remarks and has landed in trouble. Earlier, film '1920 London' director, Vikram Bhatt had filed a defamation case against KRK on the charges of use of derogatory statements against the film's actress Meera Chopra.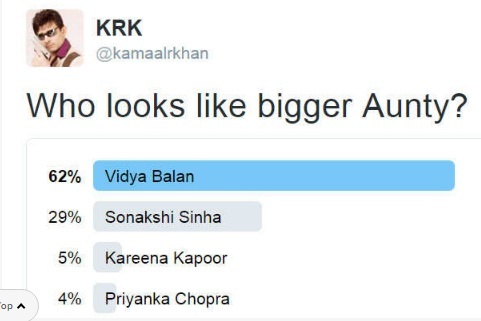 On Twitter, KRK is known to be very belligerent and offensive especially towards women.
On May 1, 2015 wishing actress Anushka Sharma on her birthday, he declared the day as 'Bhabhi Day' and tweeted, "I wish very happy birthday to @AnushkaSharma Ji n very Very Happy Bhabhi day to all the ppl of India."
These days he seems to be on attacking mode against actor Akshay Kumar as in his recent tweet he wrote, "Akshay Kumar is not only using friends for his benefits but he is using Deshbhakti also. Once he is flop, then he will go back to his country Canada and live there happily."
However, it seems finally KRK has bitten more than he could chew and by making derogatory and offensive remarks against the LGBTQ community, has crossed every limit of decency.