After almost 6 months of rigorous hard work to look for the new Chief Economic Advisor (CEA), Modi government appointed Krishnamurthy Subramanian, an Indian School of Business (ISB) associate professor to the post of CEA for next three years.  Krishnamurthy is a prolific commentator on trending socio-economic issues and a regular columnist in country's top business and general newspapers. Krishnamurthy supported the monumental step of demonetization by Modi government and claimed that "politicians advocating the difficulties faced by the poor are being disingenuous in pushing their claims for political gains." He suggested that demonetization will help in the fight against corruption, "Current checks and balances against tax evasion are far tighter. Relatedly, the government's (demonetization) move reflects popular angst against corruption and unaccounted wealth. The presence of such factors in the voting population is unlikely to provide future governments the luxury of relaxing their efforts to fight corruption. Thus, Tuesday's action may be revolutionary in the annals of the country's fight against corruption," wrote Subramanian in an article in Times of India a few days after demonetization.
A fierce critique of Gandhi dynasty, he blamed the Gandhi's for country's indebtedness. "Governments run by The Dynasty doled out subsidies and other transfers to the tune of Rs 689,600 crore every year, as opposed to Rs 183,300 crore by non-dynastic governments. Subsidies doled out by them amounted to 9.2% of GDP, almost double that doled out by non-dynastic governments (5.3%). Governments run by The Dynasty doled out largesse and spent wastefully while indebting future generations of this country," wrote Subramanian in an article in Times of India titled 'In debt to dynasty? Rule by the Gandhis has repeatedly pushed the country towards indebtedness.'
Krishnamurthy's academic background is quite illustrious. He completed graduation in electrical engineering from prestigious India Institute of Technology, Kanpur and MBA from Indian Institute of Management, Calcutta where he was the topper of the batch. After that, he did his Ph.D. from the Booth School of Business in financial economics. A prominent academic, 47-year-old Subramanian is an associate professor and executive director at the Centre for Analytical Finance at the Indian School of Business (ISB) in Hyderabad and his expertise lies in banking, corporate governance and economic policy.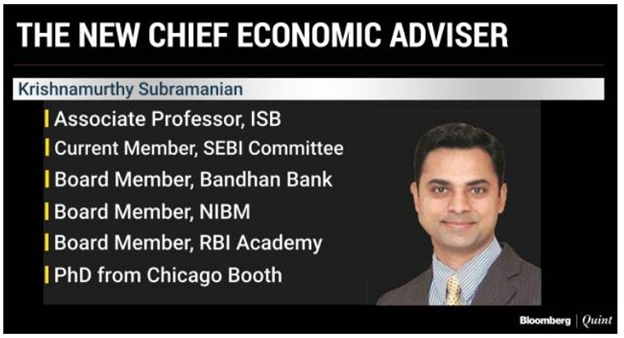 Krishnamurthy also hailed Modi government's 2016 budget and called it 'Budget for Bharat'. He also supports the tax on agricultural income and suggested that a minimal 5 percent would help poor and marginal farmers rather than hurting them. His research interests include 'Banking, Innovation and Entrepreneurship, and Law and Governance'. He is also a member of SEBI committee, board member of Bandhan bank, National Institute of Bank Management (NIBM), and RBI academy.   
The appointment of Krishnamurthy as the CEA would help the government as it progresses towards the preparation of the Economic Survey of current fiscal year and budget for next fiscal year. An academic with impeccable research credentials, Krishnamurthy has published in almost all top economics research journals of the world. He would bring critical analysis skills of an academic and expertise of a policy professional to the government. His criticism of Gandhi dynasty also suggests that he would not be subservient to the establishment. His stubborn stance on demonetization is a testament to the fact that he would not hesitate in representing unconventional views even if it is against popular opinion.