Preparations are in full swing in poll bound Rajasthan. Rajasthan is going to be an uphill task for BJP as the voters are known to alter between Congress and BJP. Deemed to be a "practice run" for the 2019 national election for the BJP, these elections will give a clear picture of Vasundhara Raje's social welfare schemes and the popularity graph of PM Modi.
While the opinion polls indicate that history is set to repeat itself in Rajasthan and hinted at dropping popularity of Raje among a section of supporters, let's examine how shaky BJP's prospects are and whether the BJP's electoral genius would be able to make it look stable.
Women voters are not only the torchbearers of the post-caste electorate but also the core element of the USHV (United Spectrum of Hindu Votes) phenomenon
"We are making Rajasthan strong, aggressive, and a progressive state. Women are our new strength and they are going to unleash new energy."  — Vasundhara Raje, Hon'ble CM of Rajasthan
You would be wondering why suddenly this statement and why Vasundhara Raje has been promoting this perception that she is here for "WOMEN EMPOWERMENT, EMPOWERMENT and EMPOWERMENT"
Statistics has proven in the past that "When women outvote men, the probability of BJP sweeping any elections increases many folds". Lets analyze few events from the recent past for authenticating this hypothesis
 Assembly Elections of Gujarat, 2012
There's an interesting analysis done by Dr Praveen Patil in the article titled "WOMEN ARE IN THE DRIVER" published in 5forty3 magazine. 
"This was in 2012 December. Saurashtra had seen one of the worst drought years in recent memory. Although the Modi government had handled the drought scientifically to provide some relief to the farmers, the anger was palpable. I had then, recently released my paper known as the "Drought Electoral Theory" which had formulated that almost all governments fail to get re-elected in an election following a drought year.
What was adding spice to this anti-incumbency current was the so-called "Patel anger" which was manifesting itself in the form of support to Keshubhai Patel's GPP. It wouldn't be an exaggeration to state that at around noon on 13th December 2012, Congress and GPP were both together out voting the BJP at the ratio of 2:1 across Saurashtra, although the race looked equal in South Gujarat.
The fate of the nation was hanging in those polling booths. If the then Gujarat CM, Narendra Modi were to be defeated, any chance of him ascending to the leadership of BJP and then leading India could at best be described as practically non-existent. By 3:30 PM, the data picture had changed completely. The BJP had been rescued by the Gujarati women. That election saw the highest ever women turnout in Gujarat's electoral history as 70% women electorate came out to vote. Narendra Bhai not only went on to win the 2012 Gujarat elections overcoming the "Drought Electoral Theory" for the first time in India but also the national election in 2014…" Dr Praveen Patil wrote in that article.
Assembly Elections of Rajasthan, 2013
Scenario in Rajasthan in 2013 was no less than what was in Gujarat a year back. In 2013, voter turnout of women 75.6% as compared to 74.9% of men helped the BJP in creating a history by bagging the highest number of seats ever by any political party in Rajasthan.
Let's try to understand why women voters are so important as far as outcomes are considered…
Women are generally more devout Hindus than men and are now demographically identifying themselves with the NaMo-led BJP more than ever before.
From Sushma Swaraj to Nirmala Sitharaman to Smriti Irani to Vasundhara Raje, BJP is the one political party that has maximum articulate women symbolizing the party's culture of gender inclusivity
The Modi govt. policy impact has been highly positive on women whether it's Jan Dhan Yojana, free LPG cooking gas provided by the Ujjwala Yojana, doubling the maternity leave, empowering entrepreneurship through Mudra Yojana, Beti Padhao Beti Bachao, etc.
Generally, men are more impatient about change whereas mostly rural or suburban women having witnessed the struggle to bring about incremental changes in their lives also tend to identify with the PM's efforts at bringing about fundamental changes.
Let's have a quick look on some important policy decisions taken by Vasundhara Raje Govt for empowering women…
Bhamashah Yojana: The scheme was first launched during the first tenure of Vasundhara Raje from 2003-08 was relaunched on August 15, 2014. The scheme is aimed at enabling the financial empowerment of more than 1.5 crore women population of the state. Bhamashah Yojana has brought financial freedom to the beneficiaries as these women were no longer dependent on their family, something that has hindered the progress of the Rajasthani women in the state. The financial assistance provided by the state government has been transferred directly to the beneficiaries' account, keeping the process transparent. At present, more than 1.55 crore families have enrolled for the benefits with nearly 1500 crore rupees worth of financial assistance distributed among the families of the women
Self Defence program for Girl Child – A Self Defence Training Programme has been started for all the girl children in the state.
e-Sakhi is a digital literacy programme Initiated by the Department of Information Technology and Communication (DoITC), Government of Rajasthan, with the aim of making every individual in the state. being digitally literate. Under e-Sakhi, the government will leverage the state's "girl power", wherein young women in the age group 20-35 will act as patrons in charting the course to a Digital Rajasthan.
Vasundhara Raje was the second CM to enact a law for death sentence to rapists of minor girls aged 12 years or below. Rajasthan followed MP and finally Centre amended the POCSO act. This zero-tolerance attitude of CM towards child sexual abuse crimes has been widely appreciated by all strata of society.
Moving in the direction of empowering women financially, the state budget has also increased honorarium of Anganwadi workers. This would benefit 1.84 lakh women. Now, Anganwadi workers will get Rs 6000, Mini Anganwadi worker Rs 4000, Sahayika Rs 3000, Sathin Rs 3300 and Asha Sahyogini Rs 2500 every month.
Other achievement's like providing sanitary napkins to girls and women free of cost across the state's rural areas, around INR 421 crore has been provided till date to about 11.5 lac girls for their education, initiatives like Subh Shakti, Rajshri, Palanhar are brining smile on the faces of women. In the last 4-5 years literacy rate among girls has increased by 7%.
Rajasthan's economic state (Source: Ministry of Statistics and Programme Implementation)
Rajasthan's Gross State Domestic Product (GSDP) expanded at a CAGR (in Rs) of 11.12% over 2013-14 to 2017-18. According to the Department of Industrial Policy and Promotion (DIPP), FDI inflows in Rajasthan between April 2000 and June 2018 stood at US$ 1.67 billion out of which US$ 988 Mn came from FY14 till date (after Raje took oath as CM).
Between 2013-14 and 2017-18, Gross State Domestic Product (GSDP) expanded at a Compound Annual Growth Rate (CAGR) of 11.12% (in rupee terms) to INR 8.4 Trillion (USD$ 130.37 Bn), whereas the Net State Domestic Product (NSDP) expanded at a CAGR of 11.26% to INR 7.57 Trillion (US$ 117.53 Bn).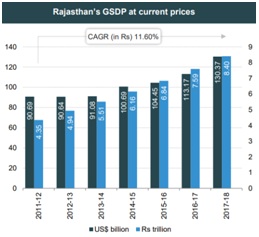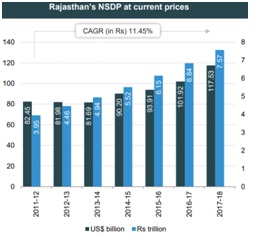 The state's per capita GSDP in 2017-18 was US$ 1,730.64 in comparison with US$ 1,311.93 in 2011- 12. Per capita GSDP in the state increased at a CAGR of 9.54 % (in rupee terms) between 2013-14 and 2017-18. The state's per capita NSDP in 2017-18 was US$ 1,560.14 in comparison with US$ 1,192.73 in 2011-12. Per capita GSDP of the state increased at a CAGR of 9.68% (in rupee terms) between 2013-14 and 2017-18.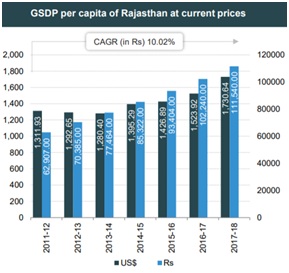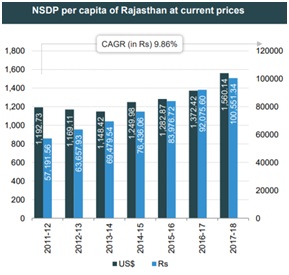 Also, Rajasthan was ranked 6th overall amongst states in 2018 Ease of Doing Business ranking. Aspiring leader among the first seven states i.e. Andhra Pradesh, Chhattisgarh, Gujarat, Jharkhand, Madhya Pradesh, Odisha and Rajasthan.
Other significant policies impacting Rajasthan
Jobs – In last 5 years, Rajasthan Government has provided 15 lakh jobs (including around 90,000 permanent recruitment in government sector), also various skill development programs have been taken in to train youth and make them industry ready
Labor Reforms – Rajasthan State Government has initiated comprehensive labor law reform. The State Government relaxed the Trade Union Act, Industrial Dispute Act, Contract Labor Act, as well as the 1948 Factories Act, and 1961 Apprenticeship Act to spur economic development and attract foreign investment
Non-Conventional Energy Reform – Rajasthan Government released a new Solar Energy Policy in 2014. After implementation of new Solar Policy, the State has signed MOUs or Joint Venture Agreements for production of 14000 MW of solar energy and development of Solar Parks of 26000 MW capacity
Water Conservation and Interlinking of Rivers – Since Rajasthan is a state where water scarcity is the biggest problem, so certain water conservation measures have been taken in, to conserve the amount of water that is available and also interlinking of rivers is being done to get water from the major rivers which flow in the country
Conservation of Cattle Resources – A new department (Gopalan) has been created and tasked with the welfare of cattle industries. All efforts are being made for the smooth functioning of 'Gaushalas' in the state
Loan waivers – Upto 30 lakh farmers loans were waived off by Vasundhara Raje
Modi still remains one of the crucial factors
The Modi factor is still very strong in Rajasthan. In 2014 national elections, as per CSDS post poll survey, 42% of BJP voters said they would not have voted for the party if Narendra Modi weren't the PM candidate, the national average was only 27%. As per India Today – Axis Political Stock Exchange released on 7 September 2018, 57% of the respondents want to see Modi as PM versus 35 per cent for Rahul Gandhi, a lead of 22 per cent. About 46% respondents rate the performance of Modi as good while another 12 per cent as average, exhibiting strong satisfaction with his performance.
We have seen in recent Gujarat and Karnataka elections how Modi's campaign in the second phase in Gujarat and last 10 days in Karnataka, resulted in a positive swing in favour of BJP, enabling it in forming Govt in Gujarat and emerging as the single largest party in Karnataka.
Various Central Govt. initiatives has also brought positive impact in the life's of residents of Rajasthan. To highlight a few…
NDA Govt at centre has increased MSP by 1.5 to 2 times in various crop categories both for Rabi and Kharif crops.
About INR 2,092 Crore claim amount has been paid to around 44.43 lakh farmers of Rajsthan through Pradhan Mantri Fasal Bima Yojana
Till date, 65 Lakh women has been benefited in Rajasthan through Ujjwala Yojana
Around 12 lakh people in Rajasthan has been benefitted through Mudra Yojana alone in FY16-17 year
Infighting within Congress, By-Polls results and caste equations how will it impact
Infighting in the state Congress and no clarity of the CM candidate means Congress is a house divided. To mitigate the damage, Congress high command has decided to contest polls under a "collective leadership". Ashok Gehlot had been the CM candidate of the party in last two elections. But rising image of Sachin Pilot (who is credited with party's by-elections victories) is actually creating rift between the two factions of not only party workers but also sending wrong signals to voters.
By-Polls loss for BJP was very shocking to Vasundhara Raje. The verdict was an emotional outburst of people's anger against BJP State Govt for encounter of gangster Anandpal Singh. Anandpal Singh belonged to Rajput and stood with Rajputs in their clash against Gujjars. Since Rajputs have been traditional vote bank of BJP, and the slight by BJP compelled them to switch allegiance. This effect has mellowed down much, so if Congress is believing that these sections of voters will again vote for them again than Congress might get a setback.
The return of MLA Kirodi Lal Meena is a big boost for the BJP ahead of the assembly elections. Meena, a five-term MLA and two-time MP, is an influential leader and his community has a significant presence in 28 assembly seats in 11 districts of eastern Rajasthan.
Launch of new political outfit by Jat Leader Hanuman Beniwal can be blessing in disguise for BJP as Jat's are majorly Congress supporters in the state and this new outfit will split Congress' overall votes.
In Rajasthan, the party which is able to garner the majority support of Rajputs, Gujjar, Jat, Meena and OBCs and manage the contradictions within this social rainbow alliance will ultimately win the polls. Rajasthan is a caste conscious state and which way the caste equations swing will decide the fate of either party.
To sum up, Modi – Shah – Raje with a brilliant combination of Women Centric Empowerment messaging, Modi's Charismatic Leadership style and crafting a winning caste-societal combination can emerge victorious by reversing the trends like Akalis did in Punjab in 2012 and Late Jayalalitha did in Tamil Nadu in 2016.
References/Sources
Ministry of Statistics and Programme Implementation
http://vasundhararaje.in/
Official Twitter and FB handles/pages of Vasundhara Raje, BJP and state BJP